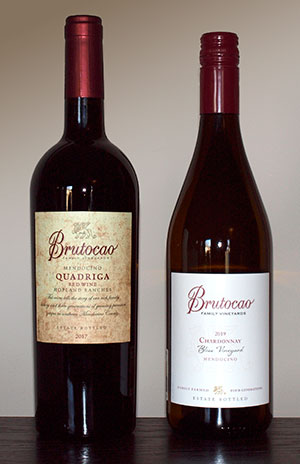 Irv Bliss' early years as a farmer were occupied with growing pears, prunes, walnuts, and a large family garden just outside of Healdsburg, in Sonoma County, California. Although successful, for years Bliss nursed the vision of planting a vineyard in Mendocino, which he believed to be one of the best places around to grow grapes. In 1943, he purchased a plot of land in southern Mendocino County, and immediately planted the vineyard of his dreams. In the early days, in addition to growing grapes on the property, Bliss farmed figs and raised sheep and cattle. At some point in the 1970s, all 100 acres of the land was converted to grape production, mostly Cabernet Sauvignon and Zinfandel.
When Leonard met Martha
In 1910, the Brutocao (pronounced brew' tuh coe) family emigrated from Treviso, Italy (a small town near Venice), at first settling in Canada. Son Leonard Brutocao was born in 1935 in Fort Erie, Canada and, after the family moved to the U.S., was raised in Covina, Calif.  He met Irv Bliss' daughter Martha while attending the University of California, Berkeley. After Leonard and Martha married, the families joined forces, and continued to farm grapes which they sold to well-known Sonoma and Napa wineries. Irv and Leonard worked together for over 35 years until Irv's retirement in 1969, at which point the new ownership was split between Lenonard and Lenonard's brother Albert (who co-founded with Leonard the Brutoco Engineering and Construction company in southern California which  the Brutocao clan also owned and continued to operate, as well as a number of other entrepreneurial ventures).
For several years, most of the family's grapes were sold to local area wineries, including Beringer and Mondavi.  Leonard and Albert were interested in more than just farming however, and saw the potential for producing a handcrafted Mendocino wine. Acting on this vision,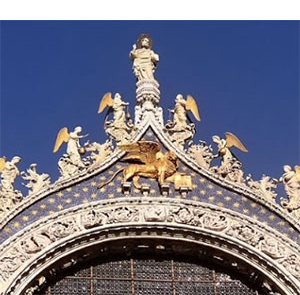 the Brutocao family released their first wine with the 1980 vintage. Shortly thereafter, they chose as their symbol of family tradition and quality a version of the Lion of St. Mark, the lion on top of St. Mark's Cathedral in Venice, Italy,  (But they flipped the way it faces, for whatever reason.)

x
In 1991, the original winery
was built, and the first estate vintage was produced. Around the same time, Leonard's three sons, David, Len Jr., and Steve, joined the family business. (Forth son Dan and daughter Renee Ortiz also share ownership of the winery, but have limited involvement.)  David is Director of Winemaking Operations, and works side by side with Brutocao winemaker Hoss Milone to produce their estate wines. Len Jr., as Director of Vineyard Operations, oversees the cultivation of the land from new plantings to grape harvest.  Following the death of his father in 2010, Steve assumed the role of CEO  after many years of experience in wine marketing and sales.
Brutocao outgrew the first winery by 2003, when a new facility was built, and it was expanded in 2009. The original building has now become an onsite wine storage warehouse.  The more visitor-friendly tasting room is about a mile and a half due west, in Hopland, California.
x

The Legacy Continues
The Brutocao operation is now in its fourth generation. Ryan, Director of Custom Label Sales, is tasked with distribution as well as coordinating with Brutocao's non-profit partner, Wine to Water.  Kevin, a jack of all trades, does a bit of everything, from pouring wines in the Hopland tasting room to managing the winery's online presence. He also creates many of the designs for marketing materials.
The Winemaker
Hoss Milone became the winemaker for Brutocao in 2009 after spending 18 years toiling for Ferrari-Carano.  Hoss is a fourth-generation winemaker who grew up in his family's vineyards, and watched his grandfather and father produce their own Mendocino wines. Milone is also a trained cooper, aka barrel maker.  At some point it was discovered that Milone's grandfather tilled the land for Irv Bliss in the original vineyard. Quite a coincidence.
The Vineyards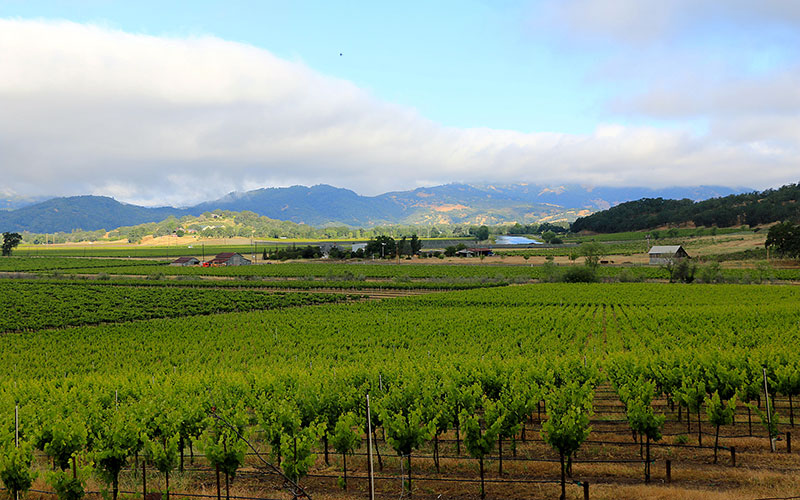 The Bliss Vineyard, also known as the Home Ranch, is the original property purchased in 1943 by Irv Bliss. The vineyard is 400 acres, with 177 acres planted to Chardonnay, Cabernet Sauvignon, Sauvignon Blanc, Zinfandel, Merlot, Sangiovese, Barbera, and Dolcetto.
The Feliz Vineyard was purchased in 1994. It is 583 acres in size, with 114 acres planted to Chardonnay, Sauvignon Blanc, Syrah, Cabernet Sauvignon, Sangiovese, Dolcetto, Barbera, Zinfandel, and Pinot Noir.
The 251-acre Contento Vineyard was purchased in 1997, but not planted until 1999. 90 acres are now under vine, growing Cabernet Sauvignon and Primitivo*. Contento is the site of an old cattle ranch, where purebred Brangus cattle were raised. Some of the ranch was used for research and development of new tractor equipment, resulting in very well-worked soils.  Contento is also the site of an abandoned gold mine.
Brutocao Chardonnay 2019
Made by Brutocao since the mid-1980s, this  pale-straw colored Chardonnay comes entirely from Bliss Vineyard, the original property purchased by Irv Bliss in 1943.  The wine was 100% barrel fermented and sur lies aged for nine months in French oak, 30% of which was new.   Some of the grapes were "whole cluster pressed" for maximum flavor extraction.  It underwent 100% malolactic fermentation, which in this case lead to citrus rather than the more typical buttery notes.
The wine opens with aromas of honeysuckle, pear, and mango.  These  evolve into a full-bodied palate of tropical fruit with just a hint of butterscotch on the finish.  Serve moderately chilled at about 60° F.  ABV is 13.5%, and  3000 cases were produced.
Brutocao Quadriga Red Blend 2017
A quadriga is a chariot pulled by four horses, harnessed side by side, and is an ancient Italian symbol of triumph. This selection, on offer since the early 2000s,  is a proprietary blend of 43% Primitivo*, 31% Sangiovese, 19% Barbera, 6% Dolcetto, and a 1% topping of Syrah, which is reminiscent of traditional Italian field blends.  "Field blending" is the custom of planting different grape varieties together in the same vineyard, harvesting them all together, co-fermenting, and making a wine from the mixture. However, Milone was careful to point out that Brutocao's varietals are kept separate in their vineyards, and he makes individual wines from each of the grape types before he begins the blending process.  This offers him much greater control over the flavor profile of the wine than the traditional field blend approach would.  The fruit was sourced from the Bliss, Feliz, and Contento vineyards.  After fermentation, it was aged for 18 months in 90% French oak and 10% American oak, of which 25% was new.
This wine is a totally transparent medium purple, but is more boisterous than its color suggests.  The nose features aromas of red berries and cinnamon stick.  These continue on the palate, with additional flavors of blueberries and caramel, complemented by a rich, smooth mouthfeel.  Decant for an hour or two before serving.  The ABV is 14.5%, and 500 cases were made.
*There is ongoing debate about whether or not Primitivo and Zinfandel are the same grape.   However, it is agreed that at the least they both share a Croatian forebear.  Primitivo is mostly planted in Italy, while Zinfandel is almost exclusively American.  Winemaker Hoss Milone insists that Brutocao's Primitivo can be sourced back to mother vines in Italy.  He also believes Primitivo prefers French oak aging, while Zinfandel is more suited to American oak.
Top of page: winervana.com/blog/