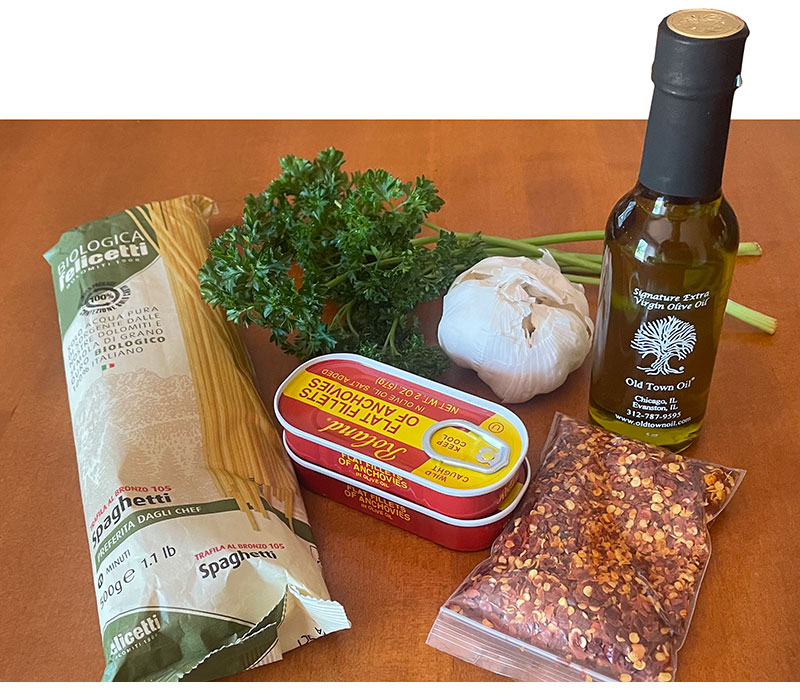 If you are looking for an easy and delicious week-night meal, you can't go wrong with Spaghetti Aglio e Olio, or literally Spaghetti Garlic and Oil.
Here's how to make it:
Serves 4 to 6
1 lb. of spaghetti
3 tsp. salt
1/2 cup extra virgin olive oil
1/2 cup garlic (about one whole large head), sliced, chopped very fine, or run through a garlic press, depending on how you like it
2 2-oz. cans of anchovies*
2 tsp. red pepper flakes
1 cup chopped parsley. (The stems are slightly bitter. Remove them if you don't like that, include them if you do.)  Flat-leaf Italian parsley is traditional, but curly parsley will work about as well.
Because this is a "peasant" dish, it is susceptible to many variations.  With Italian sausage?  Tuna?  Shrimp?  Broccoli?  Except one: no cheese.  Never any cheese.
1. Add salt to 4 to 6 quarts of water and bring to boiling. Add pasta, stirring occasionally during the first couple of minutes to prevent sticking. Total cooking time will be about 10 minutes, or according to package directions.
2. While the pasta is cooking, put the anchovies, olive oil, garlic, and pepper flakes in a large skillet (12″ is best) and turn on heat to medium low. Cook and stir the garlic until it becomes colored a pale gold. Do not let it become brown. Depending on your stove, this may take a very short time; monitor it constantly. Once done, remove from heat and add 1/3 cup of the pasta cooking water to the skillet to stop the cooking.
*Note: Don't fear the anchovies!  Personally, I love anchovies.  They lend no fishiness to this pasta, but they do bring a big umami punch.  To maximize this, I don't drain the anchovies, adding the entire contents of the cans including the little fishes and the oil they are packed in. However, this may be too intense for younger or more sensitive eaters. If you like, drain before adding to the skillet, or if you are really nervous, drain, rinse, and pat dry before adding.  You can omit them entirely, but you will miss out on a lot of flavor.
3. Using tongs, remove the pasta from the water and add to the skillet. (Or, if the pasta water has already been added to the aglio e olio in the skillet, drain in a colander if you prefer.) Turn the strands over and over in the skillet to coat them evenly until a slightly creamy texture forms. Add the chopped parsley, toss once again, and serve immediately.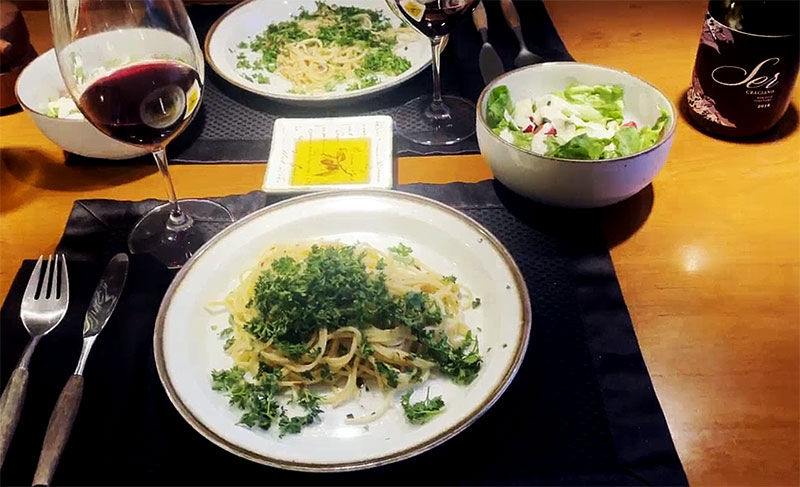 Based on a recipe by Marcella Hazan in Essentials of Classic Italian Cooking.
This pasta would go nicely with some of these wines:
https://winervana.com/ser-winery/
https://winervana.com/lightning-ridge-cellars/
https://winervana.com/lachini-vineyards/
https://winervana.com/brutocao-cellars/