One fine spring day in 1972, attorney, private pilot, and wine aficionado Fred Fruth was piloting his plane over the Russian River Valley area.  Down below, he saw a natural amphitheater carved into the hills of eastern Sonoma. In addition to this other interests, he had been thinking of starting a winery, and it seemed as if this might just be the place to do it.
Fred Furth
Soon after, a tour of the extensive property confirmed that the site indeed had the climate and soils to grow first-class wine grapes.  Furth and his second wife Peggy purchased the land, named the estate Chalk Hill, and started producing wine about a decade later.  They gradually planted more than 270 acres of vines.  Years later, Furth said, "I have always been interested in wine because my grandfather had vineyards. I'm actually more interested in the working-the-soil aspect, but I have many very talented people in the winery who know how to produce a world-class wine. When I bought this property, I was told it was too hilly to be a vineyard, but I simply planted the grapes in rows going uphill. People said you can't do that, but I'd seen it done in Germany so I knew it would work."  After a rich and varied life, Furth died in 2018 at the age of 84.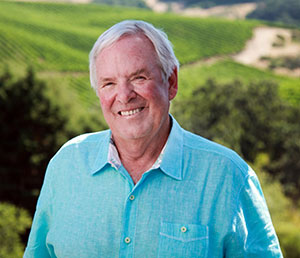 Bill Foley
Lawyer Bill Foley acquired Chalk Hill in 2010.  Although Foley is titled as "vintner," I doubt he sees the interior of the winery very often.  He is a vintner in the broader sense of "someone who sells wine."  He also owns the National Hockey League's Vegas Golden Knights,  is the Executive Chairman of the Board of Directors for Fidelity National Financial Inc., is Vice Chairman of the Board of Directors for Fidelity National Information Services, Inc., and owns fifteen other wineries.
The Estate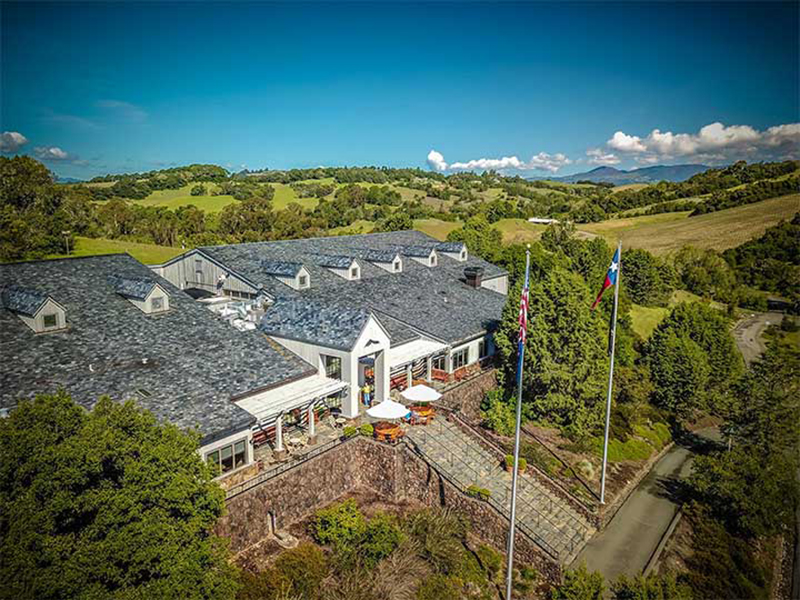 x
The Chalk Hill AVA is one of 13 in Sonoma County and is distinguished from the neighboring appellations of the cooler Russian River Valley to the west and the warmer Alexander Valley to the northeast. Elevations are higher and soil fertility is lower. The soils include gravel, rock, and heavy clay. Under the topsoil is a distinctive layer of chalk-colored volcanic ash which inspired the name of Chalk Hill.
x
Each vineyard block has been planted based on criteria that include: soil profile and chemistry, slope, orientation to the sun, and climate. Under Fred Furth's direction, Chalk Hill was an early leader in planting its hillside vineyards "vertically," following the rise of the terrain, rather than across it. Because of this, the topsoil must be protected with a diverse cover crop serving many purposes. It anchors and protects the soil, preventing erosion; captures and affixes nitrogen; and harbors a varied community of beneficial insects that aid in pest management. Water conservation is addressed through a precisely-controlled drip-irrigation system. Air movement through these vertical channels of the vineyard reduces mildew. All of the grapevines are a grafted combination of plants: a specific wine-grape variety above ground, and a complementary rootstock below.
Photo: devonwayne.com
More than two-thirds of Chalk Hill's 1300 acres remain uncultivated.  In addition to the vineyards, the property features wilderness areas, the winery, a hospitality center, a culinary garden, a  residence, stables, and an equestrian pavilion.
The Winemakers
Michael Beaulac, Senior Winemaker
Michael Beaulac
Beaulac, a Vermont native, has as of this writing just become senior winemaker, bringing with him over thirty years of experience. He began his winemaking career when Tim Murphy of Murphy-Goode offered him a job as a harvest intern in 1989. Immediately after and through 1991 he worked as a cellar master with long-time Russian River winemaker Merry Edwards. Beginning in 1997, he spent four years as winemaker for Markham Vineyards in St. Helena. He became Vice President of St. Supéry Vineyards in Rutherford in 2001, working closely with Michel Roland and Denis Dubourdieu.  Beaulac was general manager and winemaker at Napa's Pine Ridge Vineyards from 2009 until coming to Chalk Hill this year.
Michael shared, "Be proactive in the vineyards. Let the fruit find its balance. Do not force the wine to be anything it's not. Let it express [itself]. Once in the winery, the wine should be touched as little as possible. In a perfect vintage, we really shouldn't have to do anything."
Darrell Holbrook, Winemaker
Darrell Holbrook
A Sonoma County native, Holbrook spent his childhood among the vineyards there. By age 12, he often accompanied his father to his job at Lytton Springs Winery, [now Ridge Vineyards] driving tractors and helping where he could. In 1994, after working at Lytton Springs in the vineyards, he began an apprenticeship under David Ramey, Chalk Hill's winemaker at the time. He worked his way up from a cellar intern (aka cellar rat) to enologist and production manager, and then assistant winemaker in 2009. Ten years later he was promoted to winemaker.
Courtney Foley, Vintner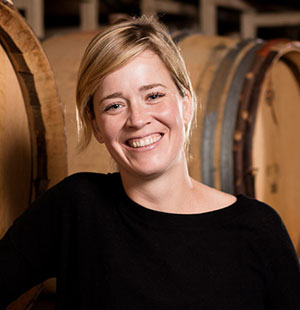 Courtney Foley
The youngest daughter of Chalk Hill Estate proprietors Bill and Carol Foley, she studied enology and viticulture at both Napa Valley College and Fresno State University. Her practical experience began under winemaker Leslie Renaud at Lincourt Vineyards and Foley Estates (surprise!) in Santa Barbara County.  Once back in Sonoma, she again found herself working with Renaud at Roth Estate Winery in Healdsburg. Just in case the wine thing doesn't work out, she also has a J.D. degree with a focus on Environmental and Ocean Law from the University of Oregon School of Law.
Chalk Hill Sauvignon Blanc 2019
The grapes for this wine arrived at the winery in small individual picking containers to protect the bunches from damage. After inspection and sorting, the whole bunches were taken directly to the press and gently extracted. A protective blanket of carbon dioxide was added, since Sauvignon Blanc can be damaged by contact with oxygen.
The juice was 100% estate grown, a mix of 92% Sauvignon Blanc and 8% Sauvignon Gris.  It was fermented for seven months using cultured yeasts in a combination of 59% French oak (13% new) and 41% stainless steel.  There was no malolactic fermentation. Bâtonnage, the periodic stirring of the lees in the barrel, served to add texture and mouthfeel.
It is so pale that it is nearly colorless in the glass.  The nose is also quite delicate, with just a hint of flowers and vegetation.  Then, it bursts on the palate, with plenty of lemon, grapefruit, and mango, plus a rich, full mouthfeel.   ABV is 14.6%.
Top of page: https://winervana.com/blog/