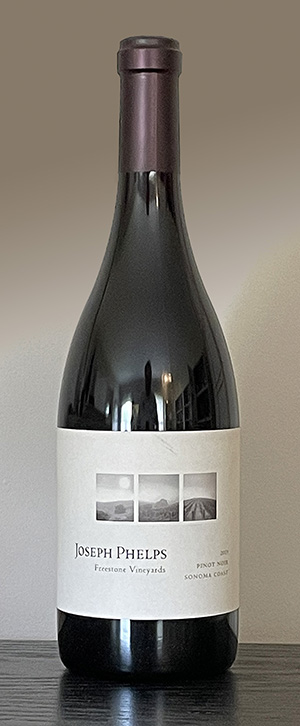 An American Viticultural Area, or AVA, is an American wine-growing region classification system inspired by the French Appellation d'Origine Contrôlée, or AOC, but without the French rigor.  An AVA simply defines a geographic area, and omits grape varieties, maximum production per acre, alcohol levels, etc.  The requirements for wine with an AVA designation is that 85 percent of the grapes used must be grown there, and the wine be fully finished within the state (or one of the states) in which the AVA is located. AVAs range in size from several hundred acres to several million; some reside within other larger AVAs.
California's newest AVA is the West Sonoma Coast American Viticultural Area, located on the farthest western sliver of Sonoma County, holding approximately 50 vineyards planted with varieties ranging from Pinot Noir and Chardonnay to Syrah in this cold, marginal viticultural region.
Sonoma's 19th AVA encompasses the steep, rugged mountainous terrain along the Pacific Ocean coastline. Elevations range from 400 to 1,800 feet, with vineyards planted on steep ridge tops along the San Andreas fault line up against the consistently cold Pacific Ocean, both above and below the fog line. The maritime conditions moderate the temperature in the vineyards – daytime highs are cooler, while nighttime lows are warmer than just a few miles inland. This modest diurnal temperature swing allows the fruit to ripen slowly throughout the day and the night, a phenomenon experienced only in a truly cold-climate, maritime environment.
For West Sonoma Coast Vintners member Alma Fria, the West Sonoma Coast is distinguished by its remarkable originality, "The West Sonoma Coast combines a cold, maritime climate with rocky, well-drained soils and a mountainous topography. It is a rare terroir indeed, one that distills coastal redwoods with a seafaring spirit. It has lured adventurers, naturalists and pioneers for a near century."
Indeed, the area comprising the West Sonoma Coast AVA has a long agricultural history dating back to the 1880s, with the earliest vitis vinifera vines planted as early as 1817. In addition to wine grapes, the area still produces commercial apples and supports a lively dairy and ranching industry, as well as many nature parks, conservancy efforts and environmental projects.
In the early 1970s, Joe Phelps started looking for a place to make a little wine. After a stint in the Navy, he'd grown his father's Greeley, Colorado-based construction business into a multi-state powerhouse, expanding to northern California in the mid-1960s to work on bridge and dam projects and the infrastructure for BART. As a hobby, he did some home winemaking in Greeley using grapes shipped by air overnight from Napa. After landing the contract to build the Souverain Winery, the idea of starting his own winery took hold.
Continue reading "Joseph Phelps Freestone Vineyards Pinot Noir 2019"