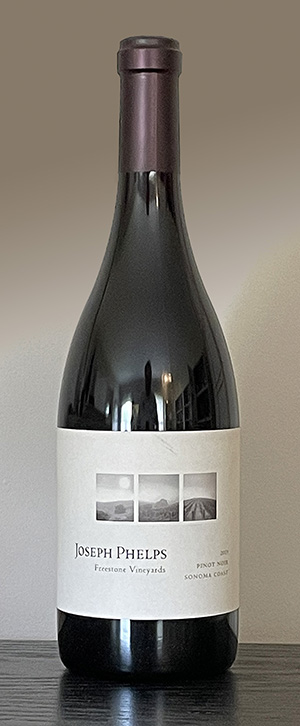 An American Viticultural Area, or AVA, is an American wine-growing region classification system inspired by the French Appellation d'Origine Contrôlée, or AOC, but without the French rigor.  An AVA simply defines a geographic area, and omits grape varieties, maximum production per acre, alcohol levels, etc.  The requirements for wine with an AVA designation is that 85 percent of the grapes used must be grown there, and the wine be fully finished within the state (or one of the states) in which the AVA is located. AVAs range in size from several hundred acres to several million; some reside within other larger AVAs.
California's newest AVA is the West Sonoma Coast American Viticultural Area, located on the farthest western sliver of Sonoma County, holding approximately 50 vineyards planted with varieties ranging from Pinot Noir and Chardonnay to Syrah in this cold, marginal viticultural region.
Sonoma's 19th AVA encompasses the steep, rugged mountainous terrain along the Pacific Ocean coastline. Elevations range from 400 to 1,800 feet, with vineyards planted on steep ridge tops along the San Andreas fault line up against the consistently cold Pacific Ocean, both above and below the fog line. The maritime conditions moderate the temperature in the vineyards – daytime highs are cooler, while nighttime lows are warmer than just a few miles inland. This modest diurnal temperature swing allows the fruit to ripen slowly throughout the day and the night, a phenomenon experienced only in a truly cold-climate, maritime environment.
For West Sonoma Coast Vintners member Alma Fria, the West Sonoma Coast is distinguished by its remarkable originality, "The West Sonoma Coast combines a cold, maritime climate with rocky, well-drained soils and a mountainous topography. It is a rare terroir indeed, one that distills coastal redwoods with a seafaring spirit. It has lured adventurers, naturalists and pioneers for a near century."
Indeed, the area comprising the West Sonoma Coast AVA has a long agricultural history dating back to the 1880s, with the earliest vitis vinifera vines planted as early as 1817. In addition to wine grapes, the area still produces commercial apples and supports a lively dairy and ranching industry, as well as many nature parks, conservancy efforts and environmental projects.
In the early 1970s, Joe Phelps started looking for a place to make a little wine. After a stint in the Navy, he'd grown his father's Greeley, Colorado-based construction business into a multi-state powerhouse, expanding to northern California in the mid-1960s to work on bridge and dam projects and the infrastructure for BART. As a hobby, he did some home winemaking in Greeley using grapes shipped by air overnight from Napa. After landing the contract to build the Souverain Winery, the idea of starting his own winery took hold.
"When my dad began Joseph Phelps Vineyards in 1973 he did so with a very long-term view and long-term approach. He knew that in order to create the best wines possible he had to have tremendous dedication, attention to detail, and passion, " recalled Bill Phelps, Joe's son. When Joe took possession of a 600-acre cattle ranch on the east side of St. Helena, he wasted no time in laying out and planting 100 acres of vineyards with the help of Walter Schug, whom he'd hired as winemaker. He left no stone unturned, learning everything he could about grape growing and winemaking, mostly through trial and error, but also through early associations with other people who would also become California wine legends, including Joe Heitz, Jack Davies (Schramsberg), Louis Martini, and Robert Mondavi. In 1974 Phelps produced California's first varietally-labeled Syrah, a wine fashioned after the Côte Rotie and Hermitage wines he admired and collected. He was one of the first California vintners to embrace Rhone-style wines, experimenting with Viognier and creating Rhone blends that were most certainly ahead of their time.
Also in 1974 Joe created what is arguably the winery's best known product: California's very first proprietary red Bordeaux-style blend: Insignia. His idea, to blend the finest wine lots of the vintage into one bottling, was revolutionary for its time, though it was a model quickly adopted by other prominent Napa Valley producers.
After Bill Phelps joined the family winery in 1998, he started working closely with his father on the winery's venture making Pinot Noir and Chardonnay from family-owned vineyards on the western Sonoma Coast.
"The parallel between our beginnings in Napa and later in Sonoma is striking. The conversion of grazing land to vineyard, the assumption of risk, the trial and error; it was history repeating itself," said Bill.
Joseph Phelps produced a Napa Valley Pinot Noir from 1973 to 1983, and made Chardonnays, from Napa Valley and Carneros, starting in 1974. But Joe had never been entirely satisfied with the results, and searched for vineyards farther and farther west until, in 1999, he purchased land in Freestone, where only a few vineyards were planted at the time. Better known for cattle, pasture, and forest land, the region – just eight miles from the Pacific Ocean – was socked in by fog that lingered into the early afternoon on most summer days. For grapes, this cool area was relatively untested.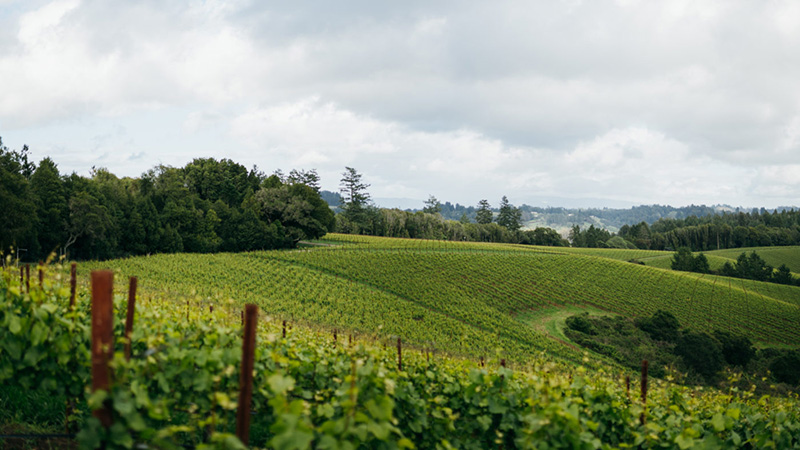 The Quarter Moon Vineyard. Photo: Matt Morris
The challenge of farming wine grapes on the Sonoma Coast became rapidly apparent, and the first years involved a steep learning curve. Phelps wrestled to adapt farming practices to an environment, climate, and soils utterly different from Napa, and after the first growing seasons they grafted several vineyard blocks over to more favorable clones. It took five years to bring in the first Sonoma harvest. "My grandfather never stopped reaching for excellence throughout his life. Finding Freestone was the culmination of his search for the ideal location to grow Pinot Noir and Chardonnay," said Elizabeth Neuman, Joe's granddaughter.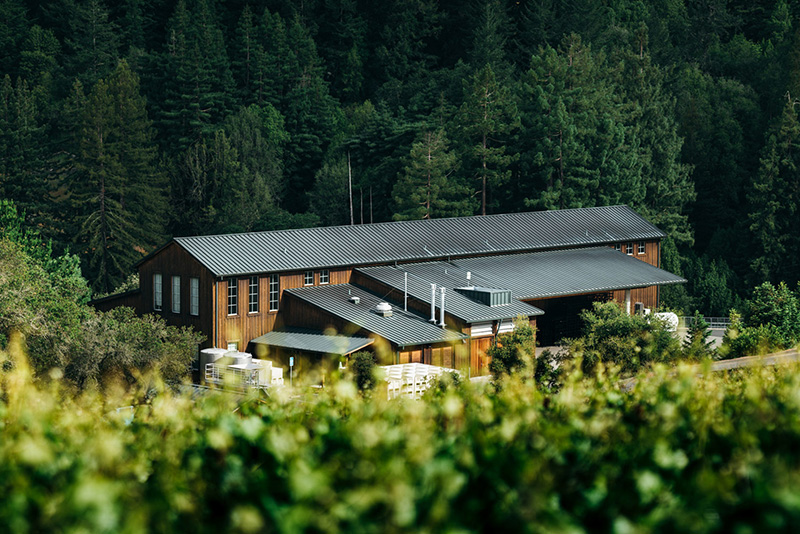 The Freestone Winery, completed in 2007, with the Pastorale Vineyard rising steeply above it. The three-story building of redwood and steel is designed so that grapes and wines can be moved by gravity, an ideal way of gently working with thin-skinned Pinot Noir.
The Winemaker
Justin Ennis, Winemaker at Joseph Phelps Freestone Vineyards, shared, "People said the region was too cold, too wet, too windy for grapes." But Ennis rose to the challenge. With a winemaking career in Sonoma County that spans over two decades, Ennis has deep experience working with both Pinot Noir and Chardonnay, and counts Pinot Noir among his favorite varietals. "I love the
delicacy of the grape; it has a feminine, fruit-forward character but it's also very complex. The flavor, texture, and style are always dynamic."
A native of Sonoma, Ennis got his start in the wine industry at an early age, helping his grandparents crush grapes and make wine from the vineyard they owned in Dry Creek Valley. When he took a job as a harvest intern at Hartford Court Winery in the Russian River Valley at the age of 18,  he decided on a career in winemaking. "I was offered a full time job after harvest and I never looked back. I loved the responsibility and it exposed me to so many different people."
After four years  at Hartford Court, Ennis and spent a harvest in Mendoza, Argentina, where he helped start a new winery. He then served as Cellarmaster at Williams Selyem Winery in Healdsburg from 1998 to 2006, and in the spring of 2006 worked the harvest at Villa Maria Estates in New Zealand. In 2007 Ennis joined Joseph Phelps Vineyards as Cellarmaster in Freestone. He was promoted to Assistant Winemaker in 2011 and Winemaker in 2014, and is now responsible for all day-to-day winery activities at the Freestone estate, working in all aspects of their Sonoma Coast Pinot Noir and Chardonnay production.
Joseph Phelps Freestone Vineyards Pinot Noir 2019
This wine is 100% Pinot Noir from the Pastorale and Quarter Moon vineyards that compose the Freestone estate, as well as fruit from select nearby growers. It was aged 13 months in 36% new and 64% one-to-three-year-old French oak barrels. The grapes were harvested at night followed by sorting before the fruit was gravity-fed to tank for a long natural fermentation using an overall average of 15% whole clusters in the final blend.
This Pinot pours a clear cherry red.  The nose is predominately raspberry, plus some spice, which continue on the palate, supported by tart cherry and boysenberry.  The acidity and tannins are in excellent balance.  For a Pinot Noir, the finish is quite long.  A quite good expression of an already-finicky varietal grown in this challenging AVA.  ABV is 14.1%.
Top of page: https://winervana.com/blog/