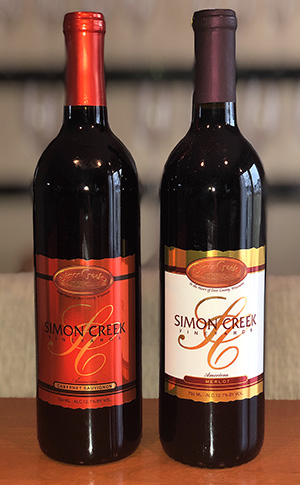 Wisconsin native Thomas J. (Tim) Lawrie had a 26-year career in the U.S. Army, including two tours in Vietnam as a combat officer, and was awarded the Purple Heart. He served as an Army Infantry Airborne soldier before finally retiring with the rank of Colonel. After which, he was almost universally referred to as, "The Colonel," a somewhat surprising affectation for a Northerner, I think. As with most military personnel, he had assignments throughout the country, including California, where he acquired an interest in wine and wine production.
After a second vocation in the Texas energy business, in 2002 he was presented with the opportunity to buy 120 acres in central Door County, 20 miles northeast of Sturgeon Bay where he had grown up as a boy. He decided this would be the perfect place for a winery, and bought it sight unseen.

Simon Creek Vineyards opened in May of 2003, and The Colonel operated it until his unexpected death at the age of 73 in August, 2017. The winery manager now and winemaker is the late Colonel's son-in-law, Lance Nelson, a veteran of the packaged foods industry. He gets encouragement and support from consulting winemaker Tom Payette. With over 30 years of experience, Virginia-based Payette set the stage for the winery's startup, and continues to work as Nelson's teacher and mentor.
Early on, there were ambitions to grow grapes on the estate, but northern Wisconsin's harsh winters soon put a stop to that, particularly for the varietals Nelson was interested in working with. Consequently, the winery imports juice for all of their production from California, particularly growers in Monterey county. With over 40,000 acres under vine in Salinas Valley, there is plenty to choose from.
The back labels of the wine bottles do rather disingenuously state, "Simon Creek Vineyard lies directly astride the 45° North Parallel; you couldn't ask for a better winery site. Simon Creek's location places it exactly midway between the equator and the North Pole."  Well, yes, but it hardly matters with juice from another location.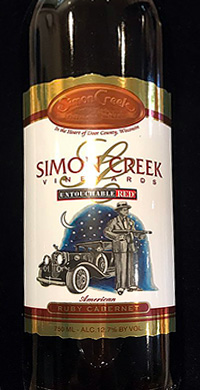 There is an interesting legend associated with the winery's site. The land was homesteaded by Chris and Martha Simon in the early 20th century.  During Prohibition, Al Capone was scouting around for a remote location suitable as a hideout.  His attorney, Herbert Humpkie, had a brother in Sturgeon Bay who was working as a veterinarian there.  He told Humpkie about the Simon place, who passed the information along to Capone. Thinking their farm would be ideal for his needs, Capone paid the Simons a little friendly visit to make them an offer they couldn't refuse.  But refuse they did. To honor their courage and integrity, the winery produces an Untouchable Red and an Untouchable White, but those are reviews for another day.
Simon Creek Cabernet Sauvignon NV
This wine shows transparent garnet in the glass, with a nose of bright fruit, especially blackberry and cherry and a slight hint of oak. Blackberry flavor continues on the palate, paired with notes of spice and tart cherry.  Appropriately, as Door County is famous for this fruit, although none is in this wine. (But, Simon Creek does make a sweet wine from the local cherries.) There are understated but balanced acid and tannins, with a little bitterness in the relatively short finish. Interestingly, this Cab drinks more like a Pinot Noir.
I suggest pairing this casual red with Grilled Lamb Burgers with Tomato Mint Chutney and Roasted Bell Pepper, Oven Baked Pasta with Classic Bolognese Sauce, or Roasted Chicken Mediterranean.
Simon Creek Merlot NV
This Merlot is rather more substantial than the Cabernet. It is a darker, transparent ruby, and features plum and blueberry aromas. On tasting, the blueberry is joined by raspberry and strawberry, with subtle hints of vanilla and oak. It ends with a moderately long finish.
Enjoy this Merlot with Polish Sausage with Sauerkraut and Skillet-fried Potatoes, Chicago-style Stuffed Spinach Pizza, or Roast Chicken with Shallots and Tarragon.
Top of page: https://winervana.com/blog/