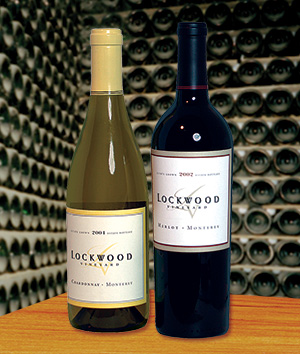 Lockwood Vineyard was founded in 1989 by Paul Toeppen, Phil Johnson, and Butch Lindley as a single, contiguous, 1,850 acre vineyard (one of the largest premium estate vineyards in the world) located in southern Monterey County, not far from Monterey Bay. Lockwood exclusively produces "estate" wines. This means that all of their wines come from grapes grown in their own vineyards, and then fermented, matured, and bottled at the winery on-site.
Nestled at the base of the Santa Lucia mountains, the vineyard soil consists of "shaly loam," a well-drained, calcareous "chalk-rock" found in only two small areas of Central California. Because the soil has a low nutrient and mineral content, the vines must work hard for survival. In the hands of a skilled winemaker, this struggle of the vines can result in some of the best and most interesting wines.
Such a winemaker is Thane Knutson, who was born and raised on the plains of Oklahoma. He took a degree in International Business from the University of Oklahoma, while he made wine in his dorm room closet and worked in the cellar of a local winery in Slaughterville, Oklahoma.
After college, Knutson moved out to Napa Valley and interned at Cakebread Cellars.  He then spent two years at Hess Collection Winery as the laboratory technician before joining Raymond Vineyards just two weeks before current Lockwood Vineyard owner Jean-Charles Boisset made his entrance.  At Boisset Collection, Knutson was promoted from Laboratory Technician, to Enologist, and finally to Lockwood Winemaker.
Knutson's experience with Hess and Raymond inspired his passion for cool weather varietals and innovative winemaking.
Monterey Merlot 2002
Sideways notwithstanding, this wine shows that a well-made Merlot can be flavorful and satisfying. This one opens with aromas of strawberry, raspberry and cherry.  It features plenty of concentrated fruit supported by touches of  mint, spice, pepper, and soft tannins.  It is deep purple in color and has a moderately long finish.
Pair with not-too-spicy pork or poultry dishes.
Monterey Chardonnay 2004
Looks can be deceiving; although very pale in the glass, this wine greets you with aromas of green apple, citrus, and mineral notes.  It is extremely well balanced on the palate, with flavors of honeysuckle and passion fruit. That hint of initial sweetness quickly yields to a firm acidity and a restrained French oak backbone.
Top of page: https://winervana.com/blog/