There's an old witticism in the wine business that goes, "If you want to make a million dollars by producing wine, the first thing you need to do is spend a million dollars." For a young and ambitious vintner to be able to skip that first step would be quite a blessing. Such is the case with Riley Flanagan. She is the eldest daughter of Eric Flanagan, a boutique winemaker and grape supplier in Sonoma, California. Through his Flanagan Wines operation, her father shares the tasting room, winemaking facility, and some of the fruit for his daughter's own wine label.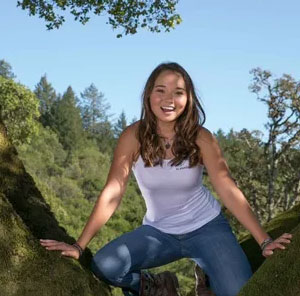 Riley Flanagan literally grew up in the vineyard. She was born in 1999, the year that her father bought his first piece of land, which at the time had not yet seen any cultivation. At the age of three, she helped plant their first vines in that first family vineyard, located in Bennett Valley. The site sits at 1200 feet up on the south and southwest slopes of Bennett Ridge at the confluence of San Pablo Bay and Petaluma Gap. The soil is rocky, volcanic cobbles with excellent drainage. Having a warm micro-climate in a cool region means that bud break here is early, but harvest is late. The extra hang time for the grapes, along with the low yields and the hillside site, can deliver intense, complex fruit.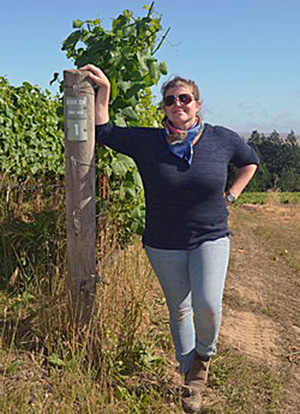 Isabelle Mort
She helped bring in the harvest of Flanagan's first wine (it was just one barrel, released in 2004). As she grew older, she began to work in the cellar of the winery, being mentored by Flanagan's winemaker, Isabelle Mort (among others along the way), and who is now her winemaker as well. With this kind of background, Riley, although as of this writing just twenty-years-old, is way ahead of the game. (I find it's rather ironically amusing that Riley is old enough to legally oversee a wine operation in California, but not to drink its products.) Her stated goal is to "create a wine for everyone; great wines, made with integrity, at an accessible price. I want [people] to experience all of the beauty [wine] has to offer."  To fill her idle hours, Riley is currently a full-time student in chemistry, a field she has also been interested in since childhood, at Cal Poly San Luis Obispo.

The name "Riley's Rows" refers to the vines she planted with her father twenty years ago, and her current releases are bottlings made from those very same plants. About that early beginning, Riley shared, "From that day on, I was in love. I gave up my aspirations of being a princess and committed to becoming a wine maker." The drawings of grape vines on the labels are by Riley herself, made when she was four years old.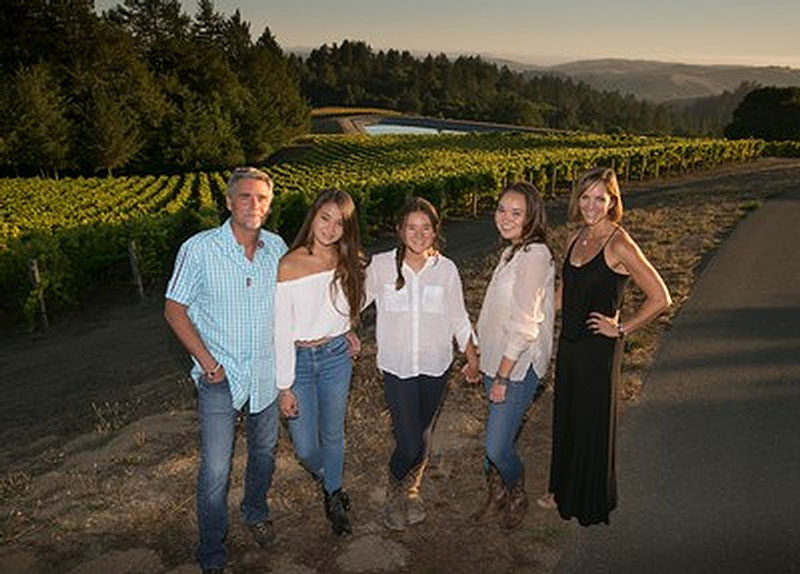 The Flanagan clan.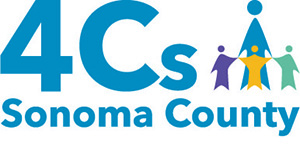 A portion of Riley's Rows retail sales are donated to 4Cs, a nonprofit organization that operates 11 state-funded preschools, and provides affordable, quality childcare in the Sonoma area.
The neck of the bottle of this and all of the Riley's Rows selections have no foil capsule, by intent.  Riley shared, "I don't use foils because I don't like them. I just prefer the look of not having them and I can't stand cutting them!"
Riley's Rows Sauvignon Blanc. 2019
This wine was made from just the second crop harvested from the Redwood Valley Grape Ranch in Mendocino County, way up north.  It was fermented in 60% stainless steel and 40% barrels.  It is nearly colorless, with merely a suggestion of yellow.  It has a delicate nose of papaya and honeydew, and a nice smooth mouthfeel.  The subtle flavors are lemon and grapefruit, with absolutely no grassiness.  Although relatively common in this varietal,  I prefer my Sauvignon Blancs without it.  The finish is clean but somewhat short.  ABV is 12.8%, and 1,024 cases were released.
Riley's Rows Rosé of Syrah 2019
This super refreshing rose began life in a small Syrah vineyard in Sonoma's Bennett Valley.  The goal was to mimic the pink wines of Provence.  It is a lovely light salmon color in the glass.  You are greeted with aromas of mouthwatering ripe fruits, particularly nectarines and strawberries.  The soft plush mouthfeel and medium body is paired with flavors of grapefruit, blood orange, and stone fruits.  The delicate tannins and vibrant acidity lead to a medium finish.  The dry fermentation was in 60% stainless steel and 40% neutral barrels (hence those subtle tannins).  ABV is 12.8%, and 540 cases were produced.
Riley's Rows 3×3 Red Blend 2017
Made from 36% Cabernet Sauvignon, 35% Syrah, and 29% Merlot from a number of north-coast Sonoma vineyards, including the Flanagan's Brandt Ranch. It was in French oak barrels, 20% new and the remainder once-used, for 14 months.  This blend opens with a nose full of dark fruits and a hint of cocoa.  Next come flavors of plums, blackberry, and more cocoa, complemented by good acidity.  But what really stands out here are the big, grippy tannins.  Now, this is fine with me, but may not be for everyone.  It ends in a long finish with, predictably, plenty of black tea notes.   The ABV is 14.2% and 355 cases were made.
https://www.flanaganwines.com/Riley-s-Rows-Wines
Top of page: https://winervana.com/blog/