Eric Flanagan did not come of age with a background in the wine business, or even farming. After graduating from college in 1985, he embarked on a banking career, which he pursued until 2013. His job during those years took him on journeys around the world. He had always had an interest in wine, and over the course of these trips Flanagan became fascinated by how grapes of the same variety expressed themselves in different places.
the siren call of wine
Seeing no need to wait for retirement to start a second career, at the age of 36 in 1999 he decided to act on his deep interest in the world of wine. He purchased 40 acres of open land on the side of Bennett Mountain in Sonoma, California, (in what would later become the Bennett Valley AVA). The site sits at 1200 feet on the south and southwest slopes of Bennett Ridge at the confluence of San Pablo Bay and Petaluma Gap. The soil is rocky, volcanic cobbles with excellent drainage. Having a warm micro-climate in a cool region means that bud break here is early, but harvest is late. The extra hang time for the grapes, along with the low yields and the hillside site, can deliver intense, complex fruit. Flanagan and his then very-young first daughter, Riley (who has gone on to become a vintner herself), planted his first vines there in 2001.

The original winery and Bennett vineyard.
Flanagan's first wine was one barrel of Cabernet Sauvignon made in 2004 with winemaker Philippe Melka. In just the following year he grew production to 150 cases.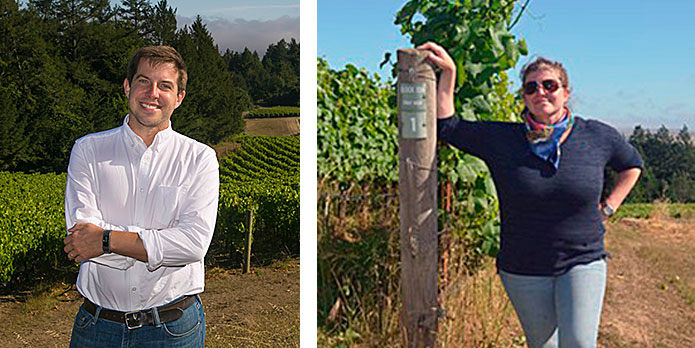 Cabell Coursey                                     Isabelle Mort
From 2014 to 2016,  Cabell Coursey was the winemaker at Flanagan. The energetic and peripatetic Coursey also makes the wine for Tony Lombardi, as well as his own label, Coursey Graves. Although he continues as consulting winemaker for Flanagan, the day-to-day winemaking operations are overseen by Isabelle Mort, who also makes the wines for Riley Flanagan's label, Riley's Rows.  (And while Eric Flanagan sources all of his grapes from Sonoma County, his daughter draws some of her fruit from ranches in Lake County and Mendocino.)
In 2015, Flanagan obtained a 27-acre Pinot Noir vineyard named Gap's View in the Petaluma Gap area of the Sonoma Coast AVA. Cool afternoon winds from the Petaluma Gap keep the fruit "clean" and allow it to ripen slowly. The site is the source of some of Flanagan's Pinot Noir grapes, a small amount of which are made into a vineyard-designated wine.
That same year, he purchased the iconic Sonoma Coast Platt Ranch. With over 300 acres of redwood and fir, it is home to one of the largest coastal redwood groves in the state. The vineyard itself is just 2.5 miles from the Pacific Ocean, and has 31 acres planted to Chardonnay and Pinot Noir. The soil is Goldridge fine sandy loam, and sits high above the regular morning fog. From the top of the property, you can see the tiny town of Bodega and the Pacific Ocean.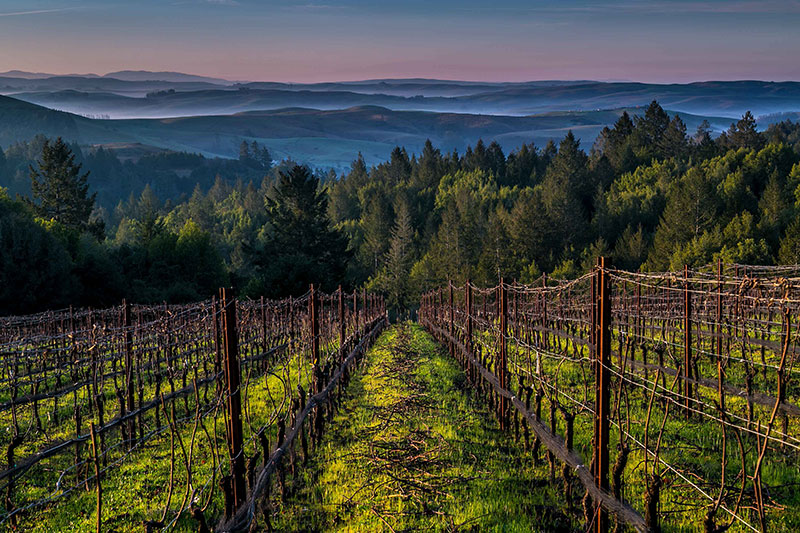 Platt Ranch vineyard, which Flanagan believes "may be the greatest Pinot Noir and Chardonnay site in California."
Flanagan winery 2.0
With access to so much high-quality fruit, Flanagan quickly outgrew the original production facility. In 2016 he purchased a shuttered winery located just outside of Healdsburg. The operation is one of the oldest in Sonoma County, having been originally bonded in 1885. "We couldn't be more thrilled to have found this special winery site and estate vineyards," said Flanagan. "We realized [in 2014] that the winery I built in Bennett Valley wouldn't meet our future needs. Acquiring an operating winery with a 25,000 case permit, ten acres of vineyard, and a public tasting room feels like a miracle."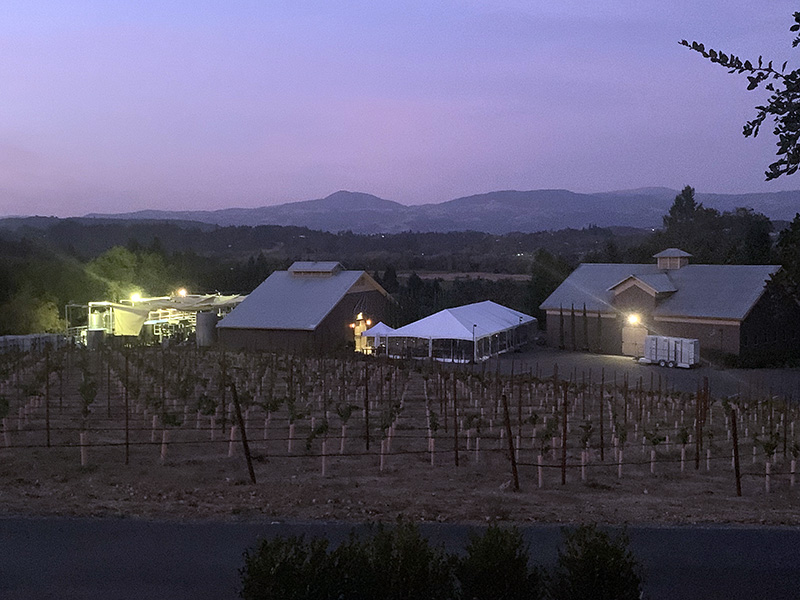 The current Flanagan winery.
The Flanagan production building. The three blue rivulets are the winery's logo, symbolizing the Flanagans' three children, all daughters.
The estate totals twenty acres, ten of which are planted to vines. Shortly after the purchase, Flanagan and then-winemaker Coursey replanted to Cabernet Sauvignon with modern spacing to make the most of the hillside site. Coursey said at the time, "I'm excited to replant the winery's estate vineyards, and look forward to redesigning the winery and creating a world-class facility. The new winery will enhance our ability to craft wines with integrity from some of the most exceptional vineyard sites in Sonoma County."
The view from the tasting room patio.  The rainbow does not appear every day.
In 2016, Flanagan bought the historic Brandt Ranch, which is located within the Kelsey Bench appellation in Lake County, north of Napa Valley. The 120-acre vineyard has 108 acres planted to Cabernet Sauvignon, Merlot, and Cabernet Franc.
"Having a top Kelsey Bench Cabernet source was a thoughtful addition to the highly-acclaimed Pinot Noir vineyards at Platt Ranch and Gap's View," reminisced Flanagan. "Brandt Ranch is a site with great soils, aspect, and climate … my commitment is to help every vineyard we own to realize its potential."
Other vineyards
In addition to the Bennett Valley, Platt, and Brandt Ranch already mentioned, Flanagan also sources fruit from these two properties (and a few others I won't get in to).
Bacigalupi Vineyard is a few miles south of the Flanagan winery. The Bacigalupi family owns about 120 acres of Chardonnay and Pinot Noir here. This vineyard was the source of the Chateau Montelena Chardonnay that beat the French competition at the famous "Judgement of Paris" tasting in 1976.
Ritchie Vineyard, a famous Chardonnay site in Sonoma County, was planted in the early '70s with a Wente clone of Chardonnay. Owner Kent Ritchie was told shortly afterward he would have to eventually replant the vineyard because the vines were not phylloxera resistant, but some forty years later the Ritchie Vineyard is still producing world-class fruit.
Sustainability
Flanagan has an annual production of 4,300 cases, all made sustainably. As of this writing, they are in the process of having their vineyards certified sustainable by CSWA (California Sustainable Winegrowers Alliance).
Beyond the formal certification, sustainability for Flanagan means, "that we farm with a long-term mindset. We do everything we can to ensure that this land will be as healthy, or healthier than, it was when we found it. We are committed to balanced, healthy vineyards, and to producing wines that reflect the integrity and distinctiveness of their site. Our mission is to make great wines from the best vineyards in Sonoma County."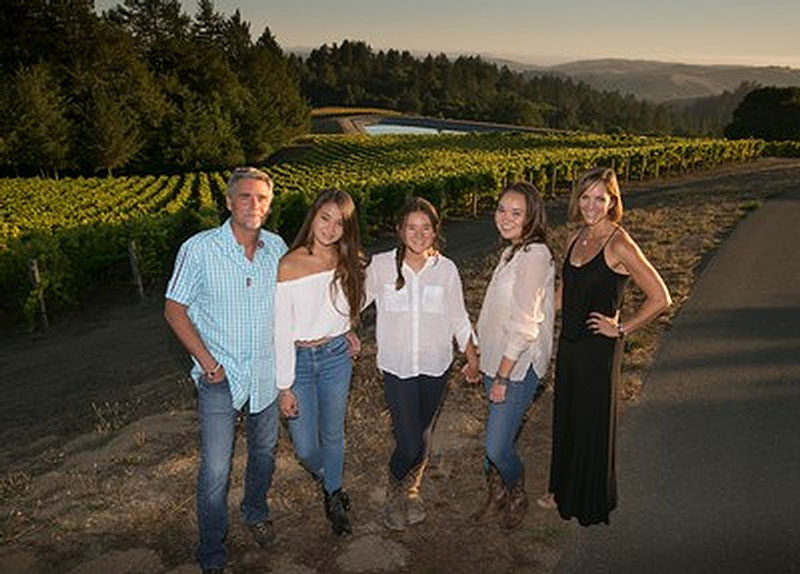 The Flanagan clan.
Flanagan Chardonnay Russian River Valley 2017
The wine was 100% barrel fermented with a blend of fruit sourced primarily from the Bacigalupi and Ritchie vineyards, and then aged for 11 months in French oak barrels, of which 45% were new. A bright gold in the glass, it features a nose of citrus and papaya aromas, with a hint of butterscotch. The lush mouthfeel is accompanied by flavors of tart grapefruit, pineapple, pear, and a suggestion of minerality.  It has bright acidity to balance the richness, and a long finish. ABV is 14.5%.  359 cases produced.  This is one of Flanagan's four Chardonnays.
Flanagan Pinot Noir Sonoma Coast 2016
This Pinot Noir saw 11 months of ageing in  French oak, 46% new. Fermentation was done in open top fermenters for 10 days.  It exhibits a brilliant clear dark red color, and a nose dominated by dark plum accompanied by red cherry, floral notes, and spice. There are flavors of tart cherry and mixed red fruits on the palate.  The
tannins
are nicely integrated.  It ends in a medium finish, with a lingering suggestion of black tea. This vintage was sourced from the  Gap's View and Platt vineyards, as well as two others. ABV is 14.3%, and 700 cases were made.  This is one of the five Pinot Noir's Flanagan produces.
Flanagan The Beauty of Three Proprietary Red 2015
This is a blend of 80% Cabernet Sauvignon, 15% Syrah, and 5% Merlot, drawn from the same barrels as their Flagship blend, but with a different composition.
It presents with a rich, dark purple color.  There are plenty of blackberry and dark stone fruit aromas, and these continue on as the primary flavors with the addition of some cassis.  It has an unctious mouthfeel, very smooth tannins, and a nice long finish. ABV is 14.8% and 640 cases were released.
Top of page: https://winervana.com/blog/