From left to right: Lubanzi (photo courtesy of Lubanzi), Underwood (photo by Jules Davis), and Alloy (photo courtesy of Alloy)
We're all familiar with wine in glass bottles, and even boxes. but cans are gaining ground, particularly with Gen Zers and Millenials.
When it comes to wine packaging, the glass bottle has been the primary choice for centuries. Because of this long history and tradition, consumers associate the bottle size, shape, and color directly with the quality of the product within. By and large, screw-top closures, oddly-shaped bottles, non-glass containers, and boxes were relegated to lower-quality products.
That all began to change about 20 years ago, with a growing acceptance of screw-tops, the ones from Swiss company STELVIN® in particular. It is an aluminum closure system specially designed for wine, featuring a specific bottle neck finish and a range of liners. This was accompanied by the wide introduction of packaging alternatives such as Tetra Paks, wine-on-tap, bag-in-box, individual-serving sized plastic pouches, and aluminum cans.
A short history of canned wine
The story of canned wine, particularly, is much older, however. In the mid-1930s, metal-canning technology was developed, and people have been consuming assorted beverages, such as soda, juice, and beer in cans for over 90 years, of course. As early as 1936, the Acampo Winery began packaging a California Muscatel in steel cans under its Acampa brand. Another early pioneer was Vin-Tin-Age.  (You've got to love that forced pun. Or not.) However, these early efforts failed with drinkers, presumably due to the wine's interaction with the unlined metal of the steel can. In the early '80s there was another attempt to sell wine in cans, this time made of aluminum. Taylor California Cellars tried to convince airlines to serve their wine in lightweight, single-serve aluminum cans. However, small glass and/or plastic packaging won out instead; the now-ubiquitous 50 ml airplane bottle is familiar to anyone who has flown, or visited a liquor store.
Regardless of specific type, any wine packaging must serve three purposes. First, it must to protect the wine, which can be damaged if exposed to oxygen, bacteria, or other harmful contaminants. Second, it must contain the wine (duh!), allowing it to be transported, stored, and consumed. Finally, it must provide information about what you're drinking: where the grapes were grown, the alcohol percentage (ABV), the name of the wine, and more. Cans do a excellent job of protecting wine, especially ones that are young, fresh, and fruity, with little to no oak contact, low to moderate tannins, and intended for consumption shortly after purchase.
The growing popularity of canned wine
Canned wine accounts for a tiny fraction of the market, about one percent. Even so, cans are one of the fastest-growing forms of alternative wine packaging. For years, a can was seen mainly as a convenient way to deliver cheap wine, but these days the same change in consumer acceptance that occurred with screw-caps is happening with canned wine, with higher-quality wines being introduced over the last two decades. Wine-in-can sales totaled $6.4 million in 2015, $14.5 million in 2016, and $22.3 million in 2017. In 2018, sales jumped to more than $69 million, totaling the equivalent of 739,000 12-bottle cases in retail outlets tracked by Nielsen. That's up from just $2 million in 2012, compared with a five-percent increase in boxed wines and a 14.2-percent gain for wine in Tetra Paks during the same period.
A number of factors have contributed to wineries' enthusiasm for canned wine. Cans offer drinkers convenience and portability, since cans are welcome many places glass bottles are not, such as private lawns and pools. The labeling is often fun, dramatic, and creative, allowing producers to position themselves as modern and forward thinking, which is of particular importance to Gen Zers and Millenials. Gotta stay hip, ya know. More substantially, aluminum is 100% recyclable, resulting in a very small environmental footprint. Due to lighter weight during shipping and handling, reduced breakage, and more-efficient stacking, cans versus glass bottles also yield typical savings to producers of approximately 15 to 20%, with some claiming as high as 40%.
Another detail not to be overlooked is the lining that coats the inside of the can, and prevents the liquid from interacting with the aluminum, which was the bane of the false starts of years ago. The pioneer in this regard is the Baroke Winery of Australia. In 1996 they introduced their patented can-coating system, trademarked as Vinsafe. However, no U.S. producers use the Vinsafe technology, relying instead on coatings developed by domestic can makers, primarily Ball. Note that because wine is acidic (less so than beer, more so than cola), eventually the polymer coating can degrade. Another reason to enjoy canned wine as soon as possible (as if we need one).
Finally, we must not disregard the impact of the Internet. It is full of selfies of consumers with colorful, creative cans. The fun and festive nature of many of the designer cans inspires social media blog entries, hashtags, and pictures of friends enjoying the wine together as well.
Currently, 350 wine-in-a-can products are available from 125 wineries in 13 countries. In Japan, wine in cans is very popular, in part because selections are widely available in vending machines. (This is a convenience that will likely never be seen in the U.S. market, due to our century-old hangover from Prohibition.) Quite a number of canned sakés are also offered there.
Three prominent "wine in a can" pioneers
In the U.S., Francis Ford Coppola (yes, the director of the Godfather trilogy and Apocalypse Now, as well as many other films) recreated the wine-in-can category in 2002 by producing a wine named after his daughter, Sofia, to serve at her pool-side wedding. He also cans his Diamond brand. Since then, Coppola has been joined by such major producers as E. & J. Gallo with their Barefoot and Dark Horse labels; The Infinite Monkey Theorem of Colorado and Texas; Precept Wine conglomerate's House brand; Field Recordings / Alloy Wine Works offering California selections; and Union Wine Company of Oregon which sells its products under the Underwood label.
Andrew Jones founded Field Recordings, a single-vineyard project, in Paso Robles, California, in 2007. Jones released his first canned wine, Fiction Red, under the Alloy Wine Works label (Get it? Metal? Alloy?) in 2014. It was intended as a one-off release, but the positive response from buyers prompted him to pursue the format; today, around 40% of the winery's production is canned. The lineup consists of three core wines: Chardonnay, Pinot Noir, and Everyday Rosé. In addition, they frequently release unorthodox, limited-edition offerings, mainly for the can-wine club members, though they sometimes become permanent additions to the portfolio. "It was about meeting people where they wanted to be," says Jones. "They wanted top-quality, terroir-driven grapes, treated the same way they would be for the bottle, but in a smaller, endlessly recyclable package that could be consumed anywhere." Jones sold the company to Vintage Wine Estates in 2019, but is still involved. He reports that his production line is currently 20 times what it was when he launched.
Union Wine Company dove into canning by launching its Underwood label in 2014, relying on 375 ml cans. Pinot Noir and Pinot Gris were the first two varietals offered, but the lineup has since expanded to include still rosé, white and rosé sparkling wines, a white blend, and wine coolers. Today, 55% of the company's 448,000-case business is in cans, up a remarkable jump from just over 100,000 cases in 2014.
Founder and owner Ryan Harms credits the success of Underwood's canned products to their affordability and lack of pretension. "With cans, we embrace the artistry of making great wine, minus all the fuss," Harms says. "And we've remained committed to our original mission of bringing craft quality and affordable Oregon wines to people's tables for everyday occasions." Harms says the appeal of the Underwood wines is that they have "an implied 'ready to drink' quality, which allows them to lend themselves to the can better than other styles might."
A final note, and a few recommendations.
Most canned wines are either 375 ml (a half "bottle" of wine) or 250 ml (the size of a can of Red Bull). While the 375s can be sold individually, the federal government prohibits individual sales of the 250 ml cans, requiring that they be sold in four-packs. I prefer the 375 ml size when I can get it. Some wines come in 187 ml or 500 ml cans, but these are less common. And, an individual winery won't offer a variety of can sizes; they pick one and stick with it.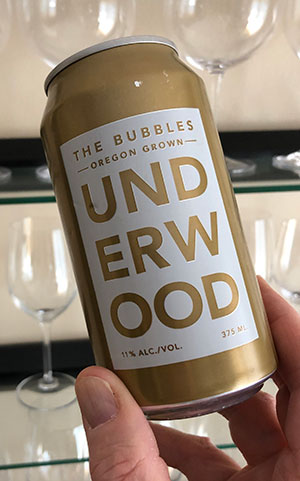 I can recommend just about all of the Underwoods, especially The Bubbles, Dark Horse Rosé, Butter Chardonnay (even though its oaked profile is atypical of canned wine), Creamery Chardonnay, and Cupcake Chardonnay.
Top of page: https://winervana.com/blog/