Located 20 miles inland from the Pacific Ocean halfway between Los Angeles and San Francisco, Paso Robles is in California's South Central Coast region. It is one of California's oldest wine production areas, with a winemaking tradition that stretches back to the 1790s. Known particularly for its rolling hills and valleys, nearly 80% of the wines produced here are red varietals, including Syrah, Zinfandel, Cabernet Sauvignon, and Merlot. The climate of hot days ripen the grapes, and cool nights help to maintain acidity, complexity, and aromatics. Soils vary from silts to silt loams to clay to limestone.
An entrepreneur out of St. Paul, Minnesota who founded and grew a broad range of innovative businesses, Robert Hall and his family went on a trip to southern France in the 1970s and their passion for wine began. After "retiring" in 1999, he came to Paso Robles to realize his dream of owning a winery, which he did until his death in 2014.
When Hall and his wife Margaret purchased the land "there was nothing there" as she recalled, "but dirt." The two were hands-on building their dream, designing the production facilities and winery. Twenty-six feet below ground are 19,000 square feet of caves. This cool sanctuary is home to 4,000 premium French oak barrels. Now the fifth-largest winery in Paso Robles, Robert Hall was named "Winery of the Year" by the California State Fair and California Mid-State Fair.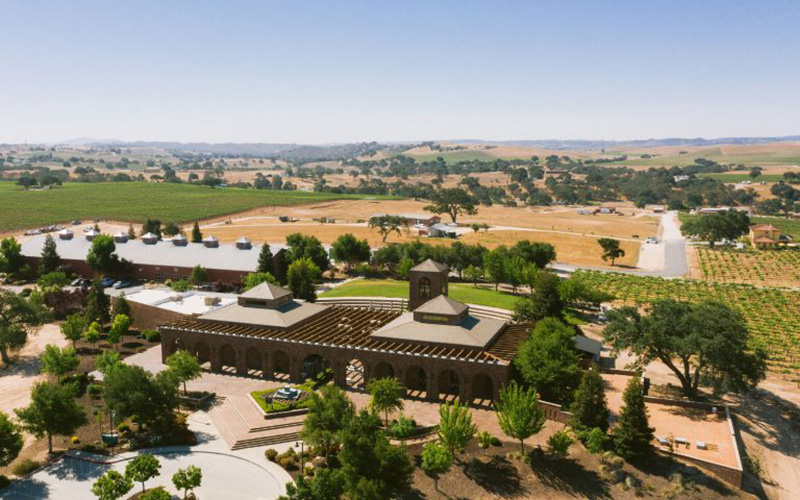 The winery and tasting room.
In August of 2016, Robert Hall was purchased by O'Neill Vintners & Distillers, the seventh-largest wine producer in California by volume. In addition to Robert Hall, the company's national brands include Line 39, Harken, Exitus, Day Owl Rose, Austerity, and Intercept. Continue reading "Robert Hall Cabernet Sauvignon 2019"