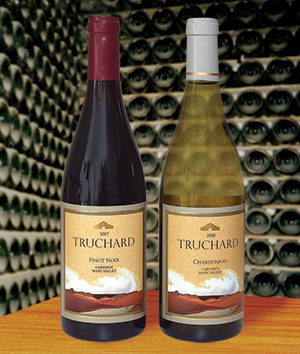 Truchard Vineyards was established in 1974, when native Texans Tony and Jo Ann Truchard purchased a 20-acre parcel of land in Carneros. They transformed what was an abandoned prune orchard into a vineyard, and began selling the fruit to a local winery. Because of the difficult clay soil he had to work with, as well as a dearth of groundwater, Truchard was one of the early adapters of drip irrigation, a practice that was used in Israel for desert farming but not known in California yet. The Truchard Estate Vineyard has since grown to 400 acres, of wich 280 are planted.
In 1989, the Truchards began making wine for themselves (even as Tony continued his practice as a physician), using only their estate-grown fruit. Today the winery makes 12 different wines, producing a total of 16,000 cases per year. The Truchard's remain active at the winery even now, along with able assistance from their son, Anthony Truchard II who serves as General Manager. Their winemaker (and Milwaukee native) is Sal De Ianni. Originally a chemist, De Ianni was sufficiently drawn to wine that he took his M.S. in Enology at UC Davis. In 1998, he responded to a help wanted ad posted by the Truchards, and has been with the winery ever since.
As the most Northeastern vineyard in the Carneros region, Truchard is situated on the foothills of what becomes the Mayacama mountain range and Mount Veeder. The Truchard Estate contains a variety of soils: clay, shale, sandstone, volcanic rock and ash, and enjoys marine-moderated temperatures.
Truchard Chardonnay 2008
A light-yellow colored Chardonnay that starts with pear, citrus, and a hint of sweet banana. The palate is full bodied, with its acidity balanced by flavors of tart green apple, lime, and very light oak. The finish is dry, with suggestions of lemon pith and spice.
Try this Chard with Roasted Trout, Squid with Spinach, or Shrimp with Canellini Beans.
Truchard Pinot Noir 2007
This lean, Old World-style Pinot Noir opens with a bouquet of plum, red berry, and tea. On the palate, the wine is medium bodied and balanced, starting with a bit of sweet vanilla and moving on to spicy oak, cranberry, leather, and tobacco. The finish is dry, with delicate tannins and a hint of bitterness.
People who don't like "fruit bombs" will enjoy this wine. This Pinot should pair well with Fried Veal Cutlets in Tomato Sauce, Peppery Beef Stew, and Meatloaf.
https://www.truchardvineyards.com/
Top of page: https://winervana.com/blog/