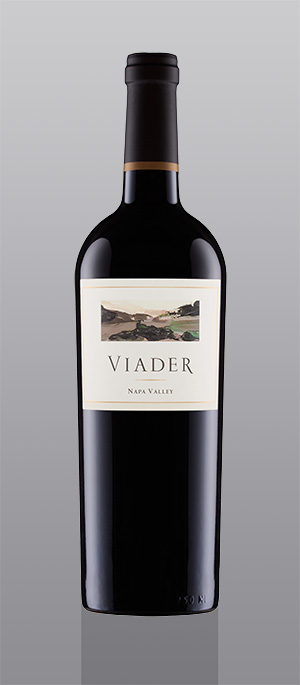 Although I've never met Delia Viader, founder of Viader Vineyards and Winery, she is by all accounts quite a remarkable woman.
She was born in 1958, the first child of a wealthy Argentinian engineer, Walter Viader. In addition to his expertise in aerodynamics and telecommunications, he also traveled the world as a diplomatic attaché. As soon as Delia could read, her parents encouraged her to pursue her innate curiosity, recommending a number of books which they could discuss together.
When Delia was five years old, she was sent to a German girl's boarding school, where she would receive the beginning of her formal education over the next twelve years. It was a thoroughly classical curriculum, including learning ancient Greek and Latin for Mass. She also gained a fluency in English, German, Italian, French, Spanish, and Portugese. And she remained very inquisitive. As she has said about her never-ending questioning, "I guess I had no fear. I always asked, politely, 'And why is it this way, and not that way?' I wasn't being rude; I just had questions, because the nuns only provided beginnings, which led to my many more questions about everything."
In Latin American cultures, a young girl's fifteenth birthday is marked by a quinceañera, the traditional celebration (usually a Mass followed by a big party) which symbolizes her transition from childhood to adulthood. Already the shrewd investor, Delia told her father that she had no interest in something so fleeting as a party, but rather wanted to use the money to buy land. "I want to get a piece of dune by the beach with a view of the ocean," she announced. He was at first taken aback, but her father agreed. When they went to visit the property Delia had in mind, Walter paid for her lot, and purchased the one next to it for himself as well.
After boarding school, Delia was off to Paris. There at the Sorbonne, she took a Ph .D. in philosophy, with a concentration in logic. While still at university, she married her sweetheart of four years. At just 19-years-old, she bore a son, Paul, who was born with Down syndrome. "When Paul was born, that definitely made me realize that there is a purpose in life," she emphasizes. By the time she graduated, she had two additional children and the marriage had ended.
Casting about for her next act, she asked her father to pay for three more years of education at MIT, where one of her younger brothers, Walter Jr., was already enrolled. Always the doting father, Walter agreed, and Delia was accepted into the Executive Financial program at MIT's Sloan School of Management.
After MIT, she and Walter Jr. decided to move to California. She immediately fell in love with Napa Valley, but just for the beauty of the area, rather than any winemaking ambition. However, in 1985 Walter Sr. was approached by a local he had met about forming a partnership to develop a parcel of land on Howell Mountain by planting a vineyard and creating a winery. But Delia had another idea. She said, "Dad, if you put up the money, I think I can make this work by myself." When her father replied, "After all the money I poured into your education, all you want is to become a farmer?" she assured him, "Yes, Dad."
And so Viader Vineyards and Winery was launched. Delia drew up a comprehensive business plan, as her father's money was an investment rather than a gift.
Delia soon discovered that preparing the property to become a vineyard was going to be a big challenge. The place was nothing but mottled rock and poison oak, on a steep hillside. Knowing she would need expert help, she quickly assembled a top-notch team. The first task was preparing the soil itself. To make it suitable for planting, "low to the ground" explosives, followed by jackhammers, were used to break up the most stubborn rock outcroppings.
Next came vineyard layout. At that time, most vines grew on the Napa Valley floor. The few hillside vineyards were terraced, running in a north to south orientation. Because of cost, the fear of erosion, and her instinct for the vines from her years in France, Delia rejected terracing. Instead, the rows were planted up and down the mountain, with an east to west orientation, which allows for more even distribution of sunlight. Although quite innovative at the time, this sort of layout has become commonplace for hillside sites in Napa today.
In addition, Delia and her team opted for a high-density planting of 2,200 vines per acre. 1,800 or less is more the norm. There are cover crops between rows. As is done in Burgundy rather than California, the hanging fruit zone is much closer to the ground. Because of this, the grapes have to be hand harvested, with the workers toiling on their knees. This is always done at night, further increasing the effort. But low-hanging grape clusters also mean that the fruit benefits from heat radiated from the volcanic rock in the soil right after sunset. The cumulative effect is that the grapes mature seven to fourteen days ahead of neighboring properties, and well before the late-autumn rains that can ruin a harvest.
As the vineyard was being established, the next task was to build a home for her family, a higher priority than the winery itself. (For her company's first 11 years, production was at rented space at Rombauer Vineyards.) During the winter of 1989, the house was built just above the vineyard, with views of the vines, the valley, and the lake below. That same year, Delia brought in the first vintage of "Viader," her signature wine, a blend of Cabernet Sauvignon and Cabernet Franc. Production was a mere 1,200 cases.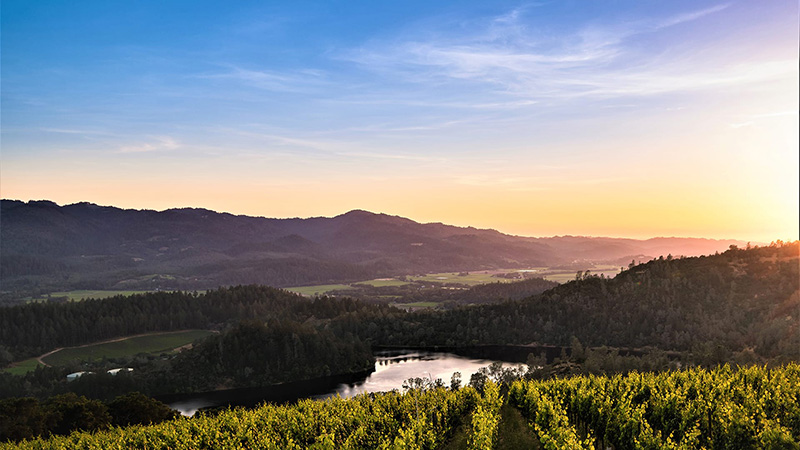 Interestingly, Delia opted to concentrate selling the wine not in the U.S., but in Europe, where she felt more comfortable. Being a polyglot didn't hurt, either. Every other week throughout the 1990s and 2000s, Delia was on the road, traveling to more than thirty countries and opening accounts in every market by herself. "I wanted to present my wines in the bigger pond of the world rather than what I considered the smaller pond of the United States. It keeps you honest and humble to work side by side with brand owners who have over two hundred years of history over you," she says. During this time, the winery itself was constructed, as well as a system of interconnected tunnel cellars.
All of the effort paid off at the end of 2000, when Wine Spectator named the 1997 Viader the #2 of their annual Top 100 Wines. The following year, the Spectator ranked the 1998 Viader as the #3 Top 100 wine of 2001. Success seemed assured as people started clamoring for Viader's products.
As almost all of us eventually learn, life dispenses struggle as well as triumph. In 2005, because of ongoing construction at the winery, Delia was obligated to transfer the entire stock of bottled 2003 vintage wines to an off-site warehouse. This facility was a major storage and distribution center for many other wine and food products vendors as well. It was later learned that a warehouse employee was engaged in fraud and embezzlement. On October 12, 2005, he was in the warehouse attempting to destroy evidence against himself with a propane torch. The fire got out of control, leading to an eight-hour-long five-alarm fire. Viader's 2003 wines, worth $4.5 million, were totally destroyed. Other companies suffered major losses as well, including a number of other small wineries that were subsequently forced out of business.
Delia rallied the family, and the decision was made to press ahead, almost starting over, really. There was insurance money, but it was slow in coming. Delia began to sell off the winery's reserve library of wines, going direct to customers instead of through distribution to maximize profit. She continued to travel to restaurants and wine shows, determined to keep Viader in people's minds. The hard work paid off, and Viader survived to release the 2004 vintage a year later.
The entire family has been actively involved in the business. First, Alan, Delia's second son. After working the land during summers and completing internships, in 2002 he graduated from UC Davis with a degree in viticulture and became vineyard manager. Next came responsibility as winemaker, with the 2006 his first vintage. He became brand ambassador as well, and in that capacity he followed in his mother's footsteps by traveling the world to promote the family's wines. In 2007, daughter Janet joined the company full time, taking over the sales role. She also served as one of the youngest elected members on the Board of Directors of the Napa Valley Vintners Association.
Today, Viader's estate vineyard is planted to 28 acres of vines and includes Petit Verdot, Syrah, and Malbec, as well as many of the original Cabernet Sauvignon and Cabernet Franc vines. "We're not 100 percent organic, but we are mostly organic," stated Alan. He noted that organic is not always a "silver bullet," because of potentially nasty organic chemicals. He also finds that strictly following the guidelines of biodynamic certification doesn't result in quality in line with costs, so he abandoned that after a six-year flirtation. Sustainable practices do include the use of beneficial insects to help eliminate the need for pesticides; raptor roosts and falcon kites to help patrol the property for rodent, snake, and pest bird infestations; and solar paneling to power sensors in the vineyard. The property is carbon negative also, and the soils are never tilled.
Continuing to stay in their separate lots, the unblended wines age in concrete tanks or French oak barrels for 14 to 24 months. During this time, the wine goes through secondary, malolactic fermentation and is racked once, at most, during the aging process. Once final blending occurs, the wine continues to rest in barrel until bottling, which takes place in-house. The wine sees further bottle age for about a year before being released.
Viader Proprietary Red Blend 2014
With just 1811 cases produced, and at the upper end of Napa prices, this is the cult wine you're looking for. The flagship wine from Viader put this unique mountainside winery on the map as one of the first in Napa to tackle and successfully showcase Cabernet Franc as a deserving companion with Cabernet Sauvignon. This blend has been referred to as "liquid cashmere."
It is 72% Cabernet Sauvignon and 28% Cabernet Franc. Cabernet Sauvignon provides the backbone, structure, character, and aging potential, while Cabernet Franc instills a balance and early approachability. The wine was aged for two years in 70% new French oak. It shows firm structure influenced by the rocky volcanic soils of the eastern slopes of Howell Mountain, and an elegant yet intensely rich profile. Big, hearty tannins wrap around flavors of succulent dark fruit, clove, and sage, with hints of floral notes. Cellar for up to 12 years.
Top of page: https://winervana.com/blog/