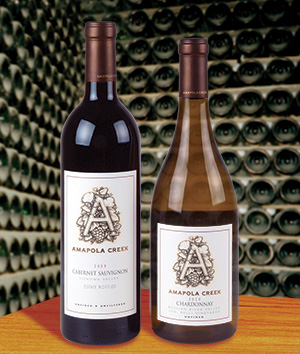 After a legendary career of over 45 years toiling in the vineyards of Sonoma County, Richard Arrowood opened his final winery, Amapola Creek, in 2005. Amapola is Spanish for "poppy," and the creek that bears the name runs through the estate. When in bloom, the golden poppies line the creek and offer a lovely sight with the vineyards and mountains in the background.
The 100-acre ranch (purchased in 2001) that is home to Amapola Creek is situated on the western slope of the Mayacamas Mountains, which rise between and separate the Sonoma and Napa valleys. Although his wife Alis envisioned the site as the perfect place for a peaceful retirement, Richard had other ideas, and immediately set about selecting the best 20 acres of the property for use as the centerpiece of Amapola Creek Winery.
The mountainside estate vineyards are footed in red-brown volcanic soils, and are California Certified Organic. The winery itself is an "organic handling facility," reflecting the Arrowoods' commitment to making wine in the most natural way possible, as well as their "prevention not intervention" philosophy. The solar-powered winery is a small-production, ultra-premium facility with state-of-the-art equipment. To preserve quality, total annual production is just 3,000 cases.
In early December 2019, Richard Arrowood announced his retirement.
https://www.northbaybusinessjournal.com/northbay/sonomacounty/10427340-181/richard-arrowood-sonoma-wine-business
Amapola Creek Chardonnay, Russian River Valley 2010
The Rued and Dijon Chardonnay clones that make up this wine were grown by a single farmer, Joseph Belli, a long-time friend and associate of Arrowood's. The harvest was aged for 10 months in new and old French oak, under malolactic fermentation, and yielded a mere 210 cases.
The nose features aromas of stone fruits such as nectarine and peach, with a hint of flint. Those flavors continue on the palate, along with highly-integrated oak and structural acidity. It's all wrapped up with an unctious mouthfeel and long finish. Drink this unfined wine now.
Amapola Creek Estate Cabernet Sauvignon 2008
The fruit for this wine came from the high elevation Arrowood estate acreage, which features the aforementioned mineral-rich basaltic volcanic soils, and cooling breezes from San Pablo Bay.
This is the fourth Cabernet released by Amapola. The wine was aged for 24 months in new and seasoned French and American oak. This elegant wine shows excellent harmony and structure. The nose opens with cherries, black fruits, and cassis, plus a suggestion of cedar. The taste features effusive blackberry, plum, and currant. The fruit is offset by a pleasing dustiness, and is accompanied by a mouthfeel of firm acidity over fine tannins. A delicate hint of toasty oak and vanilla displays the true varietal nature of Cabernet Sauvignon.
Here's another look at Amapola Creek:
Top of page: https://winervana.com/blog/