Asbach (formerly Asbach Uralt), one of Germany's oldest and best known brandies, celebrated its 125th anniversary in 2017.
The picture-perfect town of Rüdesheim sits along the Rhein river, the old town seeming as though it has always existed. It was here, in 1892, that the ambitious, 24-year-old Hugo Asbach (1868–1935) founded his distillery. In 1908, he registered the brand name "Asbach & Co. Uralt" at the Trade Registry of the Imperial Patent Office.  Uralt is German for "ancient." and has since been dropped.
Asbach, a native of Cologne, learned the distillery trade at a local firm named "Export-Company for German Cognac," and further improved his knowledge in France. Like other brandy producers of his time (as well as ours), Cognac was the ideal he aspired to in his own brandy distilling. And "Rüdesheim Cognac" was what he called his product, which soon became popular. After World War I, however, the Treaty of Versailles decreed that the word Cognac could only be used for French products, specifically from that region. Asbach pivoted and coined the term "Weinbrand," literally wine brandy, for German brandy, which in 1923 became an official classification according to German wine law.
That being said, the production process is very similar to that of Cognac. "Distilling the wine in copper pot stills and aging the wine distillates in Limousin oak barrels for years are attributes for Asbach as well as for Cognac," says Asbach Managing Director Christopher Dellee. But, he's quick to point out that being free of the constraints placed on Cognac producers means Asbach can use a greater variety of wines, and give its distillates a second rest after the blending process in German Spessart oak casks.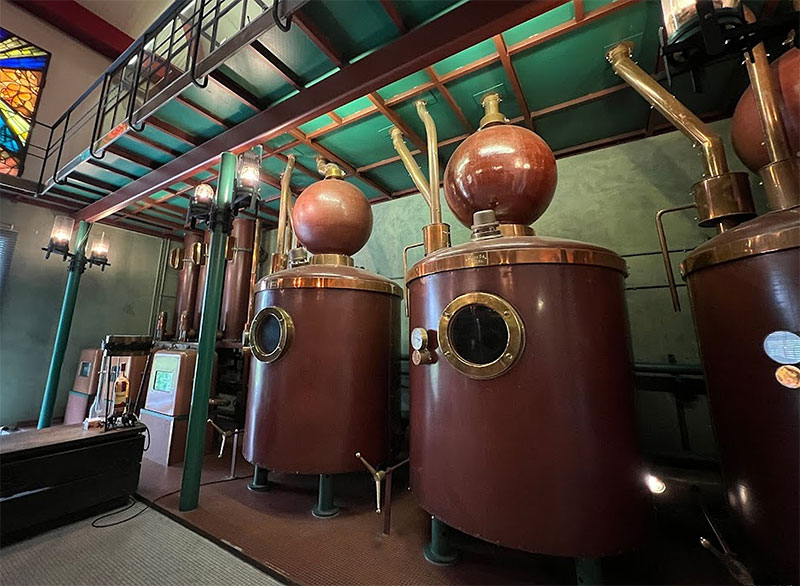 The wines are distilled in two stages — raw spirit and fine spirit — that is both very time-consuming and highly labor-intensive. The raw spirit has an alcohol content of about 40% volume and is the result of the first distillation stage. During the second distillation, one that is significantly more complex than the first, the aim is to obtain the final fine spirit of about 75% volume, also known as the heart, that has the characteristics Asbach is looking for. When the process has been completed, the distillates are transported to Ottersweier at the foot of the Black Forest. This is the site of the Asbach maturing cellar where the brandy ages for at least three years in French Limousin and German Spessart oak, the latter made in the in-house cooperage.
Those casks are a particular point of pride for Asbach, which is always working to strengthen its "solid German, regional roots," according to Dr. Hubertine Underberg-Ruder, President of the Board at Underberg AG, which bought Asbach in 2002 from the British company United Distillers, which had acquired it in 1991. Dr. Underberg-Ruder says they recognized in Asbach "a unique German premium brand [with] this rich and longstanding heritage."
While many Germans grew up with Asbach's familiar advertising posters and slogans, the brand is less well known outside of German: three quarters of the bottles produced each year are sold there. Curiously, Asbach has built up a loyal following among foreign military personnel – mainly Brits – who were stationed in West Germany during the Cold War. These soldiers brought bottles back to their home countries, creating some demand for Asbach overseas.
Asbach 8 Year Old German Brandy
Being German by birth, I have a sentimental attachment to this brandy.  (But, although I enjoy it, it's not my favorite.  That place goes to Kelt Tour du Monde.)
This brandy is a lovely deep amber in the glass.  The nose carries hints of orange zest, vanilla, and cinnamon.  On the palate, it is smooth but somewhat fiery; black pepper predominates, with a bit of caramel and sweet sherry.  It is a bit less refined than some VSOP Cognacs, the primary competition, but quite a bit more so than an Armagnac, Cognac's lesser-known country cousin.
In addition to the 8 Year Old, there a 3 Year Old, 15 Year Old, 21 Year Old, and 30 Year Old available in the US.
Listen to my podcast about brandy, Cognac, and Armagnac here.
A note about brandy vs. Cognac. Brandy is a liquor distilled from wine and aged in wood. (Brandy can be made from fruits other than grapes as well, but that's a story for another time.) Cognac is brandy that specifically comes from the town of Cognac and the delimited surrounding areas in western France. (The one which has the most favorable soil and geographical conditions is Grande Champagne.) So, all Cognacs are brandy, but not all brandies are Cognac. For more detail on Cognac, click here.
Top of page: https://winervana.com/blog/