In 1894, Gaspare Indelicato was born in the small village of Campobello di Mazara in the province of Trapani, Sicily. In 1911, at the tender age of 16, he emigrated by himself to the United States through Ellis Island, New York, as many European immigrants of the time did.
Eventually, Gaspare found his way to Manteca, California, about 75 miles east of San Francisco, in the agriculturally-rich San Joaquin Valley, where the climate reminded him of his homeland. There he met and married his wife Caterina Luppino. In 1924, Gaspare and his brother-in-law Sebastiano made a bold decision to purchase a 68-acre dilapidated dairy farm, planted grapes, and shipped them by train to home winemakers in Chicago and and the Northeast during Prohibition. (Although technically illegal under the Volstead Act that delineated Prohibition, home winemaking was very rarely prosecuted, since the law was vague about it, and the government had its hands full dealing with bootleggers and organized crime surrounding alcohol.)
When "The Noble Experiment" was repealed in 1933, selling grapes to home winemakers was no longer profitable. Sebastiano and Gaspare decided the only way to monetize their grape crop was to make wine themselves. After purchasing some used winemaking equipment, in May of 1935 they opened their winery in a converted hay barn and called it Sam-Jasper Winery after the Americanized versions of their first names. Production began with 3,451 gallons (about 1,740 cases) of red wine which was sold to local farmers and friends for 50 cents a gallon. 
By 1940, the Delicato winery was making and selling about 15,000 gallons a year. As the business continued to grow, Gaspare's three sons, Frank, Anthony, and Vincent, joined the winery in the 1950s. In 1955, production reached 74,107 gallons. By 1964, the winery increased its capacity to 403,000 gallons. This steady growth over the years is what makes Delicato Family Wines (as it is now known) today a Top 10 U.S. wine supplier. With total sales of more than 16 million cases per year and more than a decade of sustained double-digit growth, Delicato Family Wines is the sixth-largest winery in America and the sixth-largest exporter of branded wine from the USA, and employs more than 200 people.
Black Stallion Estate Winery in Napa Valley's Oak Knoll district is one of 28 labels now produced by Delicato. Before grapevines dominated the landscape there, the valley was a rich grazing land for horses and cattle. Indeed, the winery building itself was once home to the Silverado Western Center, which opened in September of 1963 with riding trails, stables, and the area's only indoor riding arena.  Delicato acquired the facility in 2010, which is at the southern foot of the famous Silverado Trail in Oak Knoll.
Black Stallion harvests and sorts its fruit by hand. Once crushed at the winery, micro-lots may be fermented in small tanks made of wood, concrete, or steel. These choices of aging vessel give winemaker Ralf Holdenried the flexibility to match a batch of grapes with the material best suited to bring out its full potential.  After fermentation, wine is drained using gravity (not pumps) and aged in oak barrels.
Black Stallion Winery.  Photo: Sean McElroy.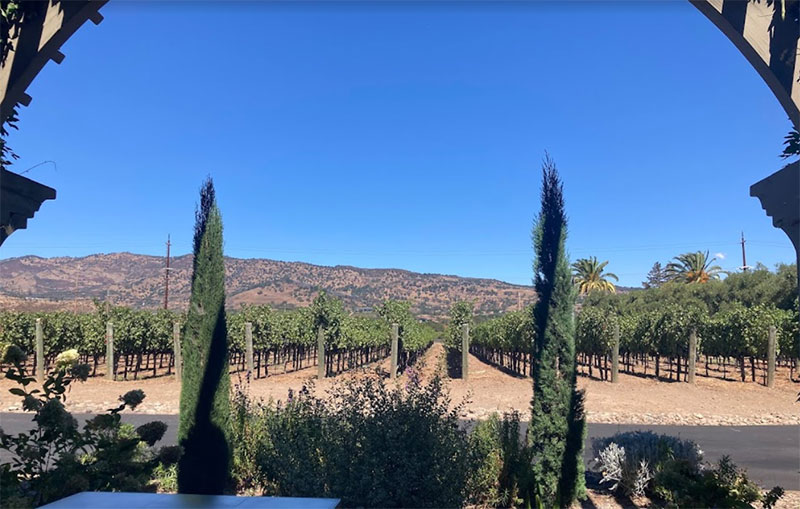 Black Stallion Estate Vineyard.  Photo: Jordan LeMay.
Black Stallion Cabernet Sauvignon 2013
Holdenried sources fruit for this wine from throughout the region, including Cabernet Sauvignon from vineyards in Oak Knoll, Atlas, Peak, Rutherford, Oakville, Coombsville, Diamond Mountain, and Mount Veeder, districts all familiar to wine aficianados. "Once you start working with grapes, you never get bored. There is always something new to explore. No one year is ever the same," Holdenried says.
The 2013 vintage was one of Napa's best, and this wine is no exception. After harvest, it was fermented in stainless steel, then transferred to oak barrels (35% new, 80% French, and 20% American) where it underwent malolactic fermentation and 16 months of aging. Each block was kept separate until the final blending.
This wine is composed of 91% Cabernet Sauvignon, 6% Merlot, 1% Petit Verdot, 1% Cabernet Franc, and 1% Syrah.  It is very dark purple/red in color, and is characterized by cocoa, dried fig, mocha, black fruit, and black currant, with a balancing acidity, nicely integrated tannins, and a medium finish.  The ABV is 14.5%
Just like on the improv comedy show Whose Line Is It Anyway?, I give this wine 1000 points, because the points don't matter.
Note: I originally tasted this wine in August of 2016.  I did so again in October of 2021, and it is easily just as good five years later.   And, I have no special storage regimen, just an ordinary basement with a year-round temperature of about 70 degrees F.
https://www.blackstallionwinery.com/
Top of page: https://winervana.com/blog/