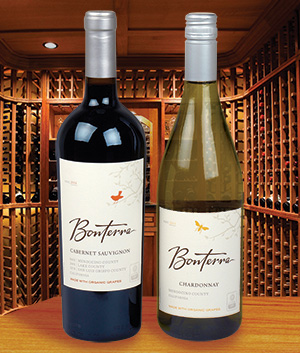 Bonterra Vineyards has been a pioneer in organic farming in California. The vines were planted in 1987, and the first wines were released in 1992, long before organic products were widely available in America. Bonterra believes that organic grapes produce the purest expressions of the varietals and land on which they are farmed.
Bonterra's three estates (Blue Heron, McNab, and Butler) are certified Biodynamic® by Demeter, a not-for-profit with the mission of enabling successful farming in accordance with Biodynamic practices and principles.  These are simply to create and oversee a living organism which is self-contained, self-sustaining, and follows the cycles of nature. Biodynamic farming harkens back to how farms functioned centuries ago. It is a holistic view of agriculture with a high awareness of the interconnectivity among earth, plants, animals, humans, and even the moon.
There are nine Demeter-certified preparations made from herbs, minerals, and manures. These are applied to the soil and vineyards in very small doses to enhance soil fertility with increased micro-organism development and photosynthetic activity.
Yarrow, chamomile, stinging nettle, oak bark, dandelion, and valerian each play a role in strengthening, and in some cases remedying, weaknesses in the vineyards. Teas and tinctures are made from fresh or dried plants, and are sprayed to increase active regeneration on the farm.
In addition, animal "partners" play an essential role in the ecosystem. The vineyards provide chemical-free sanctuaries for bees, supported by native plants which bloom throughout the seasons. Chickens roam the rows, eating weeds and insects that can harm the vines. Their scratching and pecking aerate the soil and provide additional nutrients to the vines. December through March, around 2,000 sheep snack on the cover crops and weeds as they "landscape" the vineyards, adding beneficial fertilizer to the soil as they graze.
Mendocino Chardonnay 2014
This wine opens with a hint of crème brulee, followed by aromas of pineapple and citrusy lemon. The palate features flavors of green apples, pears, and citrus, supported by a clean minerality. The wine underwent malolactic fermentation in previously-used or neutral oak in order for its fresh fruit characteristics to shine through. New oak was used for just 16% of the wine to provide a vanilla note.
Enjoy this best-buy wine with seared swordfish with avocado relish and roasted broccoli, or crunchy pecan chicken with lemon ginger sauce.
Cabernet Sauvignon 2014
This red is very much in the European style, with relatively subtle flavors of cherries and currants. Those are present on the nose as, well, with the addition of a bit of toasted oak. The wine finishes with astringent tannins and a lingering finish.
Serve this up with grilled chicken on rosemary skewers, lamb chops with juniper berry marinade, or sirloin tips Quasimodo.
Top of page: https://winervana.com/blog/