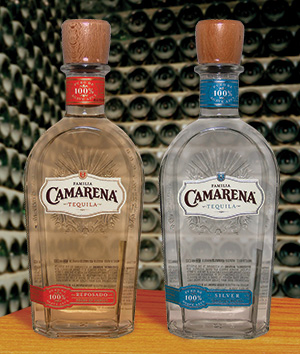 Winter is behind us for yet another year, and even under quarantine, thoughts turn to relaxed evenings on the deck or patio, steaks or shrimp sizzling on the Weber, and something cool and refreshing in the glass. A crisp Chardonnay or ice-cold beer are nice, of course, but it's hard to beat a well-made Margarita (no sweet-and-sour mix!) when the weather gets pleasant. And, of course, Cinco de Mayo is just a couple of days away as I write this.
A good Margarita is only as good as the tequila it's made from, and the best tequila is 100-percent blue agave. Blue agave is a smooth-leafed succulent plant (a cactus-type plant with no needles). The unique blue cast of the plant's leaves gave it its English name. Agave is native to the central Mexican state of Jalisco; it was there in 1761 that the Spanish-immigrant Camarena family co-founded the town of Arandas (approximately 280 miles east of Puerto Vallarta). In 1860 the Camarenas began cultivating blue agave for tequila, becoming one of Mexico's top growers. Today, the family grows more than three million agave plants, some at an altitude of 7,700 feet, in the Los Altos Highlands, the world's highest agave fields. Here, the mineral-rich volcanic soil, low rainfall, and temperate climate support plants of greater flavor maturity.
In 1938, the Camarenas began making their own tequila. The process starts when the seven- to ten-year old plants are hand-harvested by the field workers, the jimadores. The jimadores use sharp spades called coas to remove the spiky leaves from the agave. What remains is a trimmed central piña, often weighing more than 100 pounds.
The piñas are then slow-roasted for two days in ovens made of volcanic sandstone, to convert the agave's fructose to fermentable sugar. Next, the cooked agaves are passed through a shredding mill to separate the juice from the pulp. A special wine yeast is added to the juice, or wort, to create a mildly alcoholic liquid called mosto. The mosto is then distilled using traditional, small pot stills.  Apparently, Camarena goes a step further.  According to their Web site, "we use a proprietary method which blends traditional ovens and modern techniques. This allows us to consistently produce one of the smoothest and best-tasting tequilas around."  Indeed, both of Camarena's tequilas are exceptionally smooth and appealing, and they are excellent values.  (There is also an Anejo, which I didn't have a chance to try.)
E.&J. Gallo (yes, that Gallo) inked an exclusive deal to distribute Camarena in the U.S. in 2010, which is why the brand appeared nearly everywhere seemingly instantly.
To help get your summer started, here's my personal Killer Margarita recipe: combine 4 oz. tequila, 2 oz. triple sec, and 3 oz. Rose's lime juice with 1 cup crushed ice. Stir or shake until ice is nearly melted. Pour into salted-rim (I like to use a mix of 3-parts kosher salt to 1-part tajin seasoning) glasses half filled with ice cubes. Garnish with a fresh lime slice.
Camarena 100% Agave Silver
Camarena 100% Blue Agave Silver Tequila rests for several months after distillation to integrate flavors before it is bottled at 40% alcohol. This unaged tequila is completely clear, and exhibits hints of sweet vanilla and black pepper. Substitute it for vodka in a Bloody Maria.
Camarena 100% Agave Reposado
Camarena 100% Blue Agave Reposado Tequila is aged for two months in American oak barrels. The wood aging imparts a golden color, and brings out additional roundness to the flavor, as well as the natural agave sweetness. Substitute it for bourbon in a Mexican Manhattan.