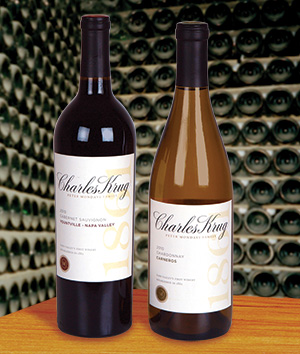 After stints as a teacher, political activist, newspaper editor, U.S. Treasury employee, and inventor, in 1861 the restless German immigrant Charles Krug established the very first commercial winery in Napa Valley.
Krug was not only a pioneer, but was innovative and inspirational as well. He became the major local winery figure of his era. He introduced the cider press for winemaking (no more foot stomping!), and carefully selected rootstocks, varietals, and vineyards, a novel approach to winemaking at the time.
Upon Krug's death in 1892, James Moffitt became proprietor of the winery, and succeeded in keeping it open during the dark days of Prohibition. In 1943, Robert Mondavi persuaded his parents, Cesare and Rosa, to purchase the winery from Moffitt for $75,000. Robert Mondavi developed his wine career there, until he founded his own winery in 1966 and went on to become one of the greatest legends in all of California's wine industry.
Cesare rejuvinated the winery, and reestablished it as one of Napa's premier producers. Following Cesare's death in 1959, Rosa ran the winery until 1976 when it was inherited by Peter Mondavi, Sr.
Innovation continued under Peter, who introduced vintage dating, cold fermentation, cold filtration, and fermentation in small French oak barrels. He was active in the affairs of the winery nearly up until his death in 2016 at the age of 101.  The operation continues under the guidance of his sons Mark and Peter Jr.
Carneros Chardonnay 2010
The color of this 100% chardonnay in the glass is bright yellow with a hint of green. The nose features aromas of tropical fruit, particularly lime, and fermenting bread dough. On the palate, the citrus and peach flavors are balanced with a lively acidity. There is a surprisingly creamy mouthfeel, complemented by a lingering finish. Fermentation was 70% stainless steel and 30% barrel, so the oak is present but not overbearing.
Please your guests and yourself by serving this wine with Chicken ala Kiev, Sea Bass Stuffed with Crabmeat, or Scallops Sauteed in Garlic Butter.
Yountville Cabernet Sauvignon 2010
This cabernet sauvignon favors elegance and finesse over power. The dark purple color is more transparent than inky. Black cherry dominates the nose. The taste displays the same dark fruit, abetted with cocoa and hints of tobacco and vanilla. The supple tannins help to support a relatively long finish. The blend includes 84% cabernet sauvignon, 10% merlot, 4% petit verdot, and 2% cabernet franc. Fermentation was for 20 months in French and American oak.
Enjoy this wine with Steak Diane, Ragout of Lamb, Herb-stuffed Pork Chops with Wine Sauce, or just with some honest bread and artisanal cheeses.
Top of page: https://winervana.com/blog/