There are a number of French champagne producers who have operations in California, such as Roederer (whose California wine I prefer over the French, and it's half the price).  But here's a twist: a California winery with a genuine French champagne.  And this isn't just any winery; Buena Vista is the second oldest in the state. (The first was D'Agostini winery, established in 1856 by a Swiss immigrant.  Buena Vista calls itself the first "premium" winery in California, but that seems to be based more on aspiration than fact.)
Regardless, Buena Vista was founded in 1857 by Agoston Haraszthy de Mokesa, who immigrated from Hungary, first to Wisconsin and then to San Diego, where he was improbably sheriff and then marshal.  He attempted a vineyard in Mission Valley, but it failed.
He finally landed in Sonoma, where he acquired the 800-acre Buena Vista ranch.  He produced 6,500 gallons of wine in his first vintage.  By 1860, Haraszthy had more than 250 acres of vines planted, and with this success proclaimed himself the Count of Buena Vista.  Sadly, that initial success was short-lived. By 1863, for financial help he was forced to turn to the Buena Vista Vinicultural Society, a group of financiers led by San Francisco banker William Ralston. Within two years, Buena Vista was producing two million gallons of wine a year. But the success of the budding wine industry in California led to wine prices dropping dramatically as expenses rose. In 1866 Haraszthy was forced to resign from his position of superintendent of the winery. During the 1870s the winery produced about 100,000 gallons of wine a year from approximately 500 acres of vineyards. Sparkling wine was a popular seller. During the depression of 1873-77 the society was forced to liquidate its assets and file for bankruptcy, bringing the first incarnation of Buena Vista to an end.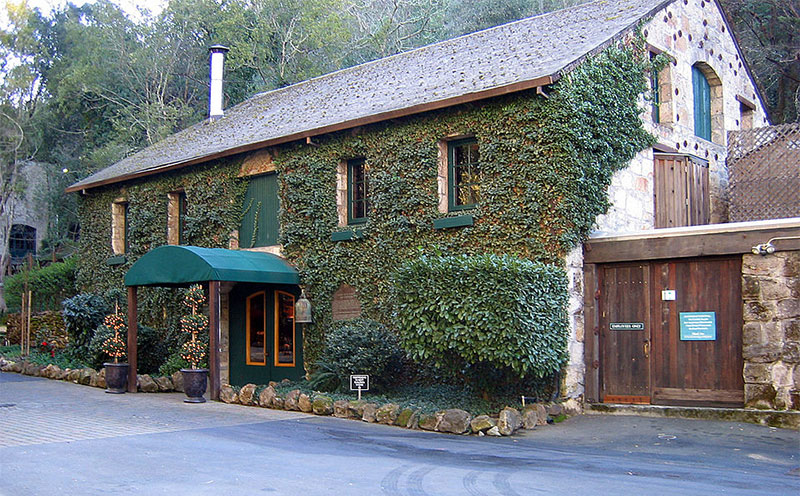 Although somewhat eccentric, Haraszthy was a true wine visionary.  He carved out the first wine cave in California. He went to Europe in 1861 with a mission to bring back quality vines and techniques, which he did, revolutionizing California winemaking.  He returned with 487 varieties of choice vine cuttings and propagated them at Buena Vista. One of his innovations was to turn the vineyard soil regularly so the moisture stored within it could be released back into the vines. This was done so that flooding of the crop was less necessary, a common practice of the time.  His passion also inspired many others to take up winegrowing in Sonoma. One of the more notable was Charles Krug, who purchased land from Haraszthy, and began planting vines. Krug later moved to Napa Valley, crushing his first grapes on a press borrowed from Buena Vista and pioneering winegrowing in the now-famous Napa Valley.  The Count met a sad fate when, exploring in Nicaragua, he fell into a crocodile-infested river in 1869, never to be seen again.
The long-neglected Buena Vista property was purchased sight unseen by Frank and Antonia Bartholomew in 1941, who initially didn't realize it was a historic winery.  Frank , a journalist with United Press, left to cover the fighting in the Pacific during World War II, leaving Antonia to restore the grandeur of the estate. When the war ended, Frank , along with his friend, famed winemaker André Tchelistcheff, turned his attention to winemaking.  Together they immediately began producing world-class wines, releasing the first post-Prohibition vintage in 1949, which was hugely successful.  Bartholomew replanted some of the original vineyards and bonded the winery, thus becoming one of the first entrepreneurs to invest in the California wine industry after Prohibition. He sold the property in 1968 to Vernon Underwood of Young's Market (now known as RNDC).
Underwood planted a large vineyard in the Carneros region and built a new modern winery facility. The West German wine and spirits company A. Racke purchased Buena Vista in 1979. In 1984 they acquired 1,000 acres, making Buena Vista the largest vineyard estate in the area. In 2011, Buena Vista was acquired by Boisset Family Estates, a collection of historic wineries and roots in Burgundy, France.
Buena Vista La Victoire Champagne
Buena Vista was one of the first California wineries produce méthode champenoise [aka méthode traditionelle] sparkling wine. Today, it is the first California winery to make Champagne in Champagne. The fruit for this selection is sourced from 1er Cru Pinot Noir vineyards in Montagne de Reims, and Grand Cru Mesnil-sur-Oger and Chouilly Chardonnay vineyards. The wine is a blend of 70% Pinot Noir and 30% Chardonnay.
This pale gold bubbly pours with a rather coarse mousse, but the fizz is fine.  It has a quite delicate nose, but the palate bursts with plenty of flavor, including brioche, and key lime juice and pith.  The excellent mouthfeel is full, rich, and refreshing. ABV is 12%.
Note: This wine now comes in a shorter, squatter bottle than the one shown here.
Top of page: https://winervana.com/blog/