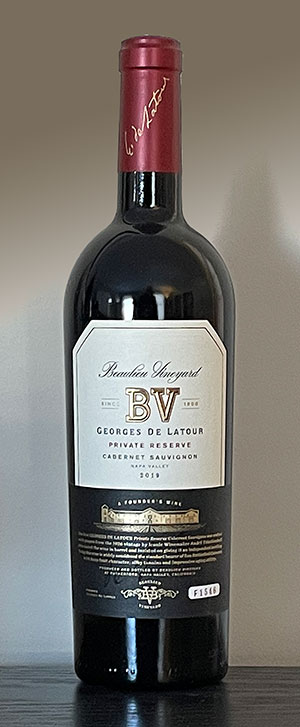 Beaulieu Vineyard is one of California's oldest and most celebrated wineries.  It was established by Georges de Latour and his wife Fernande in 1900, and is situated in the  Rutherford AVA in Napa Valley.
De Latour was born October 20, 1856, in Bordeaux, France.  At the age of twenty-six, he immigrated to San Francisco, where he was employed as a chemist from 1884 to 1888, later settling in San Jose in the early 1890s. He ran a cream of tartar business there for use in baking powder.  After neighbors complained of the smell from his factory, he and his wife moved to Healdsburg in Sonoma County, before finally settling in Napa, where the De Latours Initially purchased four acres (1.6 ha) of land. Legend has it that when Fernande first saw the property she exclaimed, "Quel beau lieu!" which translates to English as "What a beautiful place!"  And so the place was named.
Their land holdings expanded over the next several decades, many of which are still part of the BV portfolio. In 1903 they purchased 127 acres in Rutherford, which they named "BV Ranch No. 1." In 1910 another land purchase was made, now known as "BV Ranch No. 2." Over the ensuing years the de Latours purchased much larger nearby properties in Rutherford including "BV Ranch No. 3."  This practice of naming subsequent vineyard purchases by number has continued through today, with vineyard numbers now up to No. 12.
With access to such desirable farmland, de Latour soon abandoned cream of tartar for wine.  The first vintage made on site at Beaulieu Vineyard was in 1911. A new winery was built for the 1916 vintage.  In 1923, de Latour purchased the Seneca Ewer Winery. It was founded by State Senator Seneca Ewer and designed by noted winery designer Hamden McIntyre, who was in part responsible for the Greystone building, currently occupied by the Culinary Institute of America; Eschol Winery, now owned by Trefethen Family Vineyards; and the Niebaum Estate,  The building dates back to 1885, and its four original stone walls remain the core of today's Beaulieu Vineyard winery in Rutherford (although many changes and expansions have occurred over the decades).
Georges died in 1940, and for 11 more years Fernande oversaw the winery operations. After her death, the winery was transferred to her daughter Madame Hélène de Pins and her husband, Marquis.  In 1969 the Madame sold the winery to Hueblein, Inc., (That same year Heublein also purchased their historic neighbor, Inglenook Vineyards.).  Today Beaulieu is owned by the behemoth Treasury Wine Estates.
George de LaTour was amazingly prescient in three critical areas:
Phylloxera
Phylloxera [fihl-LOX-er-uh] is a tiny aphidlike insect from the eastern United States that attacks the roots of grapevines, usually to devastating effect.  It has been a serious threat to vineyards around the world for over 150 years.  It had begun destroying vineyards in Napa Valley beginning in the 1870s, and continued attacking nonresistant rootstocks for several more decades. By 1909 de Latour established a sizable nursery business, supplying various grafted phylloxera-resistant vines to vineyards in both Napa and Sonoma counties. His nursery was a major reason the Napa Valley was able to replant and eventually recover from phylloxera.
prohibition
Aware of the stormy debate leading up to the vote on the 18th amendment, de Latour had the foresight to obtain a warrant to produce sacramental wine, and  became the first supplier of altar wine to churches nationwide.  He established offices in New York as the Beaulieu Vineyard Distributing Company, expressly for the altar wine trade. When Prohibition in the United States began in 1920, most wineries in the country were forced out of business. However, as one of the few survivors, Beaulieu repeatedly expanded. By the Repeal of Prohibition in 1933, production had grown to over 1 million US gallons (3,800,000 L) per year.
winemaker
Beaulieu Vineyard Georges de Latour Private Reserve Cabernet Sauvignon 2019
When Tchelistcheff arrived at Beaulieu, he tasted the de Latour family's private wine – what they called "Private Reserve" – from the 1936 vintage. This Cabernet Sauvignon-based wine was so distinctive that Tchelistcheff insisted it be bottled and sold as the winery's flagship offering. In 1940, Beaulieu Vineyard released the first vintage of Georges de Latour Private Reserve Cabernet Sauvignon, a wine that was destined to become Napa Valley's first "cult" Cabernet.
The grapes for this vintage were sourced from the western bench of the Rutherford AVA in the BV Ranches No. 1 and No. 2, originally planted by Georges de Latour in the early 1900s. It is produced at a state-of-the-art winery dedicated exclusively to the making of this wine.  A portion of the juice is fermented in new French oak barrels, with the balance fermented in stainless steel and concrete tanks with extended skin contact.  Finally, the wine is pressed and returned to French oak barrels. 95% of them new, for malolactic fermentation and 20 months of aging.
This Cabernet is a very dark red.  The relatively closed nose offers up aromas of dark fruits.  These express as red current and sweet black cherry on the palate, with hints of earth and cocoa.  The signature "Rutherford Dust" tannins are grippy, but not over the top, complemented by perfect acidity.  It all wraps up in a very long finish.  The ABV is 14.7%.
This wine is quite elegant, as well it should be for its $150 retail price. (The 1940 sold for $1.50, the equivalent of $33 today.)  Although I enjoyed it, frankly it was too elegant for me.  Personally, a better value would be three bottles of Mount Veeder Cabernet Sauvignon, Freemark Abbey Napa Valley Cabernet Sauvignon, or Austin Hope Cabernet Sauvignon.
Top of page: https://winervana.com/blog/