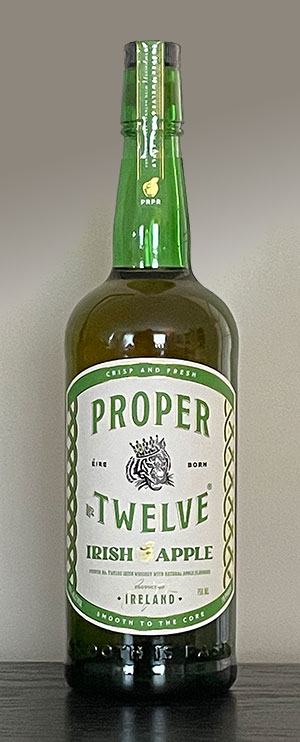 Proper No. Twelve Irish Whiskey is a brand founded by Mixed Martial Arts Champion Conor McGregor under his Eire Born Spirits company in September 2018. It has in just under five short years become one of the most successful whiskey brands in the world.
Allegedly, the company's first production run sold out in just under two weeks due to incredible demand. Tesco stores in Ireland began limiting customers to just two bottles per visit. 213,800 cases were shipped in 2019, a figure which represented a 17.8 per cent increase from the previous year. On Instagram, McGregor claimed after their first year they had raked in over $1 billion in sales. He said: "Over $1 billion generated in Whiskey sales in my first year! Like it or not, there is a new King in town! Proper Whiskey, liquid sunshine!"
In creating his whiskey, McGregor worked in concert with master distiller David Elder, formerly of Guinness and Bushmills, to decide on the final blend selected from almost 100 samples. It is a triple-distilled blended whiskey matured in former bourbon barrels. The whiskey is produced at the Old Bushmills distillery in Ulster, Northern Ireland.
The name refers to the Crumlin area of central Dublin, McGregor's hometown. 12 is the postal code for Crumlin. McGregor, aka The Notorious, shared, "I come from a place called Crumlin, in Dublin 12. It's a place dear to my heart. It's where I learned how to fight; it made me who I am today. It's a place I'm still very much a part of every single day of my life. So, that's where the name came from. It's proper Irish whiskey and twelve is my hometown."
Eire Born Spirits was co-founded by McGregor, his manager Audie Attar, and Ken Austin, who previously worked for E&J Gallo and Seagrams. And, this isn't his first celebrity spirit collaboration. In 2013, he founded Tequila Avíon with rap star Jeezy.  More recently, Austin teamed up with Dwayne "The Rock" Johnson for Teremana tequila, which launched in the U.S. in March 2020.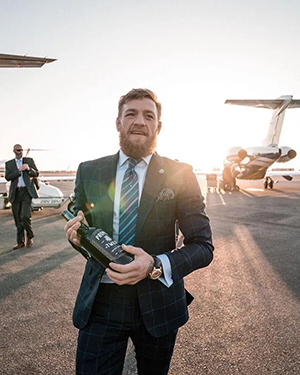 McGregor made his name in the UFC (Ultimate Fighting Championship) Octagon, where he became featherweight and lightweight champion in 2015, making history as the first UFC fighter to hold belts in two weight divisions simultaneously. It was the draw of McGregor that made Austin want to collaborate on Proper No. Twelve in the first place.  Austin knew that for a celebrity spirits brand to succeed, it needed to come across as an authentic product. Which celebrity could be a more compelling match to Irish whiskey than a man who celebrates fight victories draped in the country's flag; who drops Gaelic phrases in media interviews as often as he does f-bombs; and whose ring-walk song is a Sinéad O'Connor cover of a famous Irish rebel song?
Mexican spirits company Becle, of Jose Cuervo fame, initially had a 20 per cent share of the company and consulted on producing the product (Their other Irish whiskey brands include Bushmills, no surprise, and The Sexton.) They upped their stake to 49 per cent in 2020. They became the sole owners after acquiring the remaining 51 per cent of the shares in early 2022. McGregor, Attar, and Austin reportedly collectively made a whopping $120 million, although their respective splits of that sum are unknown. (Note the private jet in McGregor's photo. No economy class for this wee laddie.)
As part of the brand's 'One For All' initiative, $5 from every case of Proper No. 12 sold – up to $1 million annually – will be donated to local community first responder organizations in the state or country the sales take place. McGregor said:, "First responders all over the world are the unsung heroes who act with courage and answer the call of duty every day for people in need. I have great respect for these men and women."
Proper No. Twelve Irish Apple Whiskey
To paraphrase The Most Interesting Man in the World, "I don't always drink whiskey. But when I do, I prefer Irish." This whiskey is a blend of both single malts* and single grains**, and was aged in ex-Bourbon barrels.  Riding the current popularity of flavored whiskeys, Proper states that this one contains "natural apple flavors."  The green apple is quite dominant on the nose.  That follows on the palate, backed up by plenty of cinnamon and a surprising amount of honey and vanilla.  Even at 35% ABV, it is quite smooth and approachable, with a short finish.   This would make an excellent after dinner tipple, but because of the sweetness, as with Grand Marnier, moderation is key.
* Single malt whiskey is made from a 100% malted barley mash, distilled in a pot-still, and produced at one distillery. If the single malt is made in Scotland or Ireland, it must be aged for at least three years in the country of origin.
** Single grain whiskey must be distilled from a grain or mixture of grains—malted or unmalted—at one distillery. If it is Scotch or Irish, must be aged for at least three years. The "single" here is referring to the number of distilleries—one—not the number of grains that can be used, which isn't dictated. The still shape and size is not mentioned in the regulations, but this category is typically distilled in a column or Coffey still, rather than a pot still.
Top of page: https://winervana.com/blog/