By Spirits Contributor Neal Kotlarek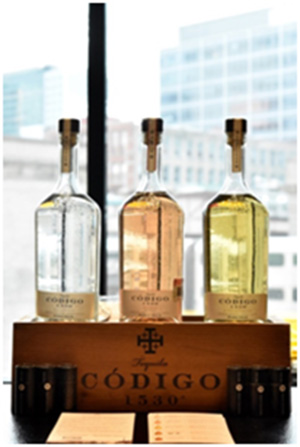 Anyone keeping abreast of celebrity news knows that tequila is a hot market. In June2017, actor George Clooney and his two partners sold their tequila company, Casamigos, for around $1 billion. Their initial investment was $1.8 million. In May 2007, rock musician Sammy Hagar sold an 80%  stake in tequila company Cabo Wabo for $80 million.
Entrepreneurs Frederico Vaughan and Ron Snyder got the bug—or is it worm?—to start a tequila brand while they played a round of golf together at Cabo San Lucas in Mexico. Vaughan's favorite local distillery is located in Amatitán where a family has been producing tequila for five generations. The tequila begins with fully-matured agave aged over seven years, which is cooked in stainless steel ovens, fermented utilizing a local organic family baker's yeast, and distilled twice in stills handmade by the distilling family themselves.
"The secret of Codigo 1530 tequilas begins with the best blue agave in Mexico, the purest water in all of Mexico, and yeast from a local bakery," confirmed Vaughan. "We then age the tequila in French Oak wine barrels out of Napa Valley."
The varieties of tequila that come from this process differ based upon the resting time and the charring of the barrels.
Blanco is an unrested tequila that's clear and pure. Rosa has a pink tint from the aging in the wine barrels and is a delicious sipping tequila. Reposado is aged for six months and serves up a smooth, vanilla and caramel flavor to pair well with food. (An 18 month old Añejo and six year old Origen are also available.)
Top of page: https://winervana.com/blog/