Domaine Houchart Provence Tradition Rosé is produced and bottled by Vignobles Jérôme Quiot, a privately-held family company that has been making wine in the south of France since 1748.
This wine comes to us from Aix-en-Provence, which is just north of Marseille on France's Mediterranean coast, the area known as Côtes de Provence (coast of Provence). The Mediterraneans have elevated summertime living to an art form, of course, and this wine is very much in that spirit.
Aurélien Houchart (1840 – 1918) studied at school in Aix, where Paul Cézanne and Emile Zola were among his fellow students.
Houchart was interested in agricultural problems as well as art. Toward the end of the 19th century he replanted the family's vineyard at Puyloubier, which had been destroyed by phylloxera. He also had a winemaking cellar constructed there in 1890. This estate would much later become Domaine Houchart.
Aurélien's son Hilaire (1885 -1939) served with honor in the French army during World War I.  Following the Armistice, he then dedicated the remainder of  his life to the upkeep of the family's wine estates. Hilaire had two daughters, one of which was the mother of Geneviève who married Jérôme Quiot.
In 1984, Geneviève acquired the vineyard that had been owned by the Houchart family from 1896 to 1941, and named it after her great grandfather: Domaine Houchart.
In 2002, Domaine Houchart was combined with the Quiot's Domaine de Verlaqueinto, both located at the foot of Mont Sainte Victoire.  Writing about the property in 1938 a journalist noted, "[It] consists of 60 hectares of which 56 are planted with vines. The vineyard is tended well and is composed of Carignan, Grand Noir, Grenache, white Ugni and Clairette grapes. Large, old cellars that have been transformed in order to adapt to modern winemaking equipment. Very good mechanical equipment, leading to high yields with the use of less manpower."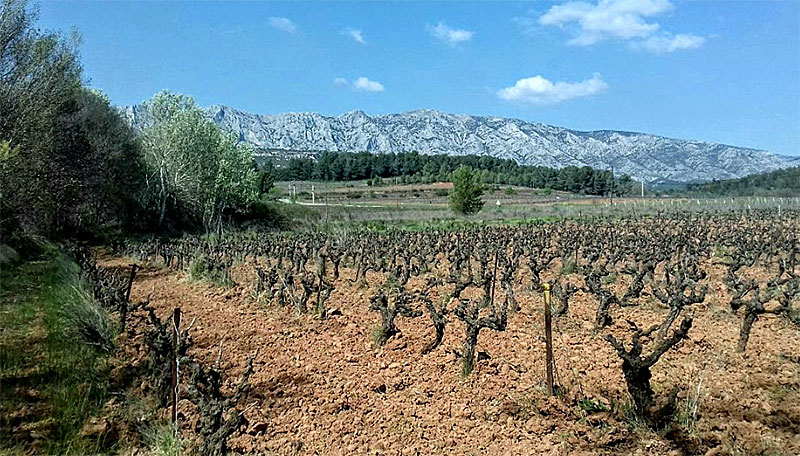 Mont Sainte Victoire  Photo: A.M.H.
Once the domaines were joined, an extensive rehabilitation and updating of both the vineyard and winery soon followed.
The Quiots have two children, Jean-Baptiste and Florence. Today, they are the fifth generation of the family to work on the estate.
The Quiot family also owns and manages Domaine du Vieux Lazaret, Domaine Duclaux, Combes d'Arnevels,  and Château du Trignon along with Domaine Houchart.
Domaine Houchart
Provence Tradition

Rosé  2006

The vines for this wine grow in rough-textured clay and limestone soils formed from the decomposition of the mother rock from the surrounding mountains.

This rosé is a blend of 35% Grenache, 25% Syrah, 20% Cinsault, 10% Cabernet Sauvignon, 5% Mourvèdre, and 5% other grape varieties. The wine has a very appealing light salmon color. It is fairly dry, with just a hint of sweetness. This is a perfect summer wine: light, uncomplicated, and highly approachable. The red berry and strawberry flavors are complimented by a clean but short finish. A white and a red are also available as part of the Provence Tradition line.

Enjoy this wine on its own as an aperitif before dinner, or pair it with sushi (beer and sake are certainly not the only options), seafoods such as shrimp with saffron rice, or mild cheeses after dinner.

Top of page: https://winervana.com/blog/