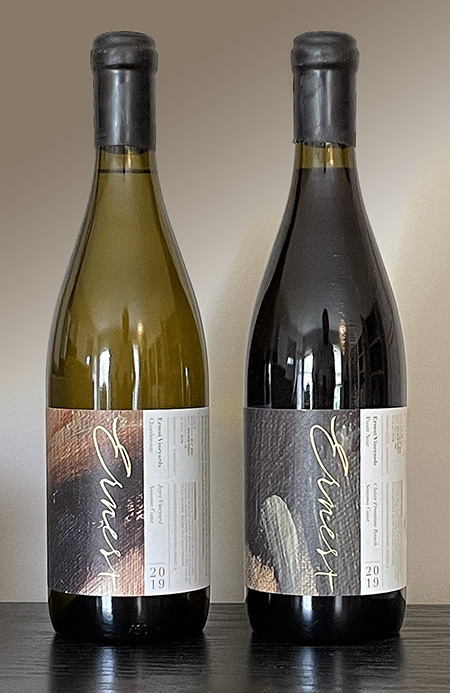 An American Viticultural Area, or AVA, is an American wine-growing region classification system inspired by the French Appellation d'Origine Contrôlée, or AOC, but without the French rigor.  An AVA simply defines a geographic area, and omits grape varieties, maximum production per acre, alcohol levels, etc.  The requirements for wine with an AVA designation is that 85 percent of the grapes used must be grown there, and the wine be fully finished within the state or one of the states in which the AVA is located. AVAs range in size from several hundred acres to several million; some reside within other larger AVAs.
California's newest AVA is the West Sonoma Coast American Viticultural Area, located on the farthest western sliver of Sonoma County, holding approximately 50 vineyards planted with varieties ranging from Pinot Noir and Chardonnay to Syrah in this cold, marginal grape-growing region.
Sonoma's 19th AVA encompasses the steep, rugged mountainous terrain along the Pacific Ocean coastline. Elevations range from 400 to 1,800 feet, with vineyards planted on steep ridge tops along the San Andreas fault line up against the consistently cold Pacific Ocean, both above and below the fog line. The maritime conditions moderate the temperature in the vineyards – daytime highs are cooler, while nighttime lows are warmer than just a few miles inland. This modest diurnal temperature swing allows the fruit to ripen slowly throughout the day and the night, a phenomenon experienced only in a truly cold-climate, maritime environment.
For West Sonoma Coast Vintners member Alma Fria, the West Sonoma Coast is distinguished by its remarkable originality, "The West Sonoma Coast combines a cold, maritime climate with rocky, well-drained soils and a mountainous topography. It is a rare terroir indeed, one that distills coastal redwoods with a seafaring spirit. It has lured adventurers, naturalists, and pioneers for a near century."
Indeed, the area comprising the West Sonoma Coast AVA has a long agricultural history dating back to the 1880s, with the earliest vitis vinifera vines planted as early as 1817. In addition to wine grapes, the area still produces commercial apples and supports a lively dairy and ranching industry, as well as many nature parks, conservancy efforts and environmental projects.
Ernest Vineyards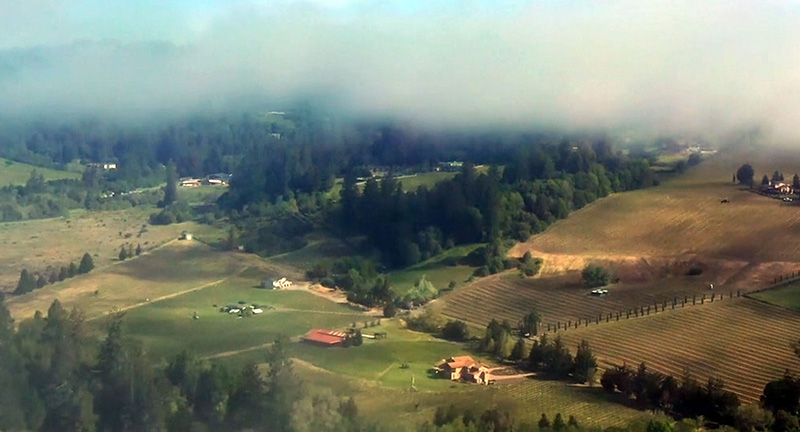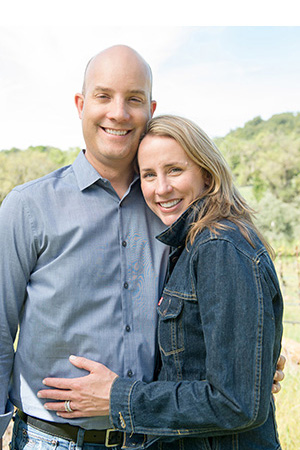 Located in the new AVA, Ernest Vineyards was co-founded by wife and husband team Erin Brooks and Todd Gottula in 2012. The winery was named for Gottula's grandfather, Ernest, who he credits with introducing him to every aspect of good food, good service, and good wine. First working in the technology industry, Gottula has been in the wine world since 2007, when he bought a four-acre vineyard and planted Pinot Noir, embarking on a new phase as a grape grower. He went on to develop relationships with winegrowers and wine producers in the Sonoma region.
Ernest sources grapes from 15 different farmers in Sonoma County that represent 12 unique sites, totaling 24 acres of vines. Each site is a colder-climate locale that historically maintains lower air temperatures during the growing season compared to the rest of Sonoma. The goal is to maintain the diversity of each site's climate and soil, the terroir.
Brooks, co-proprietor of Ernest Vineyards, grew up on a farm in rural Texas, and growing up running tractors and swinging hay bales. She graduated from Texas Tech with an English degree, and then began a career in sales and marketing in the software and communications industries. Today, Brooks oversees day-to-day sales and operations of Ernest and plans for all the label's projects. She also is a storyteller for the Sonoma Coast region's history and vineyards.
Todd and Erin are are deeply involved in the business, connecting with growers, interacting with distributors, and responding to customers. Just about the only thing the couple doesn't do is make the wine — they leave that to Ernest's winemaker and vineyard manager, Joseph Ryan.
The winemaker
Ryan grew up on a farm in Iowa learning about land stewardship at an early age. After college he worked as a skid-loader, movie projector operator, and bartender, among other jobs. It wasn't until he started a two-year acting program in New York City that he met Lee Campbell, a well-known sommelier and natural wine advocate, that Ryan first took an interest in wine.
Before joining Ernest, he was assistant winegrower at Porter Creek, a family-run estate in the Russian River Valley. He also worked as director of grower relations for Flowers Winery.
His dedication to the importance of soil is the foundation for his approach to vineyard management. He applies minimal intervention in his winemaking. Ryan shared, "It all starts in the vineyard. I work with the grapes as opposed to trying to make them work for me. Nothing is more humbling than nature and that helps keep my ego in check. I prefer to make decisions with the confidence that comes from thoughtfulness, experience, and having learned from past mistakes while being open to making others."
Gottula noted, "In the mid-'90s [I started] getting into California Cabs. [But then] somebody tips you off to a different reality. [Sommelier] Eugenio Jardim said to me, 'You don't need that Cab, you need Burgundy.' I don't remember the exact wine, but I remember saying, 'This, this is what I want to drink.' I had collected a lot of great California Cabs and I sold them all."  Taking that lead from Gottula, under Ryan's direction Ernest Vineyards' house style skews toward Burgundy, with wines of high acid and low alcohol. The influence of oak is minimized in the élevage, with the goal of making balanced and smooth wines.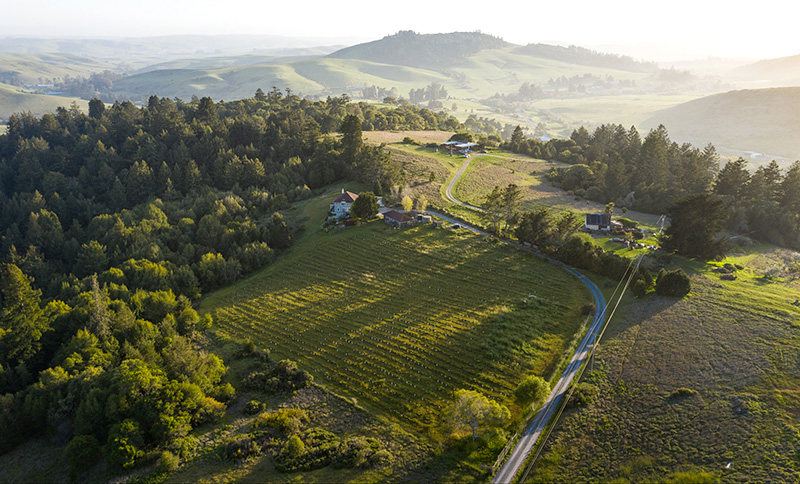 The winery
Ernest Vineyards' production facility, opened in 2017,  is named Grand Cru. Located in northern Sonoma County, this winery operates like a cooperative, to enable small producers to have access to crush facilities, production equipment, private barrel rooms, tasting rooms, and event space. Capacity for the facility is about 700 tons at any one time; to qualify for consideration to work at the facility, wineries must bring a minimum of 100 tons per year and come with their own winemakers.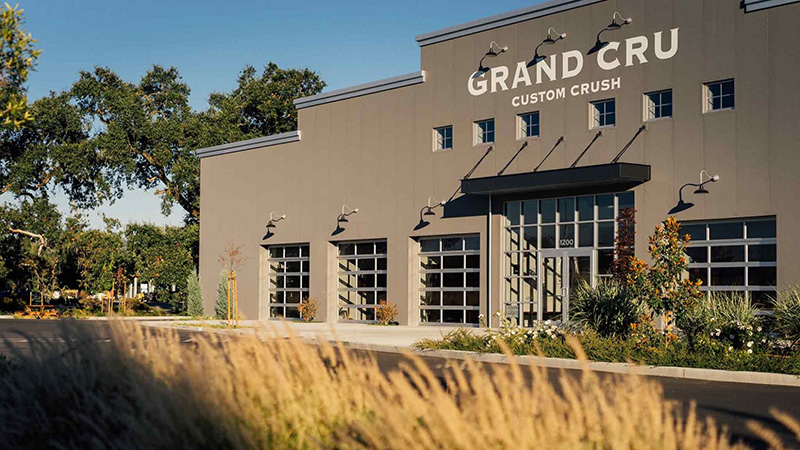 The Vineyards for these two wines

Ernest specializes in site-specific wines. Each of the wines is made from grapes from one vineyard and one vineyard only; there are seven sites in all. Some sites are valley floor, some are on hillsides. Some face west, all are considered cold-climate.
The Joyce Vineyard is just three acres, and is claimed to be the coldest site on the West Sonoma Coast. Ernest plans to eventually dedicate the fruit grown here to sparkling wine.
Cleary Freestone Ranch covers 14 acres in foggy Freestone Valley. Only seven miles from the Pacific, it is also one of the coldest areas on the West Sonoma Coast.
Ernest Vineyards Joyce Vineyard Chardonnay 2019
All of the fruit for this Chardonnay came from the Joyce Vineyard.  After fermentation, it was aged in French oak, 30% of which was new.  It pours a nice clear yellow, with citrus, green apple, and, unusually, vanilla aromas.  These continue on the palate, where the citrus is predominately Meyer lemon, supported by some pleasant melon notes.  Predictably, there is plenty of zippy acidity.   75 cases were produced, and the ABV is 12.7%
Ernest Vineyards Cleary Freestone Ranch Pinot Noir 2019
In keeping with the Ernest approach, this Pinot came entirely from the Cleary Freestone Ranch vineyard.  It too was aged in French oak, this time 38% of which was new. It is a rather light, transparent ruby.  But don't let that fool you; it is quite aromatic, with scents of raspberry, plum, and cola.  The palate features some spiciness, especially nutmeg, good acidity, a plush mouthfeel, and restrained but supple tannins.  150 cases were produced, and the ABV is 12.7%
Top of page: https://winervana.com/blog/