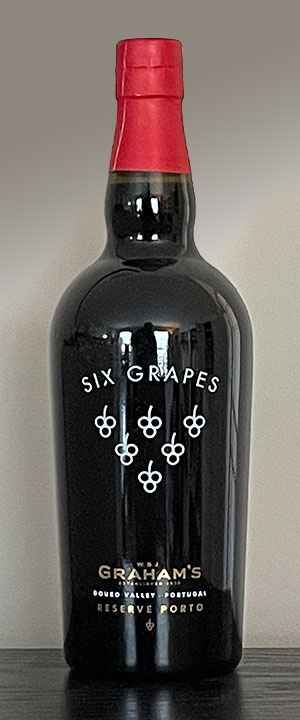 True Ports hail from the Douro Valley in Northern Portugal, and have done so for over three hundred years. The region's predominant soil is schist, composed of various medium-grained to coarse-grained metamorphic rocks with laminated, often flaky parallel layers of micaceous minerals.  The low annual rainfall makes this probably one of the driest regions of the world where grapes are grown without irrigation. This terroir results in very low-yielding vineyards, with vines bearing only a very few small bunches of full-flavored grapes whose thick skins protect them from dehydration.
William & John Graham founded their eponymous company in Porto in 1820.  The Symington family has owned Graham's since 1970, although their association with the firm goes back as far as 1882.
In addition to Graham's, Symington owns several brands of Port, Madeira, and Douro DOC wines, including some of the oldest and most well-known Port and Madeira brands. With their extensive vineyard holdings and many Port brands, the Symingtons are often described as ruling over a "Port Empire."

The Douro
THE GRAHAM'S QUINTAS
The estates or 'quintas' of the Douro with the lowest altitude produce some of the finest Ports of the region. Graham's sources from five of these.
Graham's headquarters in the Douro is at the Quinta dos Malvedos, originally purchased by the firm in 1890. Along with fruit from Graham's neighboring Quinta do Tua, the entire production of Quinta dos Malvedos is made into Port  under the supervision of winemaker Henry Shotton.
Graham's also makes wine from three other quintas, Quinta das Lages in the Rio Torto valley, Quinta da Vila Velha just downriver from Malvedos on the south bank, and Quinta do Vale de Malhadas in the Douro Superior.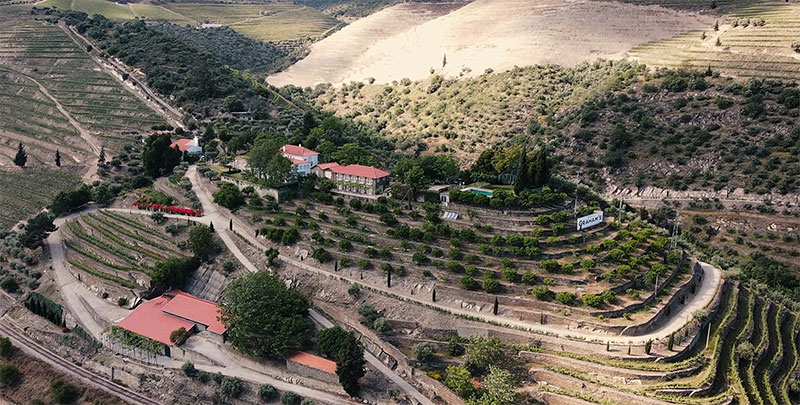 WINEMAKING
Only about 35% of the produce from these five top-quality Douro estates is set aside to be potential Vintage Port, and only about 10% reaches the final Vintage Port bottling. Most of the remaining quantity goes into the Six Grapes blend. It is probably correctly described in style as 'declassified Vintage Port,' but it is officially designated as a Reserve Ruby.
Graham's Six Grapes Reserve Port
One of the traditional quirks of Port production is the physical separation of the vineyards and wineries from the ageing cellars.  Wines have to be transported in barrel some sixty miles downriver to the coast to begin their barrel ageing process in the cooler climate of the Atlantic seaboard. Originally, this journey was made in heavily-loaded flat-bottomed boats.
Rabelos, a type of boat traditionally used to transport barrels of port down the River Douro for storage and aging.
In order to identify the different grades of wine being transferred, the barrels would be marked with coded symbols describing the type of wine they contained. When the barrels were received in Porto, the symbol and quantity would be entered into large ledgers known as 'lot books.'
The first records of the name Six Grapes being used as a wine brand date back to the first decade of the twentieth century.  Graham's had been stamping their  barrels with a "six grapes" mark to identify them in transit.  It was the highest of six possible classifications depicted by the appropriate number of grape bunches . When many leading shippers began registering names for their own proprietary blends, Graham's perhaps predictably chose 'Six Grapes.'
Six Grapes is made of the four primary varietals of the Port region, the aromatic Touriga Franca, the rich, tannic, and well-structured Touriga Nacional, the raspberry-tinged Tinta Roriz, and the sweet, chocolatey Tinta Barroca. In addition, Tinta Amarela, Tinta Cão, Souzão, and Tinta Francisca are included in small quantities, as well as grapes from some older mixed plantings.  Graham's strives to pick each varietal according to its ideal ripeness. The fermentation of each varietal and vineyard block is kept separate for blending later, once the wines have been assessed for their individual characteristics.
After being shipped out of the Malvedos winery in the spring following the harvest, the wine travels to Graham's cask lodge in Vila Nova de Gaia, immediately south across the Duoro from Porto, where it spends two years in seasoned wooden oak vats. This is a rather shorter period in wood than other Reserve Ruby Ports, with the intent being to preserve its youthful fruit character.
The final blend is created from two or three different harvests to get a consistent taste and style from one year to the next..  The wine is an average of five to six years old when it is lightly filtered and bottled.  Once in bottle, the wine is ready to drink, and does not require further ageing.
This fortified wine has a seductive, rich aroma of ripe plums, cherries, figs, and dark chocolate notes. On the palate it's complex, with an excellent structure and a long, lingering finish. It is fruity, with good concentration. ABV is 20%.
Six Grapes pairs particularly well with dark chocolate or blue cheese, but is also delicious on its own as a luscious dessert in a glass.
UPDATE: This post first ran in July of 2020.  Since then, Symington has become the first certified Benefit Corporation winery in the Douro Valley.  "A Benefit Corporation is a legal tool to create a solid foundation for long term mission alignment and value creation. It protects company missions through capital raises and leadership change."  Symington's "Mission 2025" sustainability roadmap commits to change in viticulture and biodiversity, energy, water and buildings, packaging and waste, and the local community.
I have been calling out wines for what I have dubbed "Bloated Bottle Syndrome," that is, the bottle weighs more, sometimes a lot more, than the wine it contains.  Shipping all that extra glass is terrible for the environment.  So I'm delighted to see that Symington's new strategy features a shift in packaging to use lighter glass bottles for many wines in their portfolio, including Six Grapes.
With 35,000 cases produced each year and 25,000 cases of that brought into the US, reducing the overall weight of the Six Grapes bottle by 36% has far reaching results, including offsetting 15 percent of emissions involved in transportation. With strong distribution worldwide, a single action such as reducing the weight of the bottle yields impactful results for the environment. 
Symington Family Estates is an early member of International Wineries for Climate Action, an association of wine companies committed to taking action against climate change through reducing carbon emissions,  They are also part of the UN's Race-to-Zero campaign where they seek to mobilize credible climate action among cities, regions, businesses, and investors. Measuring end-to-end carbon emissions and committing to science-based emissions reductions targets is at the core of this important work.
Top of page: https://winervana.com/blog/