Ambonnay, one of the top five Grand Crus in Champagne, is located in the heart of the Côte des Noirs, on the southern slopes of the Montagne de Reims. Its hillsides are renowned for the richness of their Pinot Noir and Chardonnay, the two essential Champagne grapes.
In 1896  Eugene Billiot, a miller by profession in Ambonnay, purchased five acres of land and planted vines. The grapes were sold to major Champagne brands throughout the region.  Today, the grape varieties of the vines are around 75% Pinot Noir and 25% Chardonnay.
Champagne Billiot was established in 1937 by Louis Billiot as more of a side hustle than a real Champagne house.  But after the war, his son Henri founded Champagne H.Billiot & Fils at 1 place de la Fontaine in the center of the village to realize his dream of becoming a winemaker rather than just a grower.  Henri was succeeded by his son Serge, and now fifth-generation Laetitia runs the operation.
Current production is about 32,000 bottles a year, with all of the work being done by the family.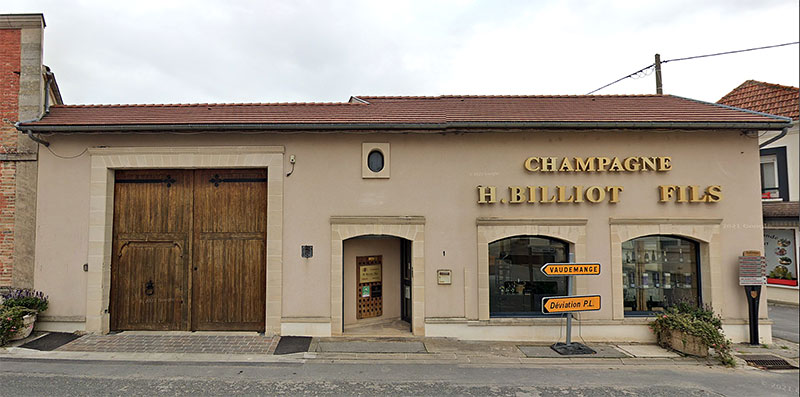 Henri Billiot's life during World War II was chronicled in Don and Petie Kaldstrup's fascinating book Wine&War.  Beginning at seventeen, during the German occupation of France, Billiot was obligated to care for the entire family (16 people besides himself) because of the failing health of both his father and grandfather.  In addition to long hours in the vineyards, he also joined the Resistance to spy on German activities.  At one point, he sheltered four downed American airmen for over a month, at great personal risk.
H. Billiot Brut Rosé
All of Billiot's wines are fermented in enameled steel tanks rather than stainless, without malolactic, fining, or filtration, followed by 18 to 24 months in barrel, varying by year of production.  This wine is based on their Brut Reserve, but released one year earlier. All of the fruit is 100% Ambonnay grand cru. A small percentage of older red wine is added to the blend.  "It's a function of color, "explained Laetitia Billiot. "We usually add between four and eight percent of red wine, depending on how strong the color of the wine is in barrel."
This bubbly is 80% Pinot Noir (10% vin rouge from 2016) and the remainder Chardonnay.  It is light pink with a bit of amber.  Things start with yeast notes and tropical fruit on the nose.  There is a full mouthfeel, with flavors of tart wild strawberry, spiced plum, and a hint of lime.  Unusual for a true Champagne, this one is barely fizzy.  Even though this is a Brut [dry] wine, there is a sweet undertow on the finish.  ABV is 12.5%.
Top of page: https://winervana.com/blog/