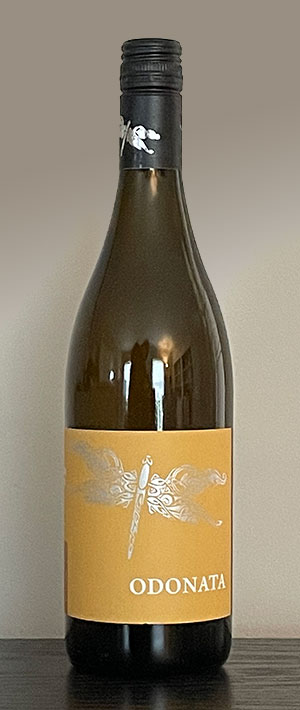 Odonata is a small boutique winery near Salinas, California.  It is owned and operated by Denis Hoey, who traveled a winding road from business management, to would-be firefighter, to brewery worker, and finally to winemaker.
Hoey is a native of Sacramento, and grew up in a family that enjoyed wines of all kinds.  In 2004 he graduated from the University of California at Santa Cruz with a degree in Business Management.  But before he did any work in that field, he landed a job at Bison Organic Brewery in San Jose, where he learned sanitizing protocols and how to run a bottling line.
More profoundly, he soon met Jeff Emery, who had just taken over as owner and winemaker at Santa Cruz Mountain Vineyard.  SCMV was started in 1975 by Ken Burnap, who based his winemaking on Old World approaches such as moderate levels of alcohol and oak, with the goal that the true characteristics of the grape varieties are expressed.  Burnap passed that philosophy down to Emery, who in turn guided Hoey in that direction.  Once Hoey began his apprenticeship, his life course was permanently altered.  He became the production manager for SCMV before starting Odonata Wines in Santa Cruz in 2005. That year production was a mere 65 cases.  By 2008 that was up to a still modest 150 cases, mostly Petite Sirah.  Production is now about 6,000 cases, of which 1,000 are bubblies.
After 10 years of working with Emery, in 2014 Hoey decided to leave SCMV and devote himself exclusively to Odonata.  He and his wife, Claire, were able to buy the short-lived Marilyn Remark Winery in the Santa Lucia Highlands, moving Odonata farther south of Santa Cruz, where they are raising their family and running the winery. Their property includes a two-acre vineyard, production facility, and tasting room.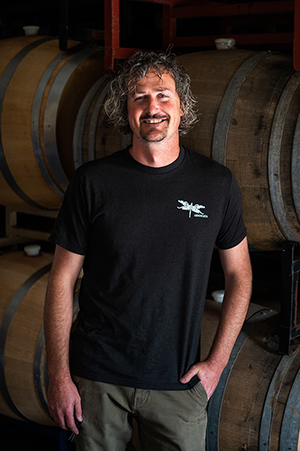 Odonata produces small batches of wine with a focus on local grapes that are either organically or sustainably grown. Since the inaugural vintage in 2005, (released when he was just 21 years old) Hoey has worked closely with local growers to ensure the highest quality grapes are selected for his carefully crafted, small-lot wines.
As a still-young man, Hoey continues to develop his winemaking knowledge and techniques, and believes that blending Old World methods and attitudes with New World techniques gives him the best of both worlds. Hoey shared, "I subscribe to the Old World idea of start with a good product and just don't mess it up. If its not messed up you don't have to fix it. I'm very non-interventional with the wines. My winemaking philosophy is very hands off and I am only there to guide the wines, and with that said some guidance is found through modern lab tech and common sense." He has three vineyards: the 1.5-acre Falcon Hill in the Santa Cruz Mountains where he grows Pinot Noir.  Petite Sirah, Syrah, Grenache, Mourvedre, and Sangiovese come from the 10-acre Machado Creek in the Santa Clara Valley, and the estate vineyard at Odonata is planted to Viognier.  Hoey sources additional fruit from around the Central Coast, seeking out growers committed to sustainability and organic practices.
During a picnic with his wife, Hoey was intrigued by the "ton of dragonflies flying around," and he decided that Odonata would make a good name for his new winery, as Odonata is the scientific name for insects that include dragonflies and damselflies.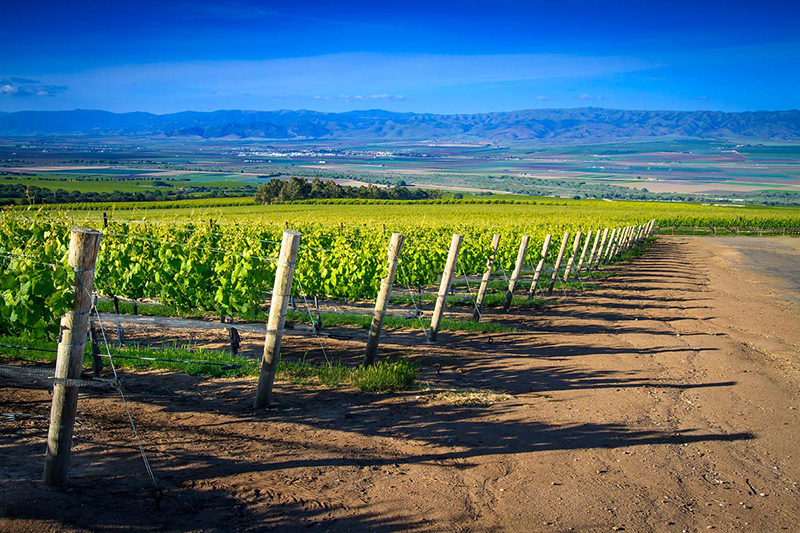 Remarkably for such a small operation, Hoey makes five white wines (and 16 reds), but not all of them are always available at the same time.
Situated in the Santa Lucia Highlands, Boekenoogen Vineyard was established in 1997 when John Boekenoogen repurposed the cattle ranch that had been in his family for five generations  and started growing grapes.  This selection is 100% Chardonnay, which underwent 100% barrel fermentation, 100% malolactic fermentation, and was aged eight months in 50% new French oak puncheons (500 liters, about twice the size of a typical wine barrel).
This medium-gold elixer starts with fairly robust citrus aromas backed by mellow oak.  The citrus continues on the palate as Meyer lemon, with melon, perhaps cantaloupe, and just a touch of sweetness.  It features a rich mouthfeel as well. 130 cases were produced.  ABV is 14.7%.
Top of page: https://winervana.com/blog/