Located in California's Central Coast, the Smith Ranch was a horse ranch for generations, while to the south, the Hooks raised cattle. Swiss-born Nicolaus "Nicky" and Gaby Hahn discovered these  ranches near Paso Robles in 1974 as they searched for the ideal place to grow Cabernet Sauvignon. They decided that the climate along the western slopes of the Santa Lucias was just what they were looking for, so in 1974 they purchased the two ranches and established the Smith & Hook Winery on the old Smith Ranch. The first Cabernet Sauvignon was made in 1979, released in 1980, and quickly developed a reputation for excellence.
Or, here's an alternate story of the name of the winery: Nicky Hahn named the winery after his mother's side of the family. His mother's maiden name was Smith, and his maternal grandmother's maiden name was Hook. By combining the two names, he created the moniker "Smith & Hook."
Initially, the winery focused on producing Cabernet Sauvignon, Merlot, and Chardonnay. The first vineyards were planted in the Highlands District of Paso Robles, where the combination of warm days and cool nights fostered the development of grapes with rich flavors and balanced acidity.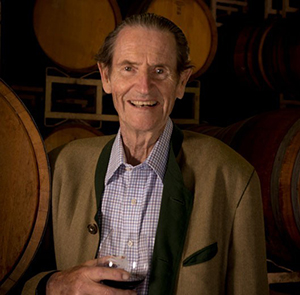 In 1988, Nicky embarked on the multi-year process of submitting the Santa Lucia Highlands for AVA status, which was granted in 1991. Nicky retired from day-to-day operations in 2007 and passed away in March of 2018 at the age of 82.
The Hahn family now owns over 1,400 acres of vineyards in Monterey County, including the Hahn Estate in the Santa Lucia Highlands, and produce wines under the labels of Hahn, Hahn SLH, Lucienne, and Bone Shaker as well as Smith & Hook.
Like most wineries these days, Smith & Hook has a commitment to sustainability. (See note after tasting notes.) They have implemented environmentally friendly practices such as organic farming, water conservation, and wildlife preservation. They have been certified by the California Sustainable Winegrowing Alliance.
Smith & Hook Winery produces a range of varietals, including Cabernet Sauvignon, Merlot, Chardonnay, and Pinot Noir from five distinct Central Coast appellations: Arroyo Seco, Paso Robles, San Antonio Valley, Hames Valley & San Benito County..
Smith & Hook Reserve Cabernet Sauvignon 2019
Fruit for this reserve wine is sourced from Truesdale vineyard in Paso Robles, which features well-drained arbuckle and sandy loam soils at 1,560 feet elevation.
The wine was fermented on the skins in small lots, of which 5% was barrel fermented. Fermentation was managed by pump overs for maximum extraction of color and flavor. The lots were then individually pressed and settled before transferring into French oak barrels, where the wine was aged for 24 months in 40% new French oak, with the balance neutral.
This wine is a rich, deep red, and very aromatic.  It offers fully-developed classic blackberry and black currant aromas and flavors.  There is good supporting acidity, and the dusty fine tannins are in excellent balance.  Even with its high-end alcohol level, this is a very easy-drinking Cabernet Sauvignon.  The components are 97% Cabernet Sauvignon and 3% Petite Sirah.  ABV is 14.8%.
Note: This selection is guilty of Bloated Bottle Syndrome, which I'm calling out for bottles that weigh more than the wine they contain. The web site of nearly every winery will usually include a mention of the operation's dedication to "sustainability" and "stewardship."  Unfortunately, this often seems only to extend to the property itself.  Many "premium" wines like this one come in heavier bottles to allegedly denote quality.  This one weighs in at 886 grams.  (As an example of a more typical bottle, Estancia Cabernet's comes in at 494 grams.) That's a lot of extra weight to be shipping around the country.  By comparison, the wine inside, as always, only weighs 750 grams.  Even sparkling wine bottles are often about the weight of this one, and those are made to withstand high internal pressure.  Unfortunately, this sort of "bottle-weight marketing" is becoming more common, especially at higher price points. But there are other ways to denote quality without weight: unusual label designs, foils, wax dipping, etc.
Plastic bottles have a lower environmental impact than glass, 20% to 40% less, in fact. And, bag-in-box packages are even less than plastic bottles. (Unfortunately, current bag technology will only keep unopened wine fresh for about a year, so they are only suitable for wines to be consumed upon release from the winery; that's about 90% of all wine sold though.)
The carbon footprint of global winemaking and global wine consumption is nothing to scoff at. The latter, which requires cases of wine be shipped around the world, imprints a deep carbon footprint. Because wine is so region-specific, and only so many regions can create drinkable bottles, ground and air transportation is responsible for nearly all of the wine industry's CO2 emissions.
Top of page: https://winervana.com/blog/