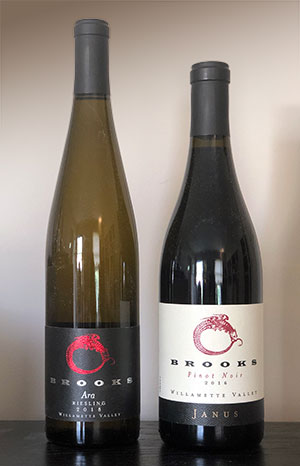 The Brooks Winery of Amity, Oregon in the Willamette Valley was founded in 1998 by Jimi Brooks, a native of Portland and son of a pediatrician.  The winery's production is focused on Pinot Noir and Riesling, and includes about 20 selections of each in any given year.  Brooks also dabbles in Tempranillo, Muscat, Pinot Gris, Pinot Blanc, Melon de Bourgogne (aka Muscadet),  Gewurztraminer, and Viognier, all sourced from nearby vineyards.
All of the Pinot Noirs are destemmed and cold soaked; all of the whites go straight to press. In the winery, small lot fermenters are used and the components are kept separate until right before blending. For all Pinot Noirs, all estate fruit, and most whites, fermentation is driven by only the yeasts naturally occurring on the grapes, and the coolest fermentation temperatures possible are adhered to. Finally, the reds are finished in French oak, while the whites are all made in stainless steel.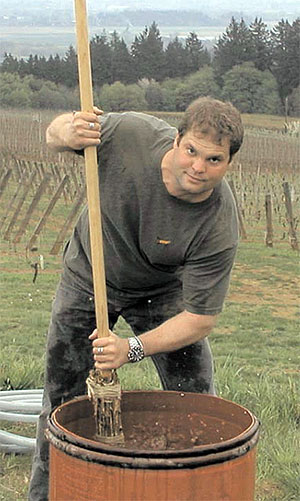 The free-spirited Jimi Brooks began his career by spending eight years throughout Europe, particularly Beaujolais, learning his craft in the vineyards and wineries there. After that sojourn, he returned to Oregon committed to a life in wine, based on his own intuition as well as holistic and biodynamic farming practices, still a relative novelty just over twenty years ago. He continued to hone his skills with winemaking stints at Maysara and WillaKenzie Estate wineries before establishing Brooks Wines.
In 2008 the winery purchased the estate vineyard it had been working since 2002.  Plantings include Pinot Noir and Riesling vines that are now over 35 years old, and contribute about 30% of Brooks' fruit. Official biodynamic certification from Demeter was obtained in 2012.  This was followed by the opening of an entirely new winemaking facility and tasting room in 2014, which overlooks the Cascade Range and Willamette Valley.
Brooks Wines' motto is Peace/Bread/Land/Wine.
Peace
It may seem rose-colored, but Brooks genuinely believes in kindness, inclusivity, caring, community, and social responsibility as guiding principles.
Bread
Brooks features a number of culinary experiences from cooking classes to wine and food pairing classes.. Their organic garden supplies herbs, vegetables, and cut flowers. Their eggs come from chickens on the property which are fed organically. Anything that doesn't come directly from the grounds is sourced locally.
Land
Careful stewardship of the estate vineyard is achieved by
• Utilizing a rock garden to diffuse rain water.
• Encouraging botanical species diversity
• Protecting predator habitats
• Applying balanced crop nutrition
• Rotating cover crops
• Not using synthetic chemicals to control pests or diseases
• Utilizing mechanical weed control
Wine
Riesling is the bedrock at Brooks, and they claim to produce more of it than any other winery in America.
A bittersweet success
Behind all of this accomplishment lurks sadness and tragedy. Founder Jimi Brooks suddenly died in 2004 just before harvest at the age of 38 from the rupture of an aortic aneurysm (an abnormal bulge that occurs in the wall of the major blood vessel  that carries blood from the heart to the body). Winemakers from all over the Willamette Valley, many of them competitors, volunteered to help the Brooks family cope with his untimely death and keep the winery open. The following year the winery was bequeathed to Jimi's son, Pascal, who was eight when his father died and became the youngest winery owner in the world.
Once the future of the operation was assured, two key figures emerged. Brooks' friend and assistant winemaker Chris Williams ascended to full-time winemaker. Brooks' sister, Janie Brooks Heuck, reluctantly became head of winery operations.  It's quite the commitment; she lives in California with her husband and two children and is constantly commuting between the two states.  It is a commitment that has paid off, though.  Under her supervision the business has grown by 400%.
L to R: Pascal Brooks, Janie Brooks Heuck, and Chris Williams
Heuck had always had been close to her brother. "We were a year and a half a part. As adults and parents, our conversation centered around our children and his business," Heuck said. "It's not so much that the winery brings back memories for me, but I [continue to] learn about new stories and memories that would have been Jimi's."
She believes the wines are a vehicle for conveying an important message about life, about living in the moment and to the fullest, about keeping the big picture in mind. "I feel like through the wines and the experiences that people are having," she said, "the connections and the conversations and the sharing of the Brooks story, and having it remind people of how important every day is and every moment is. I just don't ever want that to stop. The more lives we can touch and the more times the story is told and the more it brings perspective to people, that's the gift from this whole situation."
If you have access to Amazon Video, the film American Wine Story profiles Jimi Brooks and a number of other winery owners drawn to the business based on sheer passion.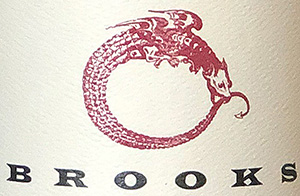 Brooks Wines' distinctive logo is an ouroboros (or uroboros).  It is an ancient symbol depicting a serpent or dragon eating its own tail to assure its future existence. Originating in ancient Egyptian iconography, the ouroboros entered western tradition via Greek magic and mysticism. Heuck shared, "We like to talk about it symbolizing the circle of life, continuation. My brother got it as a tattoo on his left shoulder in the early '90s. It meant so much to him that he decided to make it his wine label."
Although Pascal remains emotionally invested in the winery and his father's legacy, he is at the beginning of his life journey and feels the need to find his own way. Now 24 years old, Pascal is living in Paris after graduating from UC Santa Cruz in 2018 with a double major in creative writing and sustainable agriculture, an interesting pairing for sure. He has been working as a wine steward there and also doing urban rooftop farming. Following in his father's footsteps, in 2019 he worked harvest at Domaine Dechamps, and currently is involved at Domaine Ostertag in Alsace. (Read more about a pivotal part of Jimi Brooks' time in France here.)
Brooks Ara Riesling 2018
Brooks has staked their reputation on Riesling, so they better know what to do with it.  Happily, this expression doesn't disappoint.  Indeed, it's one of the most interesting Rieslings I've ever had.  Ara (the Altar), is a constellation. In ancient Greek mythology, Ara was the altar where the gods first made offerings and formed an alliance before defeating the Titans. This was one of the very first Rieslings Jimi Brooks made after starting his winery, and the name reflects his passion and interests in mythology and astrology.
The wine is 100% Riesling, half from the Brooks estate vineyard in the Eola-Amity Hills AVA and half from the Yamhill vineyard in the Yamhill-Carlton AVA. It is a bright lemon yellow in the glass, with aromas of lemon curd and orange blossom.  The lemon theme continues on the palate, with the addition of nectarines, Sweetarts, and apples, but the wine is definitely dry.  The flavors are well-supported by tingly acidity.   ABV is 14% and just 325 cases were produced.
Brooks Janus Pinot Noir 2016
Brooks considers this their flagship Pinot Noir, and was Jimi Brooks' first Pinot release.  Janus was the two-faced Roman god who looked both to the past and future, a reference now to the winery's timeline being divided by Jimi Brooks' premature death.
This 100% Pinot Noir was sourced from 60% Brooks Estate and the remainder from seven other sites around Willamette Valley. After fermentation, it saw 18 months in French oak barrels. It is a medium purple in the glass, with a nose of rich plum, vanilla, and rose.  The palate features tart cherry, ligonberry, and black tea on the medium finish, all supported by lively acidity and balanced tannins. The ABV is 13.8% and 1000 cases were made.
Top of page: https://winervana.com/blog/