Patz & Hall was founded in 1988 when two Flora Springs Winery and Vineyards employees, assistant winemaker James Hall and national sales manager Donald Patz, decided to strike out on their own. Their ambition was to apply traditional (i.e. French) winemaking techniques to fruit from elite, small vineyards in Napa Valley specializing in Chardonnay and Pinot Noir.  The winery went on to great success.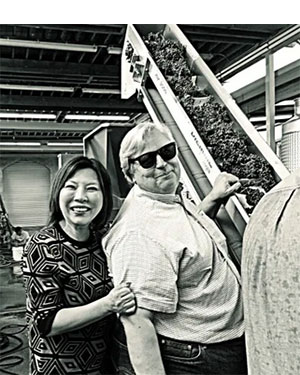 Patz left Patz & Hall in 2017 to establish the Donald Patz Wine Group with his wife and business partner Jung Min Lee.  The project oversees three distinct labels: Maritana Vinyards focuses on Russian River Valley Chardonnay and Pinot Noir; Terminum produces Mendocino County Marsanne/Roussanne and Syrah; and Secret Door Winery, owned by Mrs. Lee, exclusively makes Cabernet Sauvignon from Napa Valley.
Jung Min Lee was born in Seoul, South Korea, to a prominent family. She received a degree in Music from Kyung Hee University where she specialized in playing the oboe. She moved with her young son to the U.S. in 1993. While living in Virginia, she found it easier to acquire the wines of Bordeaux rather than those of California, and developed an appreciation and palate for them. In 2010, she met Donald during a trip to Napa Valley, and they began their personal journey together.  Before they were married in 2014, he promised her that if she joined him in Napa he would create a Cabernet Sauvignon for her.  And a winery as well, as it turned out.
Secret Door's first wine was a 2014 Cabernet Sauvignon  made from juice purchased in barrel from a winery that shall remain anonymous.  That producer originally intended it as their primary $300/bottle wine. They mysteriously abandoned that plan, but not because the wine lacked quality. Secret Door acquired the wine and finished it.  Further details behind the wine have to (by NDA contract) remain secret. To Patz and Mrs. Lee this seemed like the perfect way to start a winery called Secret Door.
THE VINEYARDS
Secret Door primarily sources fruit from two grower-owned vineyards.
Hirondelle Vineyard, Stags Leap District, Napa Valley
Designated in 1989, Stags Leap District is the smallest AVA within the Napa Valley.  It lies along the  famous Silverado Trail and includes some hillside sites, but primarily covers flat or gently rolling territory. The AVA's name comes from an outcropping of red rocks at the area's eastern end where a stag supposedly escaped his pursuers by leaping across the treacherous gap. The climate is appreciably cooler than further up valley in either Rutherford or St. Helena. The vineyard takes its name from the French word for the swallow. The birds are a sign of good luck, and swallows return each spring to build their nests there. The portion of the vineyard allocated to Secret Door is a three-acre block planted in 1996, and was recently converted to organic farming.
Sage Ridge Vineyard, Napa Valley
This vineyard is perched high on the hills above Lake Hennessey to the east of St. Helena. It was planted in 1998. The land here is a unique mixture of well- to excessively-drained sedimentary and metamorphic soils underlain by a bedrock of Franciscan complex. Silty clay loams with varying depths, mixtures of gravels, and fractured rock undulate among the steep slopes. The vineyard is a series of small plots that run along the ridge lines, and is owned by Judy Jordan of J Winery fame. The Secret Door parcel is a little over one acre planted to a selection of Cabernet Sauvignon taken from the legendary Martha's Vineyard.
J-M-L Cabernet Sauvignon 2018
J-M-L is Second Door's second label, and is intentionally different from their two single-vineyard Cabernet Sauvignons.
Although long involved with sales and marketing, Donald Patz drew on his degree in biology and over thirty years of experience in the wine business to assume the duties of winemaker at Secret Door.  His winemaking process is the same as that for those flagship wines. Although they begin the same, Patz looks for differences in the barrels of each wine  early on in their development. For the 2018, he selected barrels from Secret Door's Hirondelle Vineyard and the third-party Edcora Vineyard on Atlas Peak in roughly equal quantities.  There were a few gallons of Sage Ridge Vineyard topping wine added as well to create the blend, one intended to mature more rapidly and to be drinkable on release.
Like all of Secret Door's offerings, this is 100% Cabernet Sauvignon. The wine was aged in 100% new French oak from Bordeaux coopers for 18 months. It is an opaque dark red in the glass. The nose displays subdued aromas of dark berries and truffles.  Perhaps not surprisingly, given Mrs. Lee's fascination with Bordeaux, the palate is very much in the European style, with lean recessive fruit, including blackcurrant and blueberry, plus some graphite. This is complemented by black-tea tannins and a medium finish with a hint of bitterness. The ABV is 14% and 600 cases were made.
Top of page: https://winervana.com/blog/