I have been aware of Orin Swift wines for some time, especially The Prisoner, but had never had the chance to try any of them, so I was intrigued when a friend brought over this selection.  He is adamant that "all wines from California are inferior to any wine from Europe, especially Spain!" so I looked forward to his evaluation of this one, as well as my own.
Orin Swift Cellars is a relative newcomer on the California wine scene, having been established in 1998, but not by "Orin Swift," as I had long assumed. Rather, it was by the now iconic, and iconoclastic, winemaker David Phinney. Orin is Phinney's father's middle name and Swift is his mother's maiden name.
Phinney, a native Californian, was born in Gilroy, the son of a botanist and a college professor. However, within a week he was in Los Angeles, where he spent his childhood, and finally an adolescence in Squaw Valley. He enrolled in the Political Science program at the University of Arizona, with an eye towards a law degree, but before long became disillusioned with both. At this juncture, a friend invited him on a trip to Italy, and while in Florence he was introduced to the joys of wine, and soon became obsessed.
Back in the States, he began his career by working the night-shift harvest at Robert Mondavi in 1997. Encouraged by Mondavi, remarkably he started his own Napa Valley brand the very next year with the purchase two tons of some Zinfandel, though he wasn't sure what he was going to do with it. Predictably, there were some false starts. Orin Swift's first vintage was okay but not noteworthy, with Phinney confessing that he made an error in sourcing average fruit from the 'wrong part' of a great vineyard. Eventually he figured it out though, creating a rich, seductive, runaway best-selling wine called, surprise!, The Prisoner (an unusual blend of Zinfandel, Cabernet Sauvignon, Syrah, Petite Sirah, and Charbono).
Since making his first wine in 1998, Phinney has bee guided by two  criteria; "find the best fruit from the best vineyards and don't screw it up" and if you do screw it up "experience is what you get when you don't get what you want."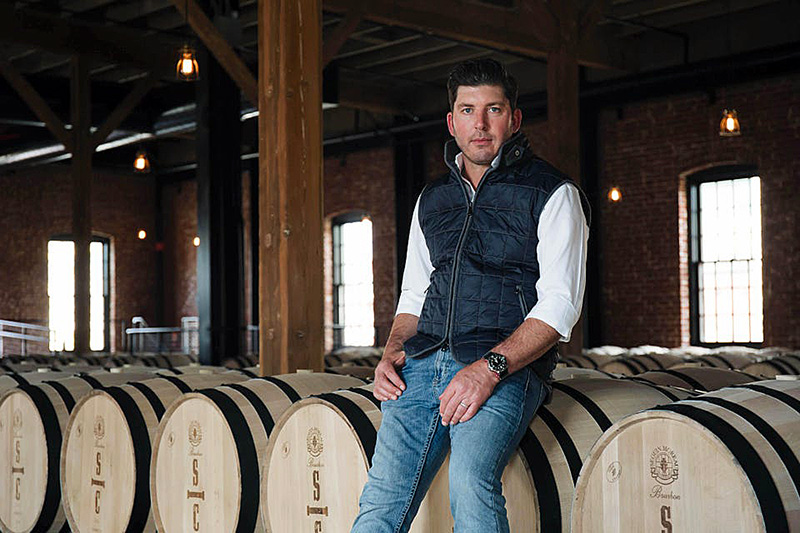 David Phinney.  Photo: Margaret Pattillo.
In a controversial move in 2016, Phinney sold Orin Swift to E&J Gallo (yes, that Gallo) for nearly 300 million dollars, but he shrewdly negotiated to remain in charge of production and winemaking for them. "I have access to their amazing vineyards; after the harvest in 2016 – the first year – I threw a barbeque for all the rest of the [Gallo] winemakers, some of who I knew, some I didn't, to apologize for stealing their grapes because I knew we were getting access to stuff we probably shouldn't have!"
While some observers saw it as a canny and natural business move, there were also whispers of criticism about Phinney 'selling out.' He is sensitive to the complaint, but stands by his decision. "It was a very natural, organic coming together, I've known and worked with the Gallos since 2005 and it was just kind of a conversation that was spurned because our growth curve was like a hockey stick, and that's when you become attractive to bigger wineries," he says.
Such financial independence has allowed Phinney to also produce wines from vineyards he owns in California and four European countries (France, Italy, Spain, Greece).
Many of the wines Phinney makes are blends. This is by design and not circumstance, so having access to a huge number of vineyards and parcels in sought-after areas of Napa Valley and beyond makes his job more interesting, and his quest for producing great wines arguably easier, as he is always striving for balance in his products. "For me the easiest way to achieve complexity is through geographic diversification, and that can be county-wise, valley-wise, country-wise," he says. "I was told many years ago, and I believe it, that if you put a lot of good red wine together you often make a great red wine, so having that – and I hate this phrase – 'spice rack' of different things to play with can really work. You still have to be a custodian of each wine so that when you add them together the finished wine is better than the sum of its parts, that's where I think blending really works." And although he admits it's a cliché, he believes that 90% of a wine is made in the field, so vineyard selection is the key to success.
Phinney also creates all the of the wine labels, and he is always looking for inspiration, much of which comes from his extensive travels around the world. "They all start and end with me, whether I like it or not. I grew up in LA in the 1980s very much in the punk/skateboarding/surfing scene, so there's definitely a street art aspect to it. The flipside of that is that my parents were both professors, so we basically travelled the world and wherever we went we always had to go to a fine art museum. so there's always been this relationship with art either by proxy or by design."
Orin Swift Palermo Napa Valley Cabernet Sauvignon 2018
Instead of a blend, for which Phinney is better known, Palermo is the entry-level Orin Swift Cab (still about 50 bucks, though).  It was aged for 12 months in French and  American Oak, of which 33% was new.
It is a rich, inky purple, with plenty of dark stone fruit and raspberry on the nose.  This is accentuated by cassis, blackberry, and vanilla on the palate.   The presentation is in excellent balance, a Phinney hallmark.  The ABV is a robust 15.5%.
Even my European-leaning friend grudgingly enjoyed it.  Perhaps predictably, since Phinney confesses that although his prestige wines come from California, his heart is in Spain.  As for me, I really liked it.
Top of page: https://winervana.com/blog/