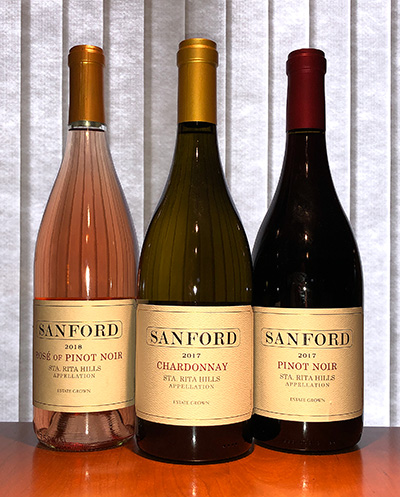 Sanford Winery, the first such operation in Santa Barbara wine country, was established when the Sanford & Benedict vineyard was planted in 1971. Botanist Michael Benedict and his friend Richard Sanford were committed to finding a cool-climate location with just enough heat accumulation to ripen, but not over ripen, wine grapes. A place where they could plant and grow grapes and craft wines, where they hoped the quality might equal the best of Europe.
Benedict began researching and touring the cool coastal regions of California in search of a site that would suit this mission. His pursuit took him to a unique part of the Santa Ynez Valley, to the property that would ultimately become the Sanford & Benedict vineyard. The area owes its magic to an unusual east-west mountain valley that runs from the vineyards to the Pacific Ocean. This passage allows a meteorological ebb-and-flow of air temperature between the mountains and the sea that is ideal for cool-climate varietals.( It was also this vineyard that supplied the cuttings for many of the surrounding vineyards that sprang up in the wake of its success.)
The Sanford & Benedict Vineyard was named one of the five most important and iconic vineyards in California by Wine Enthusiast. It is known for both its historical significance and the continued quality of the fruit it produces. Sanford farms 51 acres of vines from the original planting, the oldest in the region. These vines were planted on their own root stock (vitis vinifera), and these "own rooted" vines have flourished for more than 45 years. The vineyard features calcium-rich clay loam soils with fractured shale and chert (a hard, dark, opaque rock composed of silica (chalcedony) with an amorphous or microscopically fine-grained texture), a result of the sloughing off of the top half of this mountain over one million years ago. Primarily planted to Pinot Noir, the Sanford & Benedict vineyard features more than 20 individual blocks and 11 different clones.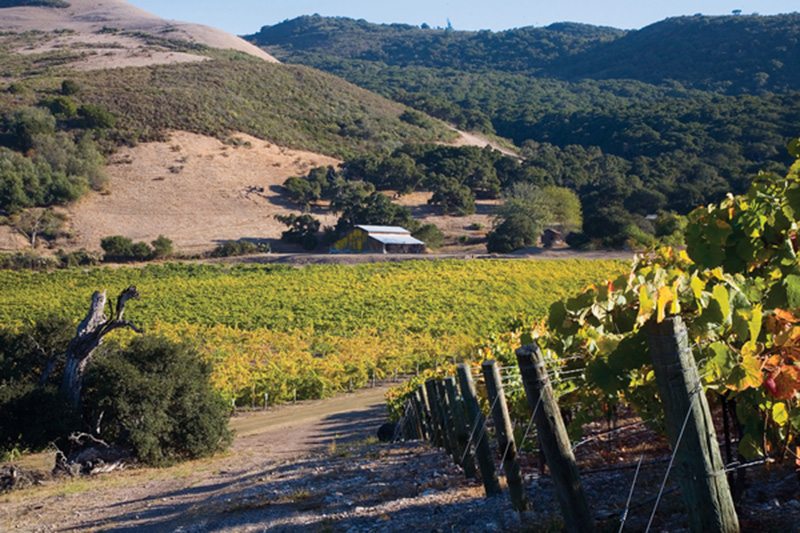 Sanford & Benedict Vineyard
The La Rinconada Vineyard was planted in 1997, and is adjacent to Sanford & Benedict. It is home to 20 vineyard blocks and 12 clones. The same soil and climate conditions make both areas ideal sources for Pinot Noir and Chardonnay. The individual blocks of these two estate vineyards are farmed and harvested to make the most of their subtle variations in soils and microclimates.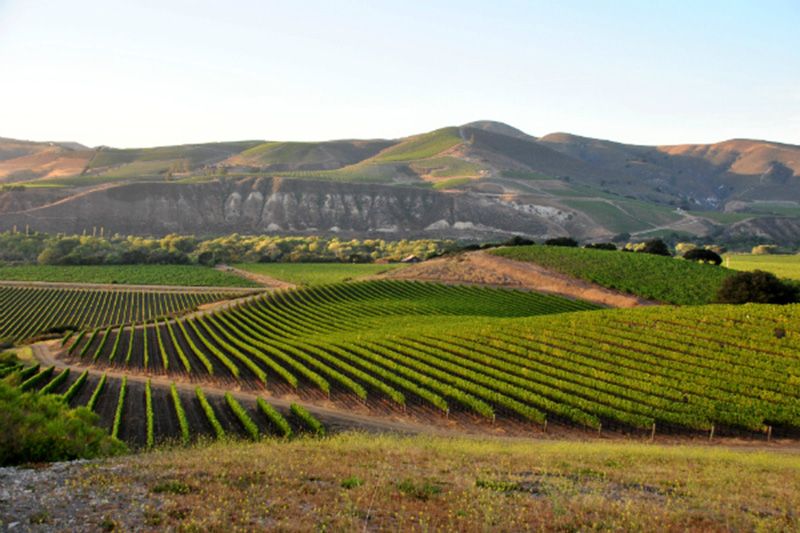 La Rinconada Vineyard
The property in total is comprised of nearly 1,200 acres, with approximately 262 acres planted to vine. Much of the property remains undeveloped natural land, including a 127-acre conservation easement pledged to the Santa Barbara Land Trust. It is this balance of farmed versus unfarmed land on the ranches which helps in creating and maintaining a balanced ecosystem and an ideal growing environment.
Irrigation systems are fully modernized and variable across the estate to dramatically decrease water usage and increase water conservation. Cover crops and composting are utilized to support and promote microbiotic soil health, which in turn promotes the sustainability of the vineyards and the overall health of the vines. Mechanical tilling and cutting of weeds dramatically reduces the use of herbicides in the vineyard. Owl and raptor boxes have been installed and maintained around the periphery of the vineyards to create nesting sanctuaries for indigenous predatory birds that control vineyard pests in a natural and eco-friendly way.
These two estate vineyards are now part of the Santa Rita Hills AVA, which was designated in 2001.
The winery itself is located at Rancho La Rinconada. It was completed in 2001 and was inspired by traditional California mission architecture. The walls are constructed of adobe blocks handmade on site. The insulating quality of this material makes it ideal for a winery. With adobe walls thirty inches thick, there is no need for either heating or air conditioning. The cellar interior is 55º to 65º year-round, with no energy use.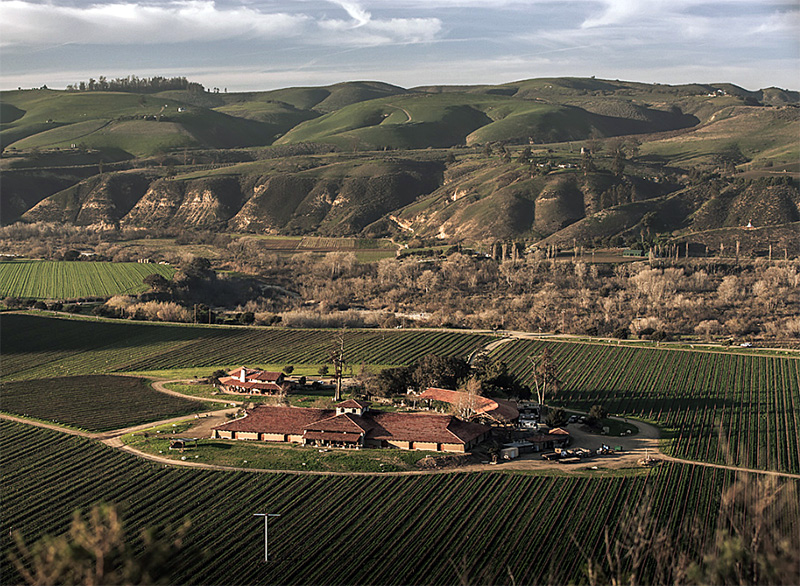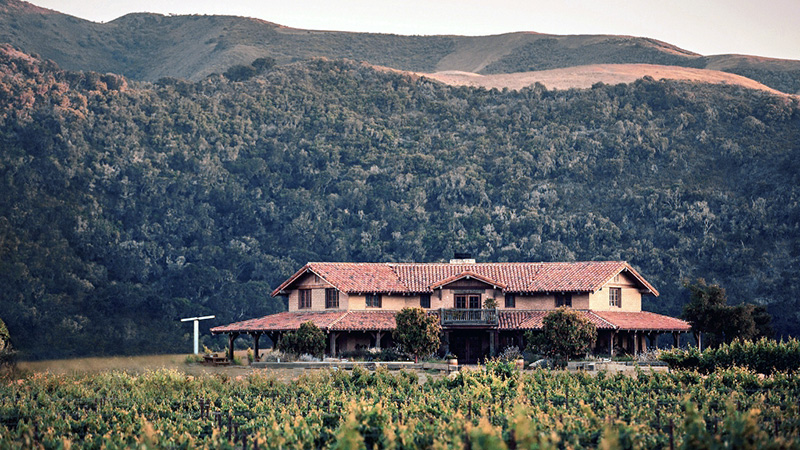 The Sanford Winery
The Sanford Cellar
The lumber for the winery was acquired by recycling timbers from a turn of the 19th century sawmill building originally located in Washington State. After this building was purchased and disassembled, its 500,000 board feet of first-growth Douglas Fir was transported to Sanford. Along with the wood came the sawmill itself, which was utilized on-site to re-mill the timbers to meet construction needs.
The winery uses a unique and gentle system to move wine through the facility: a gravity racking system. Four 3600-gallon wine tanks are positioned on hydraulic lifts. The winery crew can move a 14-ton tank of wine below ground or 20 feet in the air. The crew then uses gravity to move wine from tank to barrel (or bottling) without disruptive pumping and agitation of the wine.
Winemaker and General Manager Trey Fletcher leads a veteran winemaking team at Sanford. He spent eight years at Bien Nacido Vineyards in Santa Maria, as Winemaker and General Manager, and has also held winemaking roles with Littorai Wines in Sebastopol. Next is Laura Roach, Assistant Winemaker, who joined Sanford in 2012. Her career began at Schramsberg Vineyards in 2008 as a Laboratory Intern. Two years later, she gained her Bachelors of Science in Viticulture and Enology at UC Davis, and was awarded the Confrérie des Chevaliers du Tastevin Scholarship to work abroad in Burgundy, France, in 2010. Through this exposure, she gained an appreciation for terroir and honed her skills for producing quality Pinot Noir and Chardonnay. Cellar Master Auggie Rodriguez has been a part of Sanford Winery from the very beginning. (Rodriguez's father was one of Sanford Winery's first employees hired to help plant the Sanford & Benedict Vineyard. He worked on the estate for the next 20 years, retiring in 1991.) Rodriguez started working for Sanford in 1986 at the age of 16. While still in high school, he worked summers and weekends at the winery. Auggie attended the Culinary & Hotel School at Santa Barbara City College while continuing to be part of the production team and managing the cellar for Sanford. Erik Mallea, Vineyard Manager, comes from a northwestern Minnesota farming family. He majored in Biology and Geology at Oberlin College before heading west to start working in vineyards and wineries. Mallea worked for producers in Oregon, New Zealand, and California's Central Valley before coming to Santa Barbara County. He started working with the Sanford estate vineyards in 2009 while completing his M.S. in Viticulture and Enology.
Cellarmaster-to-be Auggie Rodriguez (right) and family at Sanford & Benedict Vineyard in 1972
Today, the estate is owned, farmed, and overseen by the Terlato family wine empire. The Terlato family has been involved in the US wine industry for over 70 years with, the motto "Quality Endures."
Sanford Winery Sta. Rita Hills Pinot Nior 2017
The 2017 Sanford Sta. Rita Hills Pinot Noir is a blend of fruit from the two estate vineyards: Sanford and Benedict (88%) and La Rinconada (12%). The vines were stressed in the midst of the sixth year of a severe drought. Fruit was selected from eight blocks of different soil types. The wine was then fermented in French oak barrels (25% new) for 15 months.
The wine is a deep, but transparent, violet red in the glass, with a nose of black cherry and cola. The dominant tart cherry notes and dusty berry flavors continue on to the palate; they are complemented by plenty of acid and supple tannins. It wraps up with a medium-long finish.
Serve this wine with Sauteed Duck Breast with Pinot Noir Sauce (just don't squander this Pinot Noir on the sauce), or Salmon en Papillote.
Sanford Winery Sta. Rita Hills Rosé of Pinot Nior 2018
This Rosé is a lovely pale salmon pink. Perhaps predictably, it is a more subtle version of the Pinot Noir above, plus aromas of cranberry and rose petal. The tart cherry flavor is backed up by strawberry. Shows very crisp acidity and good minerality. Fermented in stainless steel, followed by aging in a combination of neutral barrels and stainless steel tanks before bottling.
Drink this with Cider-Marinated Bluefish with Spicy Sliced Tomatoes, Grilled Tuna with Fresh Peach and Onion Relish, or Oak Planked Salmon Charmoula.
Sanford Winery Sta. Rita Hills Chardonnay 2017
The color is pale gold, with a subtle nose of lemon and crème brûlée.
This makes the intensity of this racy wine on the palate all the more surprising; plenty of bright lemon and grapefruit notes supported by "just enough" oak, a bit of floral character, and that zippy acidity.
I suggest you pair this Chard with Chicken Breast with Artichokes and Mustard Sauce, Smoked Turkey and Roasted Red Pepper Sandwiches, or Seared Scallops with Fruit Salsa.
https://www.sanfordwinery.com/
Top of page: https://winervana.com/blog/