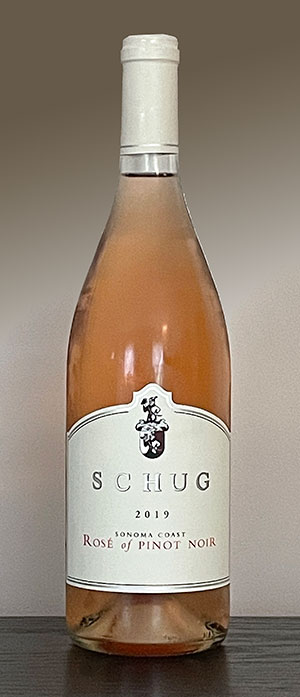 Walter Schug was born in 1935, and grew up in Assmannshausen, Germany, on the only Pinot Noir estate in the Rheingau region,  which was originally planted in the 12th century. Although Schug's father was its manager, Walter never formally worked there. He did work for six years in viticulture and winemaking in Germany and England, and earned a diploma from the Geisenheim institute, Germany's premier college for the wine industry, in 1954. He was then invited to serve an internship in Delano, Calif., south of Fresno. After five years of that, He returned to Germany in 1961 to marry his sweetheart, Gertrud, who also came from a winemaking family, and a month later they and their Volkswagen Beetle, with skis attached, were on a boat to New York. From there, they drove to California, where Walter had been offered full-time work by winemakers who had visited him and his father in Germany. After toiling for five years for a bulk wine processor in the Central Valley, he was hired by E. & J. Gallo,  Based in St. Helena with his wife and three children, Schug was responsible for managing Gallo's numerous North Coast grapegrowers. Although the late Julio Gallo is widely credited with discovering great North Coast grapes for Gallo's wines, Schug was the grower-relations representative, wheeling and dealing, and always looking for new fruit sources.
In the six years Schug worked with Gallo, "He learned all the good spots to plant grapes, and the not so good," said his son, Axel, now Schug Carneros Estate's managing partner. Colorado construction executive, entrepreneur, and aspiring vintner Joe Phelps (who died in 2015 at 87) wanted that knowledge when he hired Dad in 1972. Dad would check out the land or vines, tell Joe he wanted it, and Mr. Phelps would write the check. They trusted each other." Schug selected the site for Joseph Phelps Vineyards and helped plant their first vineyard in St. Helena.
The first wine Schug made for Phelps was a Riesling. Phelps soon allowed Schug to add Pinot Noir, but the U.S. market wasn't yet ready for it, and Joseph Phelps Vineyards abandoned the varietal after the 1979 vintage. "Joe couldn't sell the Pinot, so I said, 'Let me see what I can do,'" Schug recalled. "He said yes and didn't charge me a cent. So in 1980, I began purchasing the same Pinot Noir grapes that had gone into the Phelps wines."
As the Phelps winemaker, Schug also bottled the first varietally-labeled Syrah in California, and Napa Valley's first Late Harvest dessert wines (Gewürztraminer, Riesling. and Schuerbe) that were incredibly popular in his native Germany. In 1974, he produced California's first proprietary Bordeaux-style blend, Insignia. He also made the legendary vineyard-designated Cabernet Sauvignons from Phelps' Backus Vineyard and Eisele Vineyard years before such types of wines were common.
Schug worked at Phelps through the 1983 harvest, moonlighting as the winemaker of his own brand, which launched in 1980. "I never planned to leave Phelps, but the winery needed the cellar space I was using for my own wines," he explained. After a couple of false starts, he moved production to the Sonoma side of Carneros where he bought land, planted grapes, and built his own facility in 1989. "You get a certain feeling in your body of what Pinot Noir needs, where it wants to grow, where it needs more fog," he said. "I felt that in Carneros."
The Schugs' mutual love of Chardonnay and Pinot Noir led to this decision from which they never looked back. The pair of Burgundian varietals have remained at the forefront of Schug's wine portfolio. They come from 42 acres of estate grapes as well as purchased fruit, and the winery also works with Sonoma-grown Chardonnay, Sauvignon Blanc, Cabernet Sauvignon, Merlot, a full-bodied yet dry sparkling Rouge de Noirs, and a late-harvest Riesling from Lake County grapes. However, it's Pinot Noir that commanded Schug's keenest attention and accounts for 60 percent of the winery's annual production, which has grown from 2,000 to 30,000 cases a year, according to the company's website.
At Phelps and later at Schug, German-made equipment was Schug's choice, a guarantee, he said, that things would work as expected. "All this equipment, it comes from Germany," Schug once explained. The presses, the pumps, the fermentation tanks, the 669-gallon wood oval casks for the aging of wine — all were manufactured in Germany and shipped to Schug when he began building the winery and planting grapes. "The equipment used in California back then was shit," he once recalled.
David Graves, who worked for Schug at Phelps in 1979 before co-founding Saintsbury winery in Carneros, watched the man work for years. "There [was] a very sweet side to Walter, an analytical side, a serious side, and a knee-slapping sense of humor. He [was] very proud of his children and grandchildren," Graves said. "He was well-trained at Geisenheim, and that European perspective informed his entire American winemaking career." Graves also shared, "Walter pioneered the popular Meritage, and was among the first to recognize the Carneros region. He also was known for his late-harvest wines in addition to Pinot Noir."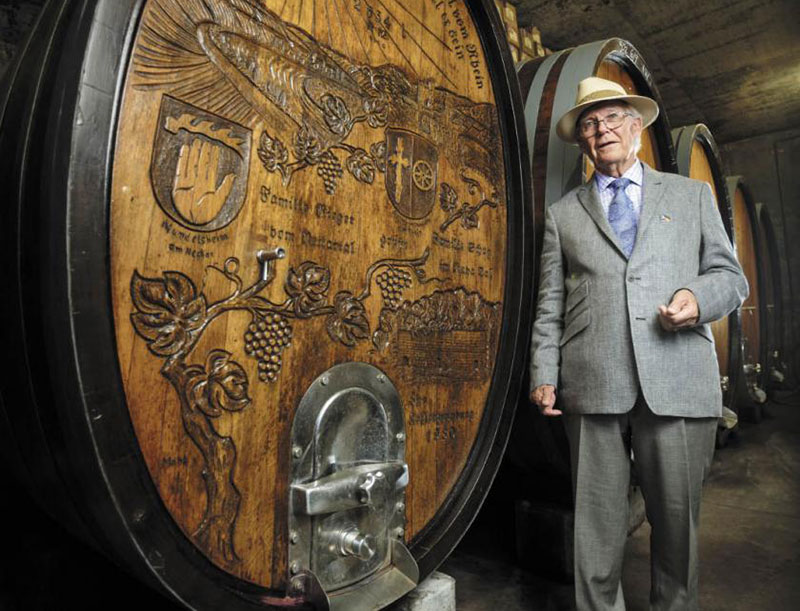 Walter Schug late in life.
After a long and storied career in the California wine industry, Walter Schug died in 2015 from complications of a stroke at the age of 80.
Son Axel as Managing Partner now runs the business side of Schug Carneros Estate; his sister Claudia is also a Partner. "[My father] was a Pinot Noir niche person long before the movie 'Sideways' came along and everybody was demanding it," Claudia said. "He didn't jump on a bandwagon. He was pushing it from the very start."
Today. the winemaker is Johannes Scheid. Raised on a small family winery in the Mosel Valley of Germany, Scheid developed a passion for the European style of winemaking from working in the family business as well as summer trips with his parents and sister through the continent's wine regions. Like Walter Schug, he studied Viticulture and Winemaking at Geisenheim University. In fact, Johannes first met Walter after an annual presentation at Geisenheim, and, after inquiring about the possibility of a harvest internship, was hired for a 2009 position at Schug, and again two years later.
In the summer of 2012 he returned to Germany where he worked in some of Germany's top wineries, and he traveled around Europe's wine regions as well. Then he ventured to the Nelson region of New Zealand for harvest jobs. and traveled to Australia and Thailand before returning to California in late 2013.
Scheid accepted a position as Production Manager with Benziger in 2015. In 2016 he became Schug's Assistant Winemaker, returning to the winery where his California winemaking career began and where he felt most connected. Now, as Winemaker, Scheid is dedicated to preserving Walter Schug's legacy of terroir-driven and European-style Pinot Noir and Chardonnay.
Schug Carneros Estate Rosé of Pinot Noir 2019
First off, this wine is sealed with a relatively low-quality plastic cork.  While I am not a priori opposed to synthetic or reconstituted corks, I do like them to be better than this one.
This Rosé of Pinot Noir is crafted in the German style of a Weissherbst or white harvest, a delicate rosé wine made from red grapes. It was hand harvested at night, and then pressed cold with minimal skin contact,  It is a nice, pale pink, and has a light aroma of rose petals on the nose.  The palate reveals flavors of strawberry, lemon, and grapefruit, backed up by vibrant acidity.   The ABV is 13%
Top of page: https://winervana.com/blog/