In November 2011, then-recently retired NBA star Yao Ming established his new Napa Valley winery, Yao Family Wines. But the story really begins in 2004, when Yao Ming was still in the early stages of his basketball career. Yao's Houston Rockets teammate Dikembe Mutombo introduced him to the institution of the Texas steakhouse. Over many steak dinners, Dikembe tutored Yao on the magic of a great steak and wine pairing, and Yao became an aspiring wine aficionado.
As he puts it, "A shared bottle of wine reminds me of Chinese meals at home, which are served on what Americans call a "Lazy Susan." The food is placed in the middle of the table and shared. In the US, each person chooses their own meal, so the wine is what brings people together. It is shared and brings a common element to the meal."
As Yao broadened his knowledge of wine, he began to learn about the process of winemaking, and grew to appreciate its artisan and natural origins. He visited Napa Valley for the first time in 2009,  where he met with numerous winemakers and industry experts, learning more about the generational and communal nature of Napa. This inspired him to one day establish a winery of his own there.
Yao specifically began to develop a rapport with industry veteran Tom Hinde, now President and Director of Winemaking. From 1997 to 2005, Hinde was General Manager for Kendall-Jackson Wine Estates and helped develop two Napa Valley Cabernet Sauvignon programs as part of the winemaking teams for Lokoya and Cardinale. Additionally, he supported the winemaking team at Stonestreet Winery and launched Vérité Estate. For seven years, Hinde was General Manager at La Crema and Hartford Family Winery where he helped build La Crema into one of Sonoma County's most prominent wine producers. They discussed Yao's passion for wine in general, for the flavor profile of classic Napa Valley Cabernet Sauvignon in particular, and for Yao's desire to form a true family project. Yao wanted to develop a winery where everyone involved had a hand in the company vision, the wines created, and the relationships with customers.
They were joined by Larry Bradley, Consulting Viticulturist. He has a strong background in both developing and managing vineyards throughout the world. His particular expertise lies in soils and conservation, and his extensive resume includes vineyard management and viticulture consulting experience with Clos du Val Winery, Clover Hill (Australia), Domaine de Nizas (Languedoc, France), Elyse Winery, Falcor Winery, Flowers Winery, Morisoli Vineyards, Taltarni Winery (Australia) and V. Sattui Winery among others.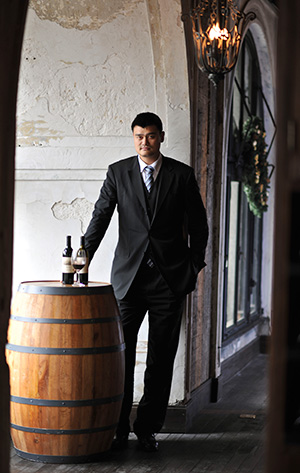 The winery launched its first two offerings in December 2011: Yao Ming Napa Valley Cabernet Sauvignon, and Yao Ming Napa Valley Family Reserve Cabernet Sauvignon. A second label, Napa Crest, was added in September 2013.
Now-retired wine authority Robert Parker wrote, "I am aware of all the arguments that major celebrities lending their names to wines is generally a formula for mediocrity, but that is not the case with Yao Ming. These are high class wines. The two Cabernets are actually brilliant, and the Reserve bottling ranks alongside just about anything made in Napa.
Yao Ming Napa Valley 2009
This is the winery's signature wine. It was created to reflect classic Napa Valley winemaking as well as Yao's personal preference for smooth and balanced Cabernet Sauvignon.
Grapes are sourced from prestigious Napa Valley vineyards with a reputation for top-quality fruit. Fermentation is done using artisanal winemaking techniques, and ageing is up to 18 months in 100% French oak barrels.
This people-pleasin' potion has a deep ruby hue. It features flavors of cherry, blackberry, and cassis. The oak is well integrated and has a nice toast aroma, with hints of vanilla and wild sage. The wine has plenty of depth and concentration, with supple tannins and balanced acidity. It should still age nicely, but why wait?
Top of page: https://winervana.com/blog/