Some winemakers and winery proprietors are born into the business. Some buy into the business. And some evolve into it. Greg LaFollette of Alquimista evolved quite successfully. He has been called a "vine whisperer," a "cellar magician," and a "tireless coaxer and protector of handcrafted wines." He is one of Sonoma's most revered winemakers, and was honored as Winemaker of the Year in 2010. He has also been tagged "Prince of Pinot" by the website of the same name.
first, a
career

in science

La Follette's early years were spent as a musician. At 17, he became the bagpiper for the Queen Mary berthed in Long Beach, California. (And he plays the bagpipes to this day.)  "I wanted to be a winemaker since my teens," admitted La Follette. "But who in Los Angeles becomes a winemaker?" Eventually he decided that neither music nor wine offered a viable way forward, and after earning degrees in Plant Biology and Chemistry, La Follette started his professional career in 1984 at the University of California, San Francisco, as an Infectious Disease  researcher specializing in HIV suppression. While there, he co-authored over a dozen papers in the field. But, he was also still feeling the pull of his early interest in the wine industry.

While taking his masters degree in Food Science and Technology at U.C.Davis, he became fascinated with "mouth feel" and started dissecting wines to determine their components of taste and texture (especially of Pinot Noir and Chardonnay).  His particular interest in the Burgundian techniques of sur lie aging and bâtonnage coincided with an interest in new production techniques in California.
And then, a career in wine
Leaving academia behind, in 1991 he joined Treasury Wine Estates and held various positions at Beaulieu Vineyard, beginning with late-shift Harvest Winemaker and ending with Research Viticulturist/Enologist. He worked closely with winemaker Joel Aiken and the legendary wine master Andre Tchelistcheff, who exhorted La Follette to "live the wine," which is to say to become totally immersed in both the science and art of winemaking.  He began to  increase his knowledge of Bordeaux varietals and production techniques. He also started traveling throughout the U.S. and Australia to further broaden his skill set.
In 1994 he began toiling for the Kendall-Jackson Wine Estates empire. Owner Jess Jackson enticed him to assist in lifting La Crema out of bankruptcy (that worked out well, for sure!) and starting the Hartford Court label. La Follette helped Hartford Court to win "Winery of the Year" and "Best Pinots of the Year" from Wine and Spirits magazine. His travels continued as he assisted in  establishing new wineries and vineyards in South America and the U.S. Drawing on his training as a researcher, he wrote numerous technical papers during this time, including "Designing Wineries for Maximum Quality Output with Minimum Cost Input," which is still used by Napa Valley College in their winemaking syllabus.
In 1996, La Follette moved on to the Flowers Vineyard & Winery. His work there resulted in the establishment of a cult Pinot Noir ("massive" as he has characterized it; quite an unusual descriptor for Pinot Noir) and elevation of a previously little-known area that later became known as the Ft. Ross/Seaview AVA. The winery he built at Flowers during his tenure is still considered one of the best gravity-flow, gas-assist green wineries in the world. He reestablished 73 acres of Flowers' vineyard using the best clones of Pinot Noir and Chardonnay he could find, while simultaneously reducing farming costs by over $4,000 per acre and increasing quality. He had just recently written an influential paper on that very subject, after all.
By 2001 he was partner and co-owner of Greg & Greg Inc., a custom crush facility which became an incubator for small, high-end brands such as McPhail, Londer, Holdredge, and Radio Coteau. That same year he launched the first winery of his own, Tandem Wine Co. These projects overlapped with his stint at Chile's Viña Casa Marin as Consulting Winemaker, advising on viticulture, winemaking, and facility design. By 2004 he was also consulting with Boisset Collection, pulling yet another label, DeLoach, out of bankruptcy. And, he established La Follette Winegrowing Inc., his on-going wine consultancy that helps establish, resuscitate, or enhance new or struggling wineries.
Alquimista Cellars, perhaps the final stop on his wine journey
Today finds him as winemaker at Alquimista Cellars, in partnership with co-winemaker Patrick Dillon. Alquimista is Spanish for alchemist, a name selected for its history of fusing science, art, spirituality, mythology, the elements, and enlightenment. La Follette said, "Our passion in wine is to capture both magic and your imagination. Imagine winemaking built on science, spirituality, boundary-breaking artistry, and risk. Imagine experiencing wines that inform a new generation of discovery, while, at the same time, venerate old world tradition."
Dillon also evolved into the world of wine, after wearing many hats: Pulitzer Prize-winning journalist, writer, author, editor [Forbes], web content director, strategic consultant, vice president of a software firm, executive producer at a web-based data visualization design firm, and co-author of the Open Range cookbook.
In 2000 Dillon and his wife Anne bought a small farm in Sonoma County, where they met Eric Sussman, who had just launched his Radio Coteau label. Leveraging Dillon's growing interest in winemaking, Sussman recruited him for helping with a variety of chores in the cellar. "He kept telling me how romantic winemaking was," Dillon recalls. "And I kept reminding him of what a great sense of humor he had." But the hard work and mentoring paid off, leaving Dillon with an understanding of the need of maintaining great grower relations and enforcing unwavering fastidiousness in both the vineyard and winery. He gained further experience with Marimar Estate in Sonoma County, and later ADAMVS, the high-end Cabernet Sauvignon producer on Napa County's Howell Mountain. "I saw in Patrick a world of experience that really rubbed off in working with growers even during the toughest harvests and in our winemaking," reminisced La Follette.
Always the iconoclast, La Follette believes that "balance" is more important than low yields in producing  higher-quality wines. "A broad generalization" he said, referring to the low yield maxim. "It is more likely that high-end wines from vines that are cropped too low are actually worse than if the vine has a balanced crop. This leads to runaway alcohols. If the vine isn't balanced, it will pay no attention to ripening its grape tannins. Then you must pick the grapes at higher sugar percentages to produce flavor-ripeness and that leads to higher alcohols, lower acidity, and jammy flavors. Balanced vines mean balanced wines, it's as simple as all that."
Alquimista's focus is on vineyard-designated cool-climate Pinot Noir and Chardonnays. La Follette strives for minimal filtering and fining (so usually some cloudiness is to be expected), but all of the wines I was able to sample, at least, were crystal clear. To achieve that, the red wines are settled carefully and turbidity (cloudiness) is monitored before bottling. The white wines are cold-stabilized at 28° F for two weeks, and then racked cleanly off of the settling lees.
All of the wines are made from native yeasts carried from the vineyards on the grapes themselves. Sometimes this can lead to unpredictable results, but La Follette and Dillon fully embrace that possibility. The grapes are sourced from vineyards located in Lodi, the Russian River Valley, and Mendocino.
That little "4" or "A" like symbol on Alquimsta's labels is the alchemy symbol for maceration, the time grape juice spends in contact with the skins and seeds.
The vineyards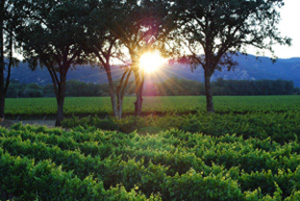 The 141-acre Haiku Vineyard lies at the foot of the Mayacamas Mountains in the Sanel Valley of Mendocino County.  Centuries of floods have left a cobbled and stony soil, in which every block has been organically farmed since  being  planted more than 25 years ago. The Fetzer family has worked it since 2005, using canopy and water management, organic compost, and natural habitats that encourage raptors for rodent control and songbirds for insect control. Cover crops that attract beneficial insects are utilized instead of pesticides, and to  prevent erosion, retain moisture, and add organic matter to the soil. Weeds are mowed rather than killed by herbicides.
Chuck and Gail Jones  purchased a half-acre adjacent to what would become their nearly eight-acre Hawk's Roost Ranch in west Sonoma County in 1968. "The place had an absentee owner. There were some unkempt zinfandel vines on that land but it appeared to be propagating more weeds and poison oak than wine vines," Chuck recalled. Eventually building and living on their half acre, Gail grew weary of the eyesore next door. "I'm tired of looking at weeds. Let's buy the place," she declared in 1992.
After stripping out the existing vegetation, the first plantings were pumpkins and cut flowers.. "Neither of us knew anything about farming grapes, much less what rootstock was and what it should be for our particular growing area," Chuck said.  Jim Pratt, one of the area's most respected vineyard managers, analyzed the soil, finding it consisted of alluvial clay-loam with hardpan about 18 inches beneath the surface. Pratt suggested a hearty rootstock and an equally virulent clone, known for its strength and boldness.  By 1998, more than 5,000 vines had been installed.
The five-acre Jessie's Grove vineyard near Lodi has endured for 128 years. Originally planted by pioneer Joseph Spenke, and named for his daughter Jessie, the property is now farmed by Greg Burns, Spenker's great great grandson. The gnarly vines are 86 percent head-trained Zinfandel, with the remainder a motley crew of Black Prince, Flame Tokay, Mission, and  Carignane vines. Says La Follette, "Each contributes a distinct element for the alchemy we strive for. This is our first project [in Lodi] and we are honored to work with arguably the most cherished vineyard of a region already renown for its ancient vines."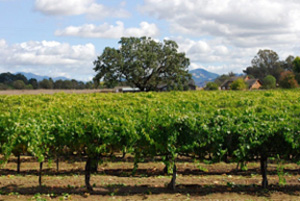 Owned and farmed by John and Phyllis Bazzano and named for John's Italian grandfather, the 10-acre Lorenzo Vineyard might have become a golf fairway instead. "My father and some of his friends got wind that the Santa Rosa Golf and Country Club was considering expanding. So, being pretty shrewd, they purchased land that would be in the way of the expansion, hoping for a nice sale," recalls John. "Well, the expansion never came our way. We ended up with a bunch of oak trees and an old orchard."
After some false starts in farming the property, the Bazzanos realized their ground possessed just the right amount of Russian River loamy clay to foster wine grapes.  They planted Chardonnay vines in 1974 and 1975; these are now some of the oldest in the appellation. La Follette has worked with the Bazzanos for more than 10 years.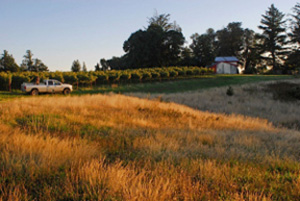 Manchester Ridge lies about one hour west of Boonville  on the Mendocino coast, 2000 feet above Point Arena and the Pacific.   The vineyard's 30 acres of weathered soil are routinely subjected to wind, rain, and temperature swings. Since the late 1990s La Follette has partnered with vineyard manager Martin Mochizuki to coax the vines into producing the best grapes they can.
In 1998, La Follette began working with the owners of the Mes Filles Vineyard  located in the Russian River Valley.  He supervises viticulture to his own specifications on the 10-acre site, which is perched above the fog line atop a hill southwest of Sebastopol. The area is made up of Goldridge soil, a fine sandy loam left from an inland sea that drained into the Pacific more than two million years ago. This soil is known for excellent drainage and good fertility. The sloping vineyard sees long hours of sunlight, and cool coastal evening temperatures are created by marine air moving through the Petaluma Gap.
The Oppenlander Vineyard occupies land cleared 160 years ago by Danish immigrant Charles Oppenlander near the hamlet of Comptche in northern Mendocino County. Bill and Norman Shandel, Oppenlander's great grandsons, farm the land now along with their wives, Kitty and Wanda. The 20-acre vineyard, first planted more than 100 years ago, and replanted in 1998, is hosted in heavy, clay loam, surrounded by redwoods. Just eight miles from the coast, the property holds cool marine air that fosters long hang time and slow ripening.
a selection of the wines
Before I get to the wines, a note about the cork: for many of their wines, Alquimista is  using a new closure product. Called "UNiQ", from Ganau,  It  is made from finely ground natural cork that has been put through a high-intensity steam-cleaning process at 180° C.  Although in my experience the overall risk is overstated, this eliminates any trace of TCA (the chemical compound that causes wine to be characterized as "corked"), and guards  against undesired aromas and flavors.  Because of the possibility of cork taint, as well as the increasing cost and scarcity of all-natural cork, we can expect to see more and more producers migrating to these types of products, as well as the useful screw-caps and far less desirable artificial plastic plugs.
Alquimista Chardonnay Manchester Ridge 2016
Because of the challenges Pinot Noir presents to even talented winemakers, La Follette likes to call his Chardonnays his "anti-crazy" wines.
This wine reflects Alquimista's singleness of vision, and won't be for everyone.  It is a bright, clear lemon yellow, with aromas of melon and honeysuckle. There is grapefruit and a distinct  grapefruit pith (albedo) bitterness on the tongue, underlain with lemon curd and a hint of white peaches, all supported by crisp acidity.  The ABV is 14.9%, and 100 cases were made.
The bottle art is by Sonoma artist Sandra Rubin.
Alquimista Confluence Pinot Noir 2016
This wine is sourced from three estates, Mes Filles Vineyard, Hawk's Roost Ranch, and Lorenzo Vineyard, all in the Russian River Valley AVA. The juices from these vineyards were separately aged in French oak for 18 months before being blended.  This Pinot is a medium purple in the glass.  It has a big nose of ripe cherry and spices.  The palate features tart cherries and dark fruits, mainly blueberries.  There is a snappy acidity that may be too intense for younger or more sensitive drinkers.  It all wraps up with a long finish.  The ABV is 14.2%, and a mere 67cases were produced.
The bottle art is  by San Francisco Bay area artist Mandy Bankson.
Alquimista Convergence Pinot Noir 2016
The 2016 is the initial offering of "Convergence," a blend of three different vineyards in Mendocino County: Manchester Ridge is the anchor, with support form the Oppenlander Vineyard and the Haiku Vineyard.  The Manchester Ridge juice fermented on Chardonnay lees in its two barrels of new oak. The 18 remaining vineyard-designate barrels were once- and twice-used French oak, and the juices were separately aged for 19 months before being converged.  Like the Confluence, this Pinot is a crystal-clear, medium purple in the glass, with a similar nose of ripe cherry and spices.  The soft palate features zippy tart cherries, cranberry, and cinnamon, with a hint of cocoa.  It too all wraps up with a long finish.  The ABV is 14.2%, and 168 cases were produced.
The bottle art is  by San Francisco Bay area artist Mandy Bankson.
Alquimista Hawk's Roost Ranch Pinot Noir 2016
100% sourced from the Hawk's Roost Ranch, this Pinot is a clear, red garnet.  You are greeted by aromas of sweet dark berries, plum, and strawberries.   Remarkably, there is also just the slightest hint of smokey bacon.  These are followed by flavors of sweet cherries, cranberry, and fruit compotes.  The mouthfeel is round and soft, and the pliable tannins and acid are in perfect balance.  Definitely not your average California Pinot Noir.  The ABV is 14.1%, and 125 cases were produced.
The bottle art is  by Santa Rosa artist Mary Blake.
Alquimista Manchester Ridge Pinot Noir 2016
This wine was barrel aged on the lees for 16 months in only 15% new oak plus 85% once-used wood.  It is is the palest of these four Pinot Noirs, but with no reduction in flavor.  It starts with aromas of violets and blueberries, which also flow onto the palate with additional flavors of dried fruit, bitter orange, and a bit of cocoa.  It ends with a medium-long finish.  The ABV is 14.6%, and 150 cases were produced.
The bottle art is  by Point Reyes Station artist Toni Littlejohn.
Alquimista Jessie's Grove Ancient Vine Zinfandel 2016
This selection is primarily Zinfandel, but is blended with the Carignan, Flame Tokay, Black Prince, and Mission grapes that Jessie's Grove offers.  The black cherry color continues on as aroma to the nose. Then comes the flavors of plum and tart cherry, with just a bit of Zinfandel's characteristic black pepper spiciness.  It has a long finish.  The ABV is 15.1%, and 65 cases were produced.
The bottle art is  by Sebastopol artist Carol Rae Watanabe.
You can find these and other selections at Alquimista Cellars' website: https://alquimistacellars.com.
Visitors are welcomed to Alquimista, but strictly by appointment only, Covid or not.  Contact Alquimista through the website for more information.
NOTE:  There is a La Follette Winery in Healdsburg, which grew out of Tandem Wine Co. (it's complicated), and although Greg La Follette was a part of its establishment as the founding winemaker, he departed soon after over "creative differences," and no longer has any involvement.
Top of page: https://winervana.com/blog/