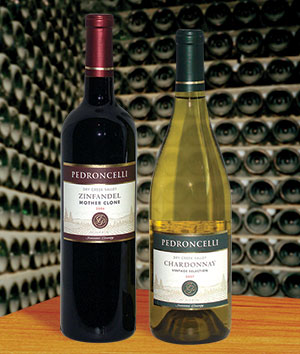 Pedroncelli was founded in 1927 in Geyerserville, California, during the middle of Prohibition, and began by selling grapes to local home winemakers. After Repeal in 1933, Pedroncelli began to make their own wines in a winery that had been sidelined as a barn.
In 1949, John Pedroncelli Jr., son of the founder, made and released the label's first Zinfandel, using fruit from vines still being harvested today, the so-called Mother Clone. The first Cabernet Sauvingnon appeared in 1966.
In the late '70s, Pedroncelli transitioned out of the jug wines they had been making and began to focus on mainstream varietals, and the '80s saw the beginning of an extensive vineyard replanting effort.
82 years later, Pedroncelli continues to be owned and operated by the founding family.
Mother Clone Zinfandel 2006
This straightforward Zinfandel is a clear ruby red in the glass. The taste is quite dry, even astringent, with a hint of dust. The pepper note often characteristic of Zin is present but not dominant, and is balanced by aromas of boysenberry and blackberry. The finish is moderately short. After decanting for at least an hour, pair this with just about anything from the grill.
Chardonnay 2007
Made from 100% Chardonnay, this wine much more resembles a Sauvignon Blanc. It has plenty of citrus tartness, balanced by undertones of melon and pear. If you're not a fan of wood, although 30% of the wine was aged in oak it's almost not detectable.
Top of page: https://winervana.com/blog/