In 1947, Dr. Lewis Gibbs Carpenter Jr., a farmer and psychologist, moved to Saint Helena from Gilroy and bought land on the Napa Valley floor. He began to work the property by growing walnuts, dates, and a small selection of grapes in the 1950s. Over the next twenty years, he replaced most of the nut and fruit orchards with several Bordeaux varietals of grapes, including Cabernet Sauvignon, Cabernet Franc, Sauvignon Blanc, and Merlot, all of which were beginning to gain international attention following the Judgement of Paris in 1976. It was at this momentous event that Napa Valley garnered international respect as a premier wine growing region. This no doubt helped propel not only Carpenter's vineyards to esteem, but the entire valley as a whole.
Dr. Lewis Gibbs Carpenter Jr.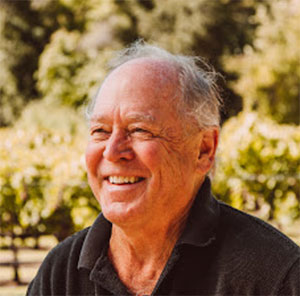 Craig Handly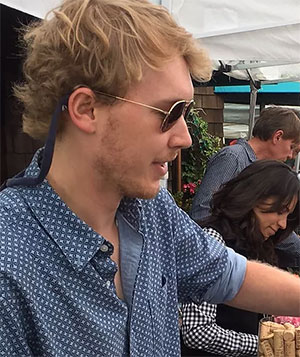 Spencer Handly
Although Carpenter himself never had plans of starting a winery, his sixty-plus years of premium grape-growing set the stage for Craig Handly, his son-in-law, to establish Gibbs Vineyards in 2013. Early in life, Handly was an Alaskan crab and salmon fisherman.  Later he became a print shop owner and a wine label designer, working for such brands as Beringer, Mondavi, and Kendall Jackson, among others.
In 2000 he and his wife Susan began crafting wines from the Cabernet Sauvignon and Cabernet Franc grapes grown on Carpenter's property. These first batches, made in a tank in the Handly family's barn, were the beginning of his new career as a winemaker. Over the next decade, he honed his skills while making wines under his first labels, Terroir Napa Valley and Sentall.
After graduating from the University of San Diego in 2014, the Handly's son, Spencer Gibbs Handly, joined the family in growing and making wine. He is the third generation of the Handly family working in the vineyards. He got his start in the vineyards when Carpenter taught him to drive a tractor at the age of five.
The Gibbs tasting room in St. Helena.
Centa Vineyard
Eli McLean York arrived at this location in 1865, and promptly planted a vineyard and built a stone winery adjacent to the Barro railroad station. (York's stone winery, though it stands today, has been converted to a residence.) "Barro," meaning "clay" in Spanish, describes the abundant clay loam soil in the vineyard as it straddles the Napa River. The clay is mixed with obsidian, a volcanic glass formed when lava cools rapidly with minimal crystal growth, and which allows for optimal soil drainage This property is located at the narrowest point of Napa Valley on Lodi Lane at the Silverado Trail, where Gibbs grows Sauvignon Blanc and Cabernet Sauvignon. In this vineyard, where the valley floor is only 3,500 feet wide, heat is reflected off the hills to the east and west, meaning that during summer this area retains much of the heat necessary to ripen classic Napa Valley-style Cabernet Sauvignon.
Gibbs Centa Vineyard Cabernet Sauvignon 2016
This blend of 96% Cabernet Sauvignon, 2% Merlot, and 2% Petit Verdot was aged 22 months in French oak. It is composed of fruit hand-picked from one low-vigor block in the Centa Vineyard.
This concentrated wine is a correct dark purple in the glass.  It has fairly robust aromas of vanilla and sweet cherry.  The very smooth palate features  dark fruit, particularly cherry and red currant.  The acid and soft tannins are in excellent balance.  216 cases were produced, and the ABV is 14.5%.
Note: the web site of nearly every winery will usually include a mention of the operation's dedication to "sustainability" and "stewardship."  Unfortunately, this often seems only to extend to the property they own.  Many "premium" wines like this one come in heavier bottles to denote quality.  This one weighs in at a hefty 1003 grams, one of the heaviest I've ever encountered .  That's a lot of extra weight to be shipping around the country.  By comparison, the wine inside, as always, only weighs 750 grams. (At the other end, Estancia Cabernet's bottle comes in at 494 grams.)  Even sparkling wine bottles often weigh less, and those are made to withstand high internal pressure.  Unfortunately, this sort of "bottle-weight marketing" is becoming more common, especially at higher price points.
Top of page: https://winervana.com/blog/