The founder and proprietor of Lampley Reserve is Illinois-native Chrishon Lampley, a remarkable African American woman, and the first in the Midwest to go national with a wine brand. She is also one of the less than 1% of wine industry negociants, vineyard owners, or winery owners who are black females in the traditionally Euro-centric, white, male-dominated world of wine. A rarity, to say the least.
Building on over 20 years' of experience in the wine industry, Lampley launched Love Cork Screw wines in 2013 with six varietals. The operation has since sold more than one million bottles of wine. Still not satisfied, Lampley also offers brand extensions like five wine-scented candles, as well as the new eponymous Lampley Reserve label just now coming to market. On a mission to reinvent how we think about and experience wine, Lampley is also passionate about leveraging her platform to mentor budding entrepreneurs and pave the way for more inclusivity and opportunity for women of color in wine and beyond.
Lampley credits her never-give-up mentality to her father's entrepreneurial spirit and her mother's tenacity. Now that her Love Cork Screw portfolio of eight varietal wines, which feature bold, untraditional labels like "Head Over Heels" and "We're Movin On Up," are firmly established, Lampley is turning to her new collection of wines called Lampley Reserve.
This new venture pays homage to Lampley's family lineage and black heritage. Lampley sources wines from across the globe, and each label honors a different family member significant to her, with a candid photo of each from their young adulthood. (That's her mother on the Demi-Sec label.)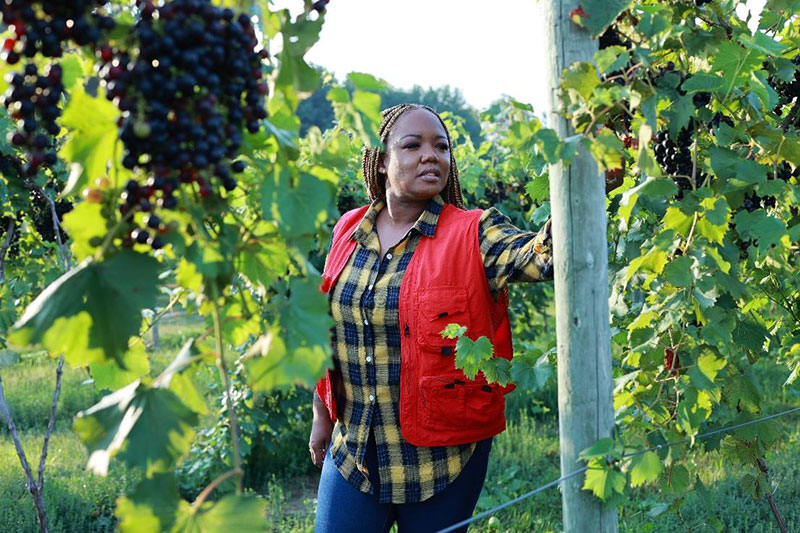 Chrishon Lampley
The wines are just part of Lampley's brand expansion, The Lampley, which is an online marketplace featuring handcrafted soy candles, handmade pillows from African cloth, table linen, kente* placemats, and more, all exclusively made by people of color, 90% of whom are women.
Lampley Reserve Demi-Sec Sparkling Wine NV
The Lampley Reserve collection includes a Sauvignon Blanc, a Riesling, a Cabernet Sauvignon, and this sparkler, a first for the label.
The wine, a blend of 53% Chardonnay, 45% Pinot Noir, and 2% Pinot Meunier from California's North Coast, presents a pale yellow-rose in the glass.  The bubbles are fairly coarse and the mousse, the foamy head created when first pouring, disappears rather quickly.  It is definitely demi-sec, French for half-dry, but meaning sweet.  The nose offers notes of strawberry and papaya, with those plus vanilla and caramel on the palate.  There is a nice viscous texture and good balancing acidity.  The length is somewhat short.  This is a sweeter wine than I personally would serve with dinner, but I enjoyed it as an aperitif and in a mimosa made with tart cherry juice.  It would work well after dinner also with some apples and blue cheese.  50 cases were produced.  The ABV is 12%.
Be sure to check out my interview with Chrishon Lampley here, where she speaks about her approach to building her two wine enterprises.
* Kente refers to a Ghanaian textile, made of handwoven cloth, strips of silk, and cotton. Historically the fabric was worn in a toga-like fashion by royalty among ethnic groups such as the Ashanti and Ewe.
Top of page: https://winervana.com/blog/