They say imitation is the sincerest form of flattery, and it's a maxim Sosie Wines lives by. "Sosie" [so-zee] is French for twin or doppelganger, and as it says right on the bottle, "We are inspired by the wines of France. So we employ an Old World approach to wine growing that favors restraint over ripeness, finesse over flamboyance. Our aim is to craft wines that show a kinship with France's benchmark regions. Wines that are their sosie."
Sosie Wines also pays homage to the French tradition of location, or terroir, believing that the vineyard site is perhaps the most important component of a bottle of wine.
Sosie Wines co-owner Regina Bustamante was introduced to wine at an early age, one of the first being Chateauneuf du Pape. "I remember the shape of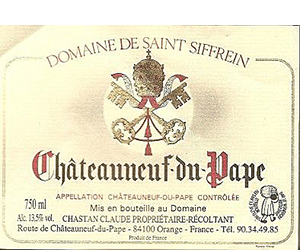 those bottles and the crossed-keys of the papal crest. It was a symbol you could trust, my mom used to say. I never forgot that, and as a young adult one of the first places I had to visit in France was Chateauneuf. To this day I still love those wines."
On a quest to cement that fascination, in 2006 she and partner  Scott MacFiggen took a trip to the Loire in western France, and then in 2008 they spent 10 days traveling the Côte de Nuits, walking the vineyards and tasting the wines. In 2016 they visited both northern and southern Rhone, working their way down from Côte-Rôtie to St. Joseph.
After their travels, Regina and Scott founded their winery on the belief that their wines should stand for something. That they would not just have a style, but a purpose. They wanted their products to be food-friendly, with lower alcohol levels, higher acidity, and made in small batches with minimal intervention and just a bit of oak.
The couple are hands-on vintners. They prowl the vineyards throughout the growing season and are at the sorting table when the fruit comes in. They taste the berries, check the sugars and acids, and call the pick. They supervise every aspect of their barrels – the cooper, the forest, and the toast level. But they can't do it all, of course. They get plenty of help from winemaker and winery consultant Philippe Melka and his team at Atelier Melka.  Melka has over 30 years of winemaking experience with chateaux and wineries, mostly located in Bordeaux, France and Napa Valley.  This wine is his first effort for Sosie.
VIVIO VINEYARD
At 700 to 800 feet above sea level, this is one of the highest vineyards in Sonoma's Bennett Valley. Sosie grows Syrah as well as Roussanne on the mineral-rich, volcanic soil here.  The area, near Petaluma Gap, has a strong marine influence, as cool air pours in from three separate directions and settles into the valley's bowl, which in the summer months turns to heavy fog. Even so, the days can get quite hot, with temperature swings of 40° to 50° F from daytime highs to nighttime lows. This can mean the fruit is very late ripening due to the extended "hang time" on the vines.  The property is sustainably farmed.
Sosie Wines Rosé of Syrah 2021
First thing, I really want to encourage you to try more rosés.   If you are put off by the idea of the ghastly sweet white Zinfandels that were such a fad in the 1990s and remain popular for some folks, very few rosés are like that.  Of course, drink what you like.  I'm not here to judge.  But, good rosés are simply wines made from red grapes with less time in contact with the skins (just three hours for this one), creating a lighter body than a comparable red.  They are usually entirely dry, or just slightly sweet.
This is Sosie's first rosé since 2017, and well worth the wait.  100% Syrah, it is bone dry and has a lovely salmon color.  The nose serves up a mouthwatering basket of berries and melon.  On the palate, those berries become specifically strawberries, with some green apple and honeysuckle in the mix.  There is excellent structure, especially for a rosé, and just the right amount of acidity.  The wine was aged for five months in neutral oak barrels, so there is no wood influence.  To keep the fruit flavors pristine, there was no malolactic fermentation.  In decades of drinking wine, this is the first one I've encountered to list ingredients on the label: grapes, yeast nutrients, yeast, and sulfur dioxide (a component of all wine).  ABV is 13.8%.
This is just the sort of rosé that I think more people should be seeking out and enjoying.  Only five barrels (that's 1548 bottles or 129 cases) of this wine were produced, so get a bottle while you can.
Sosie also makes a traditional red version of this wine.  Read about it here.
Note: Sosie used a relatively new French technique in making this wine called stabulation, which is used to extract wanted flavors from the gross juice lees (not to be confused with the yeast lees that form during and after fermentation),  but without extracting any bitter flavors. After the desired color is achieved through skin contact, those are removed but the juice is kept in contact with the lees long enough to extract any flavor compounds that might be present. It's important that fermentation doesn't start, because once it does then clarifying the juice isn't possible. So during stabulation the juice is kept cold in an oxygen-free environment.