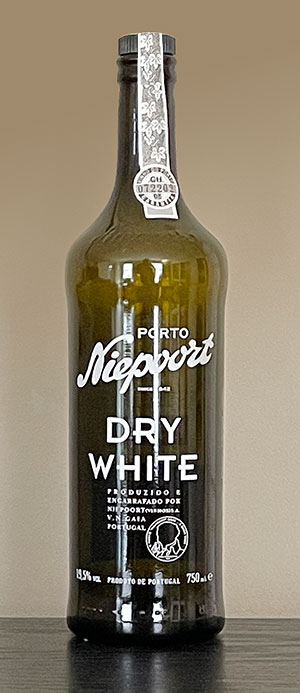 True Ports (now often referred to as Portos) hail from the Douro valley in northern Portugal, and have done so for over three hundred years. The region's predominant soil is schist, composed of various medium-grained to coarse-grained metamorphic rocks with laminated, often flaky parallel layers of micaceous minerals.  The low annual rainfall makes this probably one of the driest regions of the world where grapes are grown without irrigation. This terroir results in very low-yielding vineyards, with vines bearing only a very few small bunches of full-flavored grapes whose thick skins protect them from dehydration.
Port is a fortified wine. Fortification is the addition of brandy (usually) or a neutral spirit to wine in order to boost the alcohol content. Fortified wines are often sweet, because the alcohol kills the yeast before fermentation completely runs its course, leaving residual sugar. This accounts for Port's characteristic rich, luscious style and also contributes to the wine's considerable ageing potential. Fortification also stabilizes the wine, a definite benefit for a product destined for the long sea voyage from Portugal to England, the first large market for it.
There are four basic categories of Port: vintage, tawny, ruby, and white.  Vintage Ports are the rarest (just one to three percent of all Port production), the best quality, and the most expensive, of course.  They are made from grapes of a single vintage and bottled within two years of harvest.  In order to maintain the highest quality standards, vintage Ports are only made in the best years, which are "declared." These wines can age extremely well; there is an old English tradition where a vintage Port is purchased on a child's birth year, and consumed to celebrate when he or she turns 21.  (Late Bottled Vintage Port is bottled at either four or six years old; although they have been aged longer, these Ports are often of second-tier quality when compared to a producer's Vintage offerings.) Tawny Ports are a blend of fruit from many different years, and can be wood-aged for as many as 40 years.  A high-quality tawny Port will always list the barrel age on the label.  The characteristic amber color is the result of this wood aging.  Ruby Ports are made from wines not deemed worthy of vintage classification, and are aged in wood for about two years.  These youthful, fruity Ports are often the least expensive.  White Ports are made like other Ports, just using white grapes.  Although they have been made for as long as red Ports, they are much less familiar to Port drinkers.  Indeed, I've been consuming Port for decades, but this is the first white I have tried.  (These white wines run the gamut from sweet to dry, and are usually consumed as an aperitif.
The Douro
Niepoort was established in 1842, and has been owned by five generations of the same family ever since. Eduard Dirk Niepoort and his sister Verena have helmed the business since 2005. Dirk, born in 1964, discovered the world of wine during studies in Switzerland as a young man. In 1987 he joined his father Rolf, who challenged him to innovate while being mindful of maintaining good traditions. The most important step was the acquisition of their first owned vineyards: Quinta [Estate] de Nápoles and Quinta do Carril in Cima Corgo.  This region is centered on the town of Pinhão on the upper Douro. The grapes grown here are primarily used in bottlings of Vintage and Late Bottled Vintage Ports. 37 acres [15 hectares] of vineyards were newly planted, and 25 acres [10 hectares] of 60-year old vines were carefully maintained. The house does continue to buy fruit from producers they have had relationships with for decades.

Map of the Douro river valley.
Eduard Rudolf [Rolf] van der Niepoort was born in 1927.  In 1950 he joined his father Eduard in the family business, helping to steer it through a difficult financial period, and was conservative when it came to the wine making. Rolf presided over the making of their 1970 Vintage Port, considered to be one of the greatest Ports from Niepoort.
Eduard Marius Niepoort, born in 1890 in Porto, was a natural scientist. He joined Niepoort in 1912 due to the unexpected death of his father. Rolf, his son, remembers Eduard as, "Interested in different subjects like chemistry, physics, or mechanics, and a man of fine humour."
Eduard Karel Jackob Niepoort was born in 1848, also in Porto. The Port house was already a prospering business when Eduard Karel took over the family business, and he continued to honor the work of his father.
The founder, Franciscus Marius van der Niepoort, was born in 1813 in Hilversum in Holland. He came to Portugal to be part of the Port business, starting as a Port seller, formally establishing Niepoort in 1842, with no land or vineyards. He was primarily a negociant of Port wines.
A relatively recent photo of the extensive Niepoort family.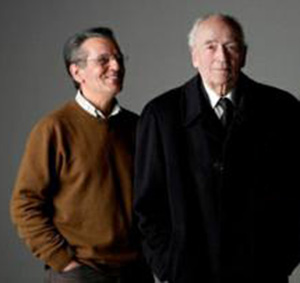 The position of Master Blender has also passed from generation to generation at Niepoort. José Nogueira [r] was the fourth of his family to pursue this art at Niepoort, and worked at the company for over 50 years. His son José Rodrigo joined the team in September 2006, and is currently the fifth generation of the Nogueira family.
In addition to their red and white Ports, Niepoort produces an extensive range of red and and white still wines as well.
Niepoort Dry White Porto
The same native white grapes used to make Douro's dry white wines are also used to create white Port. However, the style accounts for only about 10% of all Port production. These grapes grow on high ground above the Douro River valley, where the summer temperatures are cooler.
The grapes used in this white Port are:
Gouveio: provides lively acidity and a smooth feel
Viosinho: A low-yield variety that adds structure and intense aromas
Códega do Larinho: An old Portuguese grape with low acidity and tendency toward high alcohol
Rabigato: Adds refreshing acidity to the blend
Niepoort Dry White is made in a traditional style, with the juice from white grapes seeing long contact with the fruit's skin and seeds.   Because of this, the wine qualifies as an "orange wine," and this expression is quite orange indeed.  The final blend includes different wines aged in oak casks with an average age of 3-1/2 years.
Fermentation is carried out in lagares, or troughs, occasionally with foot treading, to near dryness, before pure grape brandy is added to stop the fermentation, an essential part of any Port production. Ageing occurs in small old oak casks at Vila Nova de Gaia, Niepoort's original cellars.
Although labeled as a "dry" wine, there is still plenty of residual sugar at 51 grams/liter, compared to a range of 88 to 104 grams/liter in Neipoort's vintage Ports, or even 1 or 2 grams/liter in a bone dry wine.  This clear orange nectar presents classic Port aromas of sweetness and nuts (especially almonds).  This continues on the nicely textured palate, but the sweetness is never cloying, in part because of the good supporting acidity.  The body is lighter than a red Port's would be, and there is a hint of citrus and apple.  Perfect as an aperitif, which is how most white Ports are served, either straight and slightly chilled, or on ice with a very thin slice of lemon and perhaps a splash of tonic.  The ABV is 19.5%.
Top of page: https://winervana.com/blog/