A fifth-generation farmer, Vijay Reddy came to the U.S. in 1971 to pursue a graduate degree in soil and plant science, and obtained a doctorate in 1975 from Colorado State University. Along with his wife Subada, Dr. Reddy established and ran a soil consulting laboratory for 20 years while also farming cotton, peanuts, and various other produce in the high plains of west Texas near Lubbock (Reddy is a fifth-generation farmer).
In 1997, Reddy's friends Neil Newsom and Bobby Cox talked him into planting five acres of grapes. Since his property was composed of sandy loam soils mixed with limestone deposits at an elevation of 3,305 feet, it seemed like a worthwhile experiment. Indeed, the grapes thrived.  In short order, Reddy abandoned all but grape farming, and now has 400 acres under vine; the operation sells 38 varietals to a number of Texas wineries.
Reddy Vineyards has been recognized as a leading source of premium grapes by wine producers now for more than 20 years and is considered a pioneer in the Texas Wine industry due to their willingness to experiment with different grapes.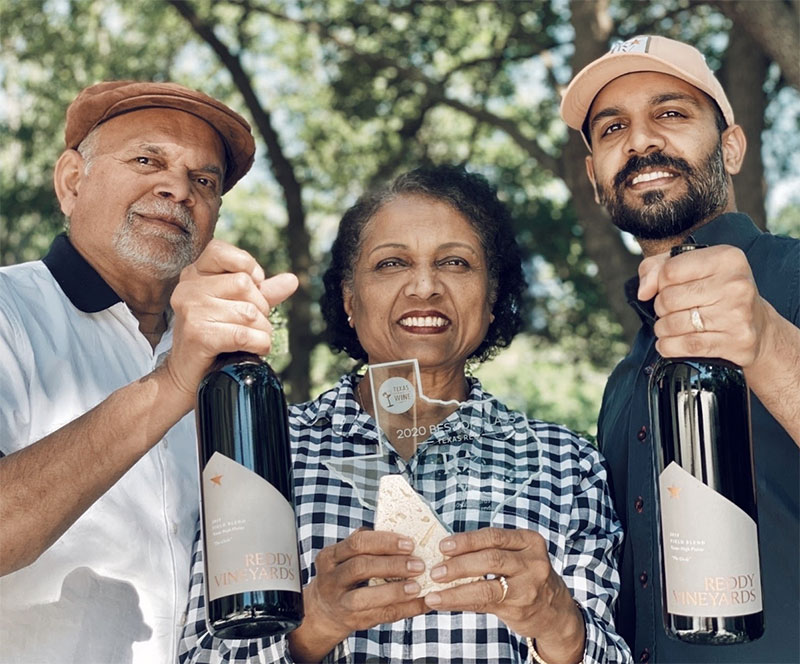 The Reddys
After two decades of supplying grapes, in 2019 the Reddy's son Akhil launched an estate label with eight wines. The 2020 Reddy Vineyards releases were the first big project for Executive Winemaker Lood Kotze, who hails from South Africa and had worked extensively in Paso Robles, Napa, and Sonoma before being lured to Texas.  "My family has a deep-rooted passion for wine, winegrowing, and the Texas high plains," said Akhil. "I'm honored to work alongside my parents to bring their lifelong pursuit of estate grown, sustainably farmed, 100% Texan wines to life."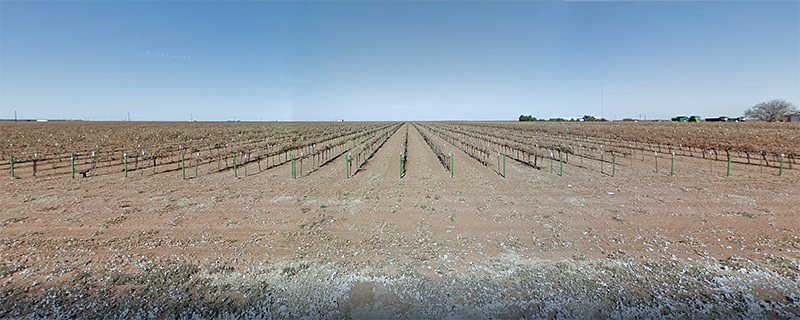 The estate vineyard on the austere Texas high plains.
This land is considered some of the flattest on earth, as is quite evident here.
Reddy Vineyards have already secured a number of awards. The largest wine competition of North American wine in the world, The San Francisco Chronicle Wine Competition, awarded Reddy Vineyards' 2017 TNT Red Blend Double Gold, and the same wine was selected as the Reserve Class Texas Tempranillo Champion at the 2020 Houston Rodeo Uncorked! International Wine Competition.
Reddy Vineyards experiments with grape diversity in their unique 'The Circle' vineyard. Seeking to observe how 360° of full sun exposure influences a variety of grapes, Vijay Reddy planted eight varieties (Cabernet Sauvignon, Cabernet Franc, Petit Verdot, Petit Syrah, Tannat, Sangiovese, Barbera, and Cinsault) in a 2.1-acre circle. "We take a very minimalist approach to managing this block, letting Mother Nature put her stamp on this area of the vineyard," explains sommelier Eric Sigmund, Chief Operating Officer of Reddy Vineyards.
The Circle vineyard.
The minimalist approach applies to their winemaking as well. Grapes are harvested and fermented together, and there is a minimal use of new oak.
The Reddys have firmly embraced their status as neo-Texans, from the grapes to the label on each bottle, which features the symbol of Texas, a Lone Star. The star is also a copper arrow, pointing west to honor West Texas where the family's vineyard is located. The label itself is the shape of the barn that houses Reddy's state-of-the-art winery. (A tasting room is next on the development agenda.) The colors of the labels represent the rustic terroir of the Texas High Plains AVA. Because the Reddy family is so passionate about their Texas-grown grapes, the vineyard block number is included on each bottle as evidence that each wine is estate grown and produced.
Reddy Vineyards Field Blend 2017
This wine is entirely sourced from the unique Circle vineyard.  COO Sigmund explained that because of the way the vineyard is farmed, accurate grape composition in the wine is impossible to determine. As a field blend, the grapes are all picked and crushed together.  This method has traditionally been practiced in Europe, was once popular in California as well, but is rarely used today.  Because of the ambiguity of field blends, Reddy opts to "embrace vintage variation" with what has become their flagship wine.
The wine was fermented in stainless steel, followed by 18 months of aging in 30% new French oak.  It is a bright garnet in color, rather less opaque than I expected it to be.  The nose offers up leather, a hint of tobacco, and fruit such as blackberry and cherry, followed on the medium-bodied palate with tastes of tart cherry and strawberry, zippy acidity, and restrained soft tannins.  Excellent when paired with tomato-based pizza, for instance.  Awarded a Gold Medal at the 2020 Texas International Wine Competition.  650 cases were made, and the ABV is 14.7%.
www.reddyvineyards.com.
Top of page: https://winervana.com/blog/