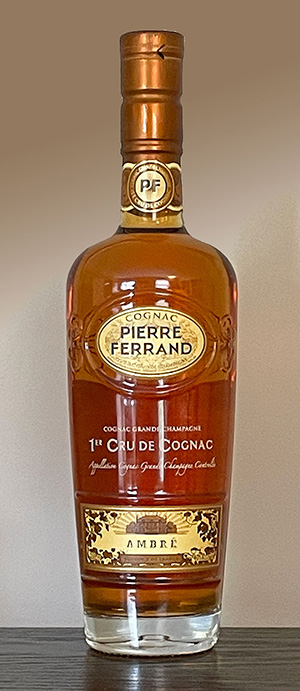 First, let's talk about brandy vs. Cognac. Brandy is a liquor distilled from grape wine and aged in wood. (Brandy can be made from fruits other than grapes as well, but that's a story for another time.) Cognac is brandy that specifically comes from the town of Cognac and the delimited surrounding areas in western France. (The one which has the most favorable soil and geographical conditions is Grande Champagne.) So, all Cognacs are brandy, but not all brandies are Cognac. For more detail on Cognac, click here.
Cognac has been sold under the Ferrand name since the 18th century, spanning 10 generations of producers, beginning with the birth of the first Elie Ferrand in the small town of Segonzac in 1630 (nine more Elies would follow).  In 1989, Alexandre Gabriel partnered with Pierre Ferrand, the living heir of the family, to develop a line of Cognacs.  Once Pierre Ferrand retired in 1993, Gabriel became sole proprietor.
In  short order, Gabriel bought the Logis d'Angeac distillery, built in 1776 and located in the heart of the Grande Champagne region of Cognac. He also purchased the 18th century Chateau de Bonbonnet, once owned by the Martell family, and turned it into his home as well as Ferrand's state-of-the-art blending facility and offices.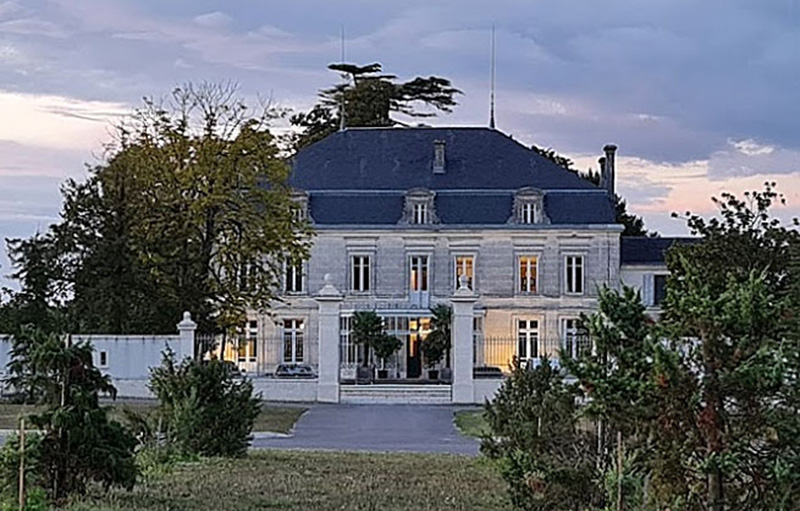 Photo: Alexandre Gabriel
Gabriel was born in southern Burgundy, near the medieval town of Cluny in France. Weekends during his youth were spent working on the family farm with his grandfather, a major influence in his life. "For my grandfather, wealth could only come from the land," Gabriel recalled.
Gabriel began his higher education by studying economics and  international politics He then enrolled at a business school in Paris, and while there began working on a project where he traveled through France, met small wine producers, and offered his nascent business expertise. It was on one of these trips through Cognac that Alexandre discovered the Maison Ferrand in the heart of Cognac, and where he met Mr. Ferrand.
"Ferrand Cognac was one of the oldest Cognac houses and at the time totally dormant. It was sitting on good stocks of Cognac and Mr. Ferrand had one of the best savoir-faire of the region, but was not selling anything," said Gabriel. "There was more work to do here that I could have hoped for, and when Mr. Ferrand proposed a partnership, I readily accepted.
"While 90% of the Cognac sold throughout the world comes from four large companies," Gabriel continued, "we felt our mission was to bring Cognac back to its roots. So we put people in place and even brought the former manager of another Cognac house out of retirement to help advise us. Remember, I was still in business school, and when an assignment I had took me to New York and Tokyo it was a blessing for Cognac Ferrand. When I wasn't working on the assignment, I would trade in my jeans and T-shirt for a suit and tie and I'd go and meet potential spirit distributors. The Cognac spoke eloquently for itself – it just needed someone who was enthusiastic and driven."
After graduation, Gabriel decided to devote 100% of his time to Maison Ferrand, distilling and aging Ferrand Cognac and creating distribution channels around the world. When Gabriel's beloved grandfather visited Bonbonnet, he said to him with great satisfaction, "This is going to be your farm now," and gave him his ancient wine press for good luck.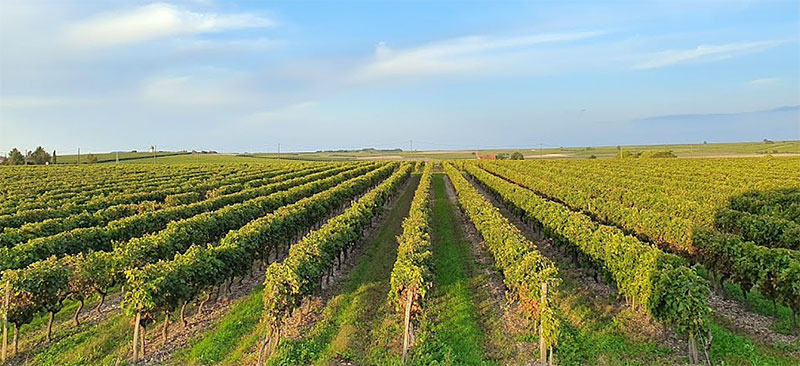 The Ferrand estate vineyard. Photo: Chou Tran
Pierre Ferrand Ambre Cognac
Pierre Ferrand doesn't use VS, VSOP, or XO on its labels, but this flagship bottling has an average age of around 10 years (equivalent to an XO) and is mostly Ugni Blanc (long used for brandy production, and one of the French names for Italy's Trebbiano) with about 10% Colombard (also historically used for brandy, although it has fallen out of favor with French producers in recent decades). Ambre starts as grapes that are planted in Angeac, considered the Premier Cru de Cognac. Angeac-Champagne is part of what connoisseurs call the "Golden Triangle," a highly reputed micro-terroir comprising the best parcels of Grande Champagne. The extremely chalky soil of the rolling landscape gives the grapes the qualities and the necessary acidity to make good wines that can produce fine Cognacs.
Distillation takes place slowly in small pot stills with a 25 hectoliters (about 26 gallons) capacity that feature a distinctive onion-shape head, which helps concentrate the aromas and flavors from the wine, which is distilled on the lees.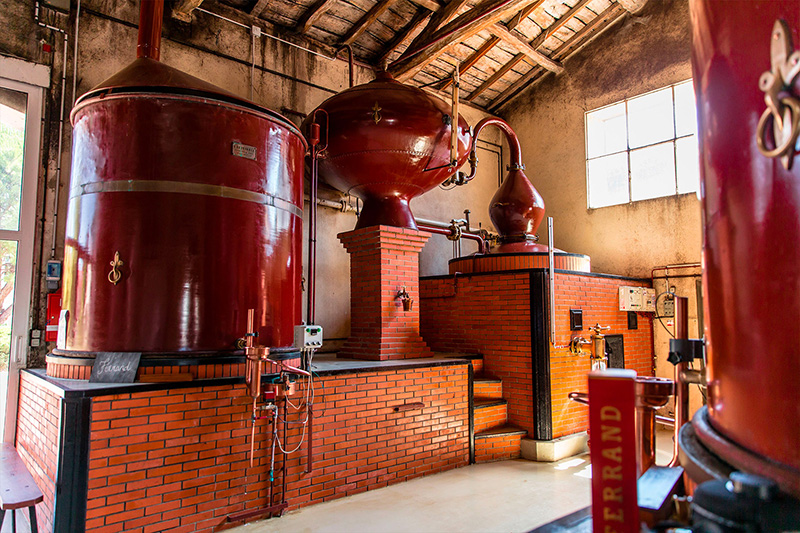 One of the Ferrand stills.
The fresh "eau de vie" (water of life) is collected from the still and aged in small oak barrels (by law, always oak) kept in seven different aging cellars – some dry, some humid – at Logis d'Angeac. The thick limestone walls, specific location of the cellars, and type of floor (earthen floor in the humid cellars; cement in the dry ones) all help to ensure consistent coolness and moisture. The dry cellars have a humidity of 30 t0 60%, where evaporation results in a loss of water and alcohol content hardly changes. These eau de vie are drier, with more of a spice character. In contrast, the humid cellars have 70 to 100% humidity, where over time the "angels' share," or loss of alcohol due to evaporation, can cause alcohol content to drop noticeably. Resulting eau de vie from the humid cellars are more mellow and round. During the aging process, the Cognac spends time in various types of casks, of different ages and "toasted" to different levels, in order to avoid excessive bitterness caused by exaggerated tannins or oak.  Eventually, the spirits from these casks are blended (formal credit goes to Alexandre Gabriel himself), and finally bottled.
Ambre is aptly named, as it is indeed a pleasant amber color.  The nose features aromas of golden raisin, plum, apricot, and vanilla. There is lightly-sweet caramel and vanilla on the palate, with a full texture.  Overall, quite well integrated.
Listen to my podcast about brandy, Cognac, and Armagnac here.
Top of page: https://winervana.com/blog/