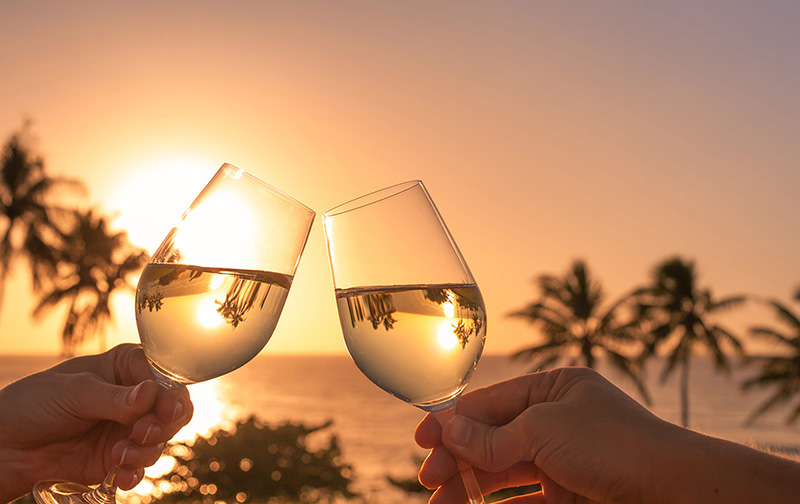 Summer is a little more than half over, and the long, hot days are waning away. Which is fine with me, but I'm in the minority, as I am every year. Regardless, there are two months of nice weather left in most of the country, which is plenty of time to get together outside, at six-feet apart, of course, with a few close friends and enjoy some white wine. There are many to choose from, and I'll get to that next. But first, what you don't want for summer quaffing is a rich, buttery selection like a highly-oaked Chardonnay. (And I say "highly-oaked," because for me, I've never encountered an "over-oaked" Chard.
That being said, here are eleven ABC (Anything But Chardonnay) grape variety suggestions for summer sippers, with some specific label recommendations as well.
1. Aligoté is the other white grape of Burgundy. The wines made from it are often citrusy and sometimes nutty. Try them while you can, because vineyards are being replanted to the much more popular Chardonnay all the time. One such is the Didier Montchovet Aligoté, which is fermented in enamel-lined tanks, rather than stainless steel. The wine is somewhat vegetal, with plenty of acidity.
2. Although justly famous for its Port dessert wine, Portugal isn't a one-trick wine country. Its Alvarinho is from the Vinho Verde region. This thick-skinned grape produces wines of creamy richness, with apricots, peaches, and citrus flavors. The Reguengo de Melgaco expression is fresh and stony, with the typical citrus and some more exotic fruit. Once you cross the border into Spain, Alvarinho becomes Albariño. You could try the bright, fresh Salneval with its stone fruit and citrus, the refreshing Condes de Albarei that delivers stone fruit, melon, and actual stones, or the racy Brandal offering citrus, tangerine, and plenty of minerals.
3. Opa! Assyrtico from the Greek island of Santorini has citrus and honeysuckle flavors and a penetrating acidity. The Chatzivariti Eurynome has a nose of white flowers and that typical citrus, joined by minerals and spice on the palate. Or consider the Thalassitis, with its minerality and racy acidity supported by subtle lemon, spices, and herbs.
4. Italy's Soave is famously made from Garganega. When carefully made, this grape can yield wines that are quite elegant, and exhibit a notable almond character. The I Masieri from Angiolino Maule is light and fresh, with plenty of mineral-laden tangerine, lemon, and grapefruit.
5. Known for its often high alcohol and low acidity, Grenache Blanc is widely planted in Spain and France, but this Acquiesce version comes from Lodi. It has a nose of pear, honey, and wildflowers, followed by flavors of honeysuckle, tropical fruit, and minerals.
6. Gruner Veitliner is a white wine grape grown mainly in Austria, but is also cultivated in parts of eastern Europe. The wines are pale, crisp, light-to-medium bodied, and often come with subtle spice notes. A sparkling example to try is Schlumberger Gruner Veitliner Klassik. This wine is a bright yellow, with hints of green and a nice fizz. If you'd prefer a still wine, there is the bright and crisp Loimer Lois [loyce].
7. Although it originated in Burgundy, Melon de Bourgogne [boor-gwan-yuh] now almost exclusively makes its home in the Loire Valley, where it is also known as Muscadet if it comes from the Pays Mantais subregion. Often aged sur lie (in which the wine has prolonged contact with dead yeast cells and other sediment to increase depth and complexity), these wines can be soft and creamy with hints of citrus. The light-bodied expression from Marc Presnot, La Bohème, is all that, plus flowers, grapefruit, and figs. The bone-dry Henri Poiron Domaine des Quatres Routes has a nose of green apple and pineapple. More green apple pairs with lemon peel on the palate.
8. I like Pinot Grigio (also known as Pinot Gris depending on where it's grown), but I just can't get excited about it. Dunno why. Regardless, this grape can range from crisp, light and dry when it's made in northern Italy, to rich, fat, and honeyed Alsacian versions. Predictably, the Luna Nuda from Alto Adige is bright and fresh, with citrus, apples, and minerals dominant. The widely available Lindeman's Bin 85 from Down Under has citrus, white stone fruit, and some grassy notes. The high acidity makes it quite refreshing. Left Coast Cellar's The Orchards hails from Willamette, and offers up light citrus and a hint of flowers. The medium body has a creamy texture and medium acidity.
9. OK. Riesling. I'm going to be honest about this up-front: although Riesling is, by all accounts, one of the world's greatest white-wine grapes, and makes classic food-friendly wines in a range of styles from quite dry to very sweet, I've never been much of a fan. This baffled me for a long time, but I finally figured it out. I find that most Rieslings exhibit both an aroma and a taste of oil. At their best, it's like olive oil. At their worst, it's like motor oil, at least to me. Once you get beyond that, they have zippy acidity, notes of spice and fruit (particularly peaches and apricots), and a flower-scented bouquet. A good German expression to try would be Armand Riesling Kabinett, which has that characteristic spice, fruit, and acid, plus a bit of sweetness. Another is the Schloss Schonborn Marcobrunn, an elegant wine with aromas of apricot, peach, and tangerine, balanced by minerality and hints of spice. Plenty of Riesling comes from California, too. Ser Dry Riesling, produced near Santa Cruz, tastes of mostly tart citrus, particularly lime, with subtle hints of pear and apple. (You can read more about Ser here.) The off-dry and medium-bodied J. Lohr Bay Mist entices with honeysuckle, spice, and a lush mouthfeel, accompanied by tropical fruit and pear. And there is the typically dry Gobelsburger from Austria, featuring white peach, nectarine, apricot, and a bit of pepper. Finally, the Jacob's Creek Reserve from Australia is easy-drinking, crisp, and packed with juicy citrus.
10. Roussanne hails from France's Rhône region, and its wines are often delicate and refined.  But these two are from California.  The Edmunds St John from Paso Robles offers an oily texture, tastes of mangoes, baking spices, and honey, all balanced by a vibrant acidity. The always reliable Cline in Sonoma makes a blend of Marsanne and Roussanne that has notes of honey, orange, and pineapple with a  mineral finish.  It is completely unoaked.
11. Probably the best well-known of these varietals to most people, Sauvignon Blanc is widely grown around the world, with France, California, and New Zealand being major producers. Sauvignon Blancs can show plenty of acidity and minerality, so they are crisp and flavorful, and best when young. This all makes them classic summer wines.  They can also have grassy and herbaceous flavors and aromas. These don't appeal to me, but many others enjoy those sorts of things. Rombauer comes from Napa Valley. This is the same family responsible for The Joy of Cooking. This refreshing wine delivers flavors of grapefruit, lime, and white peach, with just a smidgen of grass. Riley's Rows is owned by a young vintner in Sonoma who is just 20 years old and is still in college!  Her wine is nearly colorless, and has a delicate nose of papaya and honeydew. It is slightly sweet, with subtle flavors of lemon and grapefruit, and absolutely no grassiness.  From New Zealand I have three possibilities: there is te Pa, with gooseberry and nectarine on the palate, ending in mineral and flint notes. The international powerhouse Kim Crawford is readily available. It offers a tart, refreshing, distinct grapefruit nose and taste. It is completely dry, with a bit of flint on the finish. Whitehaven is a small producer, so it may be harder to find. Their wine is medium bodied, with blackcurrant and gooseberry flavors and a dry, clean finish. And I can suggest the Bird in Hand Sauvignon Blanc from Australia for its flavors of gooseberry and passionfruit and a bit of lemon curd.
Many of these wines share traits of citrus, minerality, and crisp acidity.  If you seek out selections for summer sipping with these same characteristics, you really can't go wrong.
Top of page: https://winervana.com/blog/