Established in 1846, Sheboygan, Wisconsin, sits on the western shore of Lake Michigan, about 50 miles north of Milwaukee. Although once a bustling Great Lakes shipping port, Sheboygan is now largely focused on manufacturing, including furniture, plastics, household equipment, automotive parts, metal products, air compressors, and wood and paper products. The city is also noted for its bratwurst and cheese; indeed, Sheboygan bills itself as "The Bratwurst Capital of the World." Kohler, the village and company due west, is primarily known for the manufacture of plumbing fixtures, but also makes furniture, cabinetry, tile, engines, and generators.
Bob Moeller retired at age 56 after a lucrative career as a roofing contractor in Sheboygan.  As he was relaxing and ruminating on a beach in Clearwater, Florida, one afternoon, this thought came to mind, "If I continue to do this, I'm going to die."
The Blind Horse
Once he returned to Wisconsin, he started making plans to open a restaurant, and if that proved successful, a winery as well.  In 2011 Moeller and his family purchased a seven-acre property that had been a small part of an 80-acre family farm in Kohler, started in September of 1862 by Anton and Josephine Dreps.  The Dreps family continued to farm this land for over 130 years, until 1996.  Like most farmers of that era, they used teams of horses to work the land. But, there was one, a Percheron draft horse in particular, that was the family favorite.  That horse's name was Birdy, and Birdy was blind.   Many years later, Birdy was the naming inspiration for The Blind Horse restaurant, which opened in 2012.  A statue of Birdy stands in front of the restaurant.  Crafted by artist Carl Vanderheyden, it is made from old fuel oil tanks and stands seven feet tall and 10 feet long.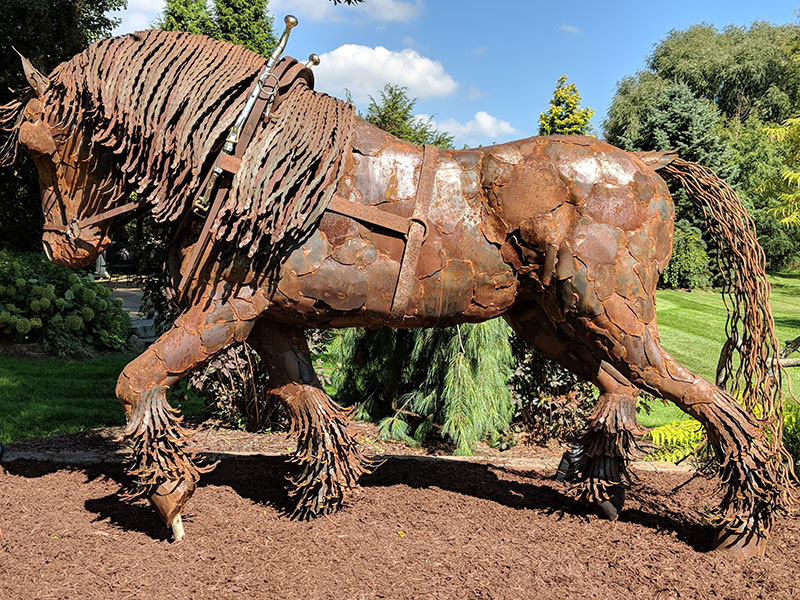 Birdy the blind horse.
The Dreps farmhouse, probably in the 19th century. 
The Blind Horse Restaurant is in the original farmhouse on the left.
The winery is the new gray building on the right,
which was built on the foundation of the old barn.
Photo courtesy of OnMilwaukee.com.
The Blind Horse Winery followed in 2014, becoming the Sheboygan area's first commercial winery.   Like many ambitious producers in the midwest, the fruit is sourced from third-party growers in California and Washington.  (Shipping in grapes rather than juice is more expensive, but allows for greater control over the final wine.)  Once the grapes arrive, all other winemaking, including crushing, fermenting, barrel aging. and bottling happens on site.   There are plans to make wine from grapes grown by local Wisconsin farmers and to possibly start a vineyard to grow some of their own grapes.  To that end, a two-acre test parcel was recently planted with cold-climate varietals, including Marquette and St. Pepin.  At any one time, fifteen to twenty red and white selections are offered that cover the entire sweet to dry spectrum.  The property also includes the Granary that opened in 2018, a whiskey and bourbon bar housed in a renovated barn.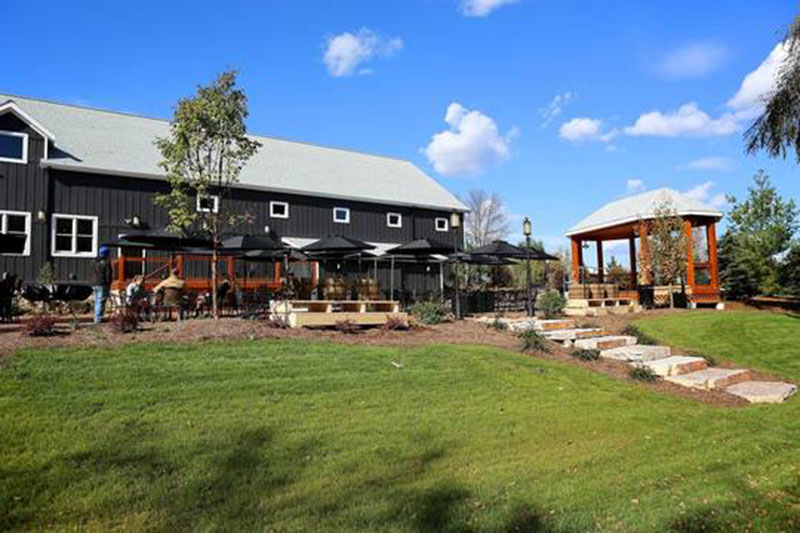 The Blind Horse Winery and Events Patio.
The tasting room.
The Winemaker
After working in the IT field in New Jersey, Thomas Nye started The Grape Escape winery there with his wife, Nancy, a Sheboygan native.  They sold The Grape Escape when Nye was presented with the opportunity to move to Wisconsin and become winemaker and general manager at The Blind Horse Winery.  A 12-year winemaking veteran. Nye follows a minimalist style of winemaking, believing that this enables the natural qualities of the fruit to dominate in the finished wine.  He strives to "make wine in the field," a terroir-driven approach.  Nye's winemaking team includes Winemaking Assistant Patrick Regenwether who has been at Blind Horse for four years.
"We wanted to start a winery making the types of wines we liked, which are drier wines," Nye said. "When I came aboard, the idea was, 'let's create Napa Valley, right here in Kohler.' That was the dream."  Making dry wines in a state with wine drinkers who largely have a taste for sweet wines (not to mention beer!) was a bit of a risk. But it paid off. "That was really unusual in the state when we did that. There were 110 wineries in Wisconsin five years ago, and most of them were making all sweeter wines," Nye continued.  Today, the Blind Horse's top-selling wines are mostly red (four of the top six) and/or dry (seven of the top 10), Nye confirmed.
Nye uses a combination of French and American oak barrels that range from new to neutral (aka used).   Neutral barrels are typically four or more years old and no longer impart oak flavors but help with micro-oxygenation — the process that creates smoother wines.  "I don't want to overwhelm [my wines] with oak," Nye said. "That, to me, is hiding a lot of the fruit characteristics of the wine."  Many of his wines age for at least a year, some longer.
The Blind Horse barrel room.
"Perfect food and wine pairings are what made me fall in love with wine," he shared. "We want people to experience those on a daily basis."
Nye's long-term goal is to increase the operation's current 4.200 annual case production up to as much as 10,000 cases
The Blind Horse offers a wine club with three shipments per year of their various selections, which currently include nine dry reds, five dry whites, one sweet red, three sweet whites, and one sweet rosé.
Two of the Wines
The Blind Horse Golden Bay White Blend NV
Packaged in an unusual high-shouldered bottle, this selection is a blend of Chardonnay, Sauvignon Blanc, Pinot Grigio, and Viognier.  The first three varietals are sourced from a specific vineyard in Suisun Valley just east of Napa that Nye has relied on for ten years.  The Viognier comes from Lodi, California. The wine was barrel aged in two-year-old American oak. It was originally made as a separate 2018 and 2019, but after conducting extensive taste tests, Nye decided that the wine was even better when blended.
This wine pours a very pale yellow.  It is lightly aromatic, with subtle citrus and a suggestion of green apple on the nose.  That citrus blooms into lemon and grapefruit on the palate.  Since the barrels were essentially neutral, there is little or no detectable wood, "butteryness," or vanilla.  (Nye claims to taste some vanilla; I didn't.)  It offers just enough acidity, and ends in a short but crisp finish.  Nye made 134 cases.  ABV is 14.4%.
The Blind Horse Malbec NV
The fruit for this wine is sourced from the same Suisun Valley vineyard as the Golden Bay. It was aged in a combination of American and French barrels, some new and some three-years old for two to three years. This wine is also a blend of vintages.
It pours a transparent red, with a delicate nose.  It features flavors of cherry and blackberry, with a smooth mouthfeel.  There is moderate acidity, and subtle tannins, to be expected because of Nye's penchant for used oak in his aging.  There were 394 cases produced.  ABV is 13.9%.
Here's some nitpicking about the bottle labels: my wife is a horse person, and when she saw them exclaimed, "That's not a drawing of a Percheron!  That's more like a Thoroughbred!"  There is also a bit of Braille on the labels that spells out "The Blind Horse."  However, it seems gratuitous to me, as the dots are so shallow I seriously doubt any blind person could read it.
Maison M. Chapoutier has included Braille on their wine labels since 1996, and it more usefully includes information on the producer, the vintage, the vineyard, the region, and the color of the wine.  But even there the embossing is quite shallow, so I am suspicious of how useful it really is.
Top of page: https://winervana.com/blog/