x
When most of us think of a winery, what usually comes to mind is the romantic stereotype of a rustic but exquisite barn situated halfway up a mountain in the western U. S. overlooking a bucolic valley below; a fabulous hundred-years old chateau surrounded by ancient vines somewhere in France; or perhaps even a charming azienda agricola in Italy with a view of Roman ruins. But that's not the only way to do it.  Adega Northwest of Portland, Oregon, is very much an urban winery.  There are vineyards, of course, you just won't see them if you pay the winery a visit (by appointment only).  And because they are not tied to an estate, Adega Northwest can and does draw on sources throughout the region.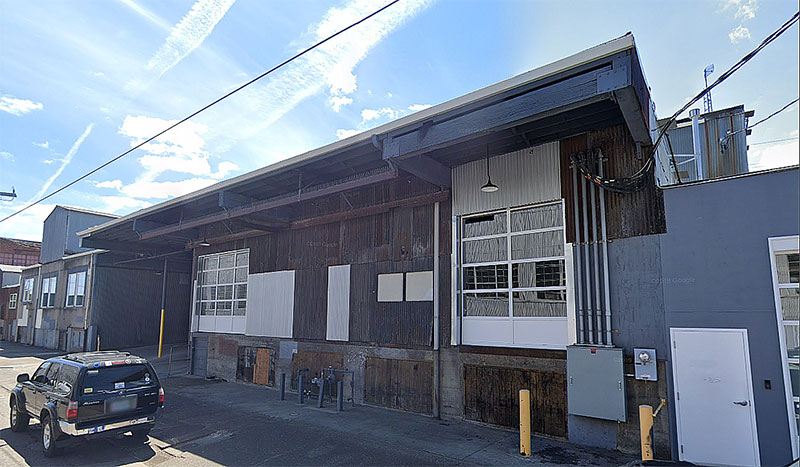 It doesn't get much more urban than this.
THE WINEMAKER
Bradford Cowin began by working in the restaurant industry. He pursued and completed a wine certification from the International Sommelier Guild, and has worked as a sommelier in New York City, Colorado, Washington D.C., Seattle, and now Portland, Oregon.
In 2007 he decided to focus on making wine instead of just serving it. He started as a cellar hand (aka a cellar rat) at R. Stuart & Co. in McMinnville Oregon, followed by working Malbec-focused vintages at Bodegas Renacer in Mendoza, Argentina, where he was also exposed to Italian Amarone-style winemaking techniques through work with renowned winemaker Alberto Antonini.
Once back in the U.S., he toiled at the famous Williams Selyem, Andrew Rich Vintner, and Long Shadows Winery. His time at Long Shadows proved to be an important turning point in his pursuit of full-time winemaking. In 2011, under the mentorship of Gilles Nicault, Long Shadow's Director of Winemaking and Viticulture, Cowin purchased his first Cabernet Sauvignon grapes from the Weinbau Vineyard in the Wahluke Slope of Washington State (from which he continues to source fruit to this day) and was given space at Long Shadows to produce it. This was the beginning of his first winery, Script Cellars, formed with fellow sommelier Frederick Armstrong and wine enthusiasts Ken and Cheri Hick of Portland, Oregon.
Script Cellars' Exordium 2011 Cabernet Sauvignon won the Platinum Medal and Best Red at the Northwest Food & Wine Festival, and received 91 points from Wine Enthusiast (for people that care about such things). Production increased from 100 cases to 500 cases within three years. Dramatic, but still quite modest.
Although he continues to make wine for the Script Cellars label (in Adega's Portland facility), by 2014 Cowin was ready to try something new. Adega is Portugese for wine cellar, and  pays homage to his grandfather specifically, and the family's Portuguese ancestry in general. Cowin teamed with his mother, Tana Mendes Bidwell, to establish the new operation. The aim was to  create hand-crafted wines in the Pacific Northwest influenced by the wines of Europe, especially Bordeaux and Rhone in France. They were later joined by investor and real estate mogul Darren Harris.  Cowin had this to say about opening an urban winery, "I've always been more of a city kid, having lived in large cities most of my life. For me it is more appealing to operate out of a facility where I prefer to live. We aren't really much different than any other winery our size. I like being able to offer high quality wine to the general consumer without having them go out of their way for it."
The winery currently produces Alvarinho (aka Albarino), Chardonnay, Cabernet Sauvignon, Cabernet Franc, Merlot, Malbec, Syrah, Grenache, Mataro (aka Mourvedre), Tempranillo, Touriga Nacional, Souzao, and Graciano.
THE VINEYARDS
I mentioned that Adega, not being tied to an estate, can draw from many vineyards.  And do they ever.  These are their 12 current sources.
Destiny Ridge Vineyard Columbia Valley, Paterson, Washington
This 267-acre site, the only one actually owned by Adega, is located high on the bluffs overlooking the  Columbia River, in the Horse Heaven Hills AVA in southeastern Washington, and is part of the larger Columbia Valley AVA. Elevation in this area ranges from 200 feet above sea level in the south to 1,800 feet above sea level at the northern boundary. Destiny Ridge itself sits at 850 feet. Strong winds arrive from the west via the Columbia River Gorge, reducing the likelihood of rot and fungal diseases taking hold, and keeping frost at bay. The quick-draining soil includes clay, limestone, schist (medium sized mineral rocks), and gravel, along with sandy top soils.  It is exclusively planted to Cabernet Sauvignon.
Delfino Vineyard, Umpqua Valley, Roseburg. Oregon 
This 18-acre site is similar climatically to Spain's Ribera del Duero, with a mix of rocky soil types. There are seven grape varieties under cultivation here: Cabernet Sauvignon, Zinfandel, Syrah, Müller Thurgau, Merlot, Dolcetto, and Tempranillo (for which Umpqua is becoming increasingly well known).
Double Canyon Vineyard, Horse Heaven Hills, Prosser, Washington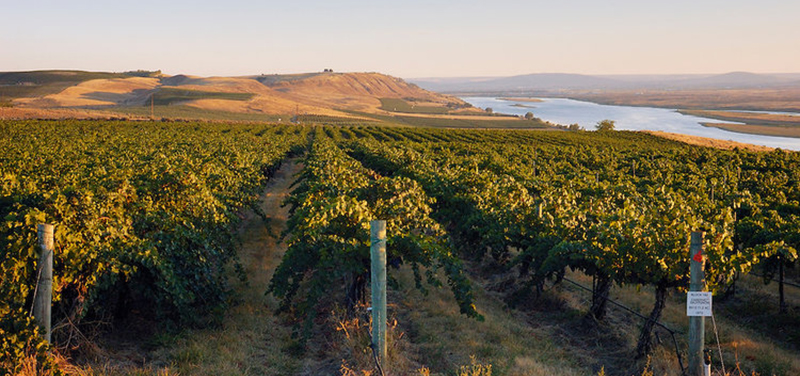 Located between Yakima Valley and the Columbia River, the 90-acre Double Canyon Vineyard has a dry desert landscape. The weather is influenced by close proximity to the Columbia River, which creates sweeping winds and other distinctive weather patterns that protect the vines from extreme temperatures, fungal disease, and pests.  The soil is sandy, quick-draining loam. The vineyard is planted primarily to Bordeaux varietals and Syrah.
dutchman vineyard, yakima valley, Grandview, Washington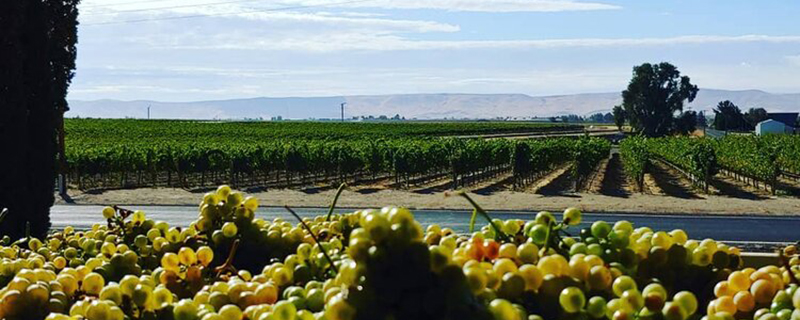 Dutchman Vineyard was planted in 1991. It is located in a very cool region in the Yakima Valley. Adega Northwest has been sourcing Alvarinho, Marsanne, Roussanne, and Riesling from here since 2017.
Firethorn Vineyard, Columbia Valley, Echo, Oregon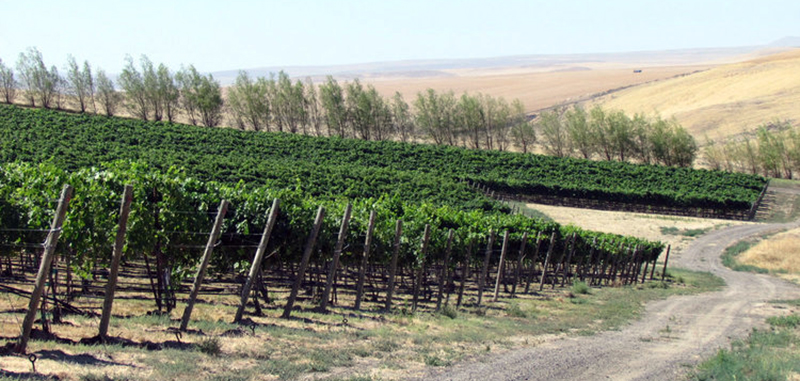 Firethorn was originally developed between 2006 and 2008 by famed NFL quarterback Drew Bledsoe under the name Flying B Vineyard. Jay and Kim Bales purchased the vineyard in 2010 and have done the farming ever since. The vineyard sits on basalt cliffs that support a layer of granite and basalt silt deposited as the Missoula floods receded at the end of the last ice age. The top layer of soil is wind-driven loess (a silt-sized sediment that is formed by the accumulation of wind-blown dust). It is planted to Cabernet Sauvignon, Cabernet Franc, Merlot, Malbec, Petit Verdot, Syrah, and Muscat.
french creek Vineyard, yakima valley, prosser, Washington
French Creek was established in 1981 with the planting of nine acres of Wente Clone Chardonnay. The vineyard is on a south-facing slope above the Yakima River, and lies at the edge of a canyon that allows for great air drainage, crucial for mitigating frost damage. The soils are mainly silt loam with weathered and unweathered basalt bedrock. Plantings are primarily Chardonnay, 28-year-old Cabernet Sauvignon, Merlot, Cabernet Franc, Syrah, Grenache, and Mourvedre.  Adega NW has been sourcing  Chardonnay and Cabernet Sauvignon from here since 2018.
Gamache Vineyard, Columbia Valley, Basin City, Washington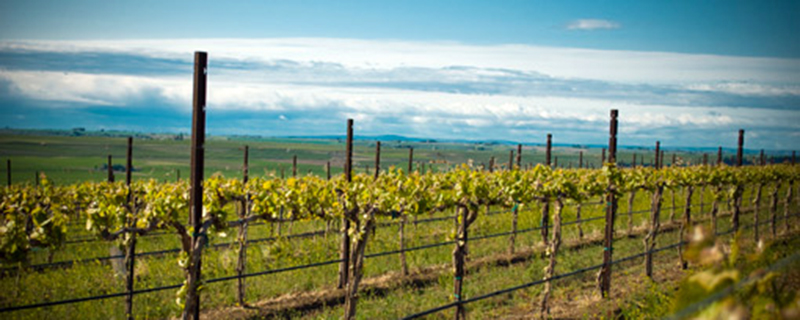 Planted by brothers Bob and Roger Gamache in 1980, this 180-acre vineyard sits up on the white bluffs overlooking Basin City to the east in the Columbia Valley AVA. The soil is primarily Warden sandy loam, with a little Kennewick sandy loam, as well as, in the northern part of the site, caliche (a hardened natural cement of calcium carbonate) about 12 inches down. The property is planted to Riesling, Chardonnay, Roussanne, Viognier, Sauvignon Blanc, Pinot Gris, Cabernet Sauvignon, Merlot, Cabernet Franc, Syrah, and Malbec.
Kamiak Vineyard, Columbia Valley, Pasco, Washington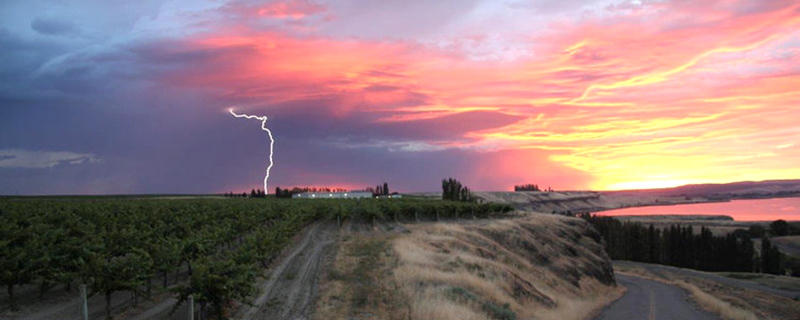 Established in the mid-1980s by Jeff Gordon of Gordon Estate Winery, the 100-acre Kamiak Vineyard is south-facing, and is perched 620 feet above sea-level along the Snake River. The vineyard has excellent air drainage and benefits from the river's moderating influence. It has a unique volcanic soil breakdown that includes basalt, sandy loam, clay loam. and gravelly loam. It is planted with Cabernet Sauvignon, Merlot, Syrah, Chardonnay, Sauvignon Blanc and Gewürztraminer, with a few small lots set aside for Tempranillo and Malbec.
Red heaven Vineyard, red mountain, Benton city, Washington
The many varieties planted here include Cabernet Sauvignon, Petite Sirah (aka Durif), Tinta Cão, Souzão (aka Vinhão), Touriga Nacional, Tempranillo (aka Valdepeñas), Counoise, Grenache, Mourvèdre (aka Mataro), Syrah, Merlot, Zinfandel, and Barbera. Adega Northwest has been sourcing Rhone and Portuguese varieties from Red Heaven since 2017.
Two Blonds, Yakima Valley, Zillah, Washington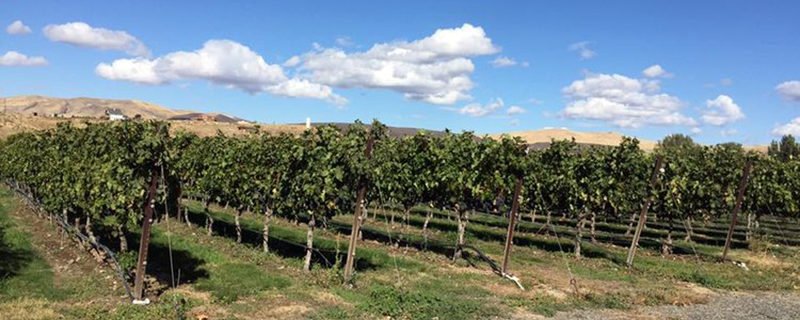 This is the estate vineyard of Andrew Will Winery. Two Blonds, named for proprietor Chris Camarda's late wife, Annie, who was a 6'2" blond, and Melody, the also-blond wife of vineyard partner Bill Fleckenstein, it was planted in 2000 with Cabernet Sauvignon, Merlot, Cabernet Franc, and Malbec. The soils of the 30 planted acres are silty loams.
Upland Vineyard, Snipes Mountain, Columbia Valley, sunnyside, Washington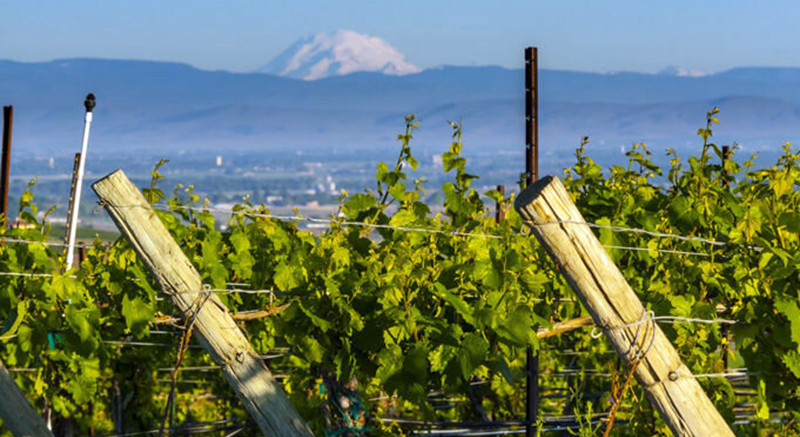 Farming wine grapes since 1968, four generations of the Newhouse family have helped maintain the Upland legacy, which started over 100 years ago. Originally planted by William B. Bridgman in 1917, Snipes Mountain is widely considered the birth place of Washington wine. Today that original vineyard is still bearing fruit, and the vines' longevity is a testament to the favorable weather conditions there. With an elevation that ranges from 750 to 1300 feet, the fecund Upland is able to grow over 35 varieties of wine grapes. (To be clear, Upland is in Washington, and on Snipes Mountain, but the snow-covered promontory in the background is Oregon's Mt. Hood, seen looking to the southwest.)
Weinbau Vineyard, Wahluke Slope, Washington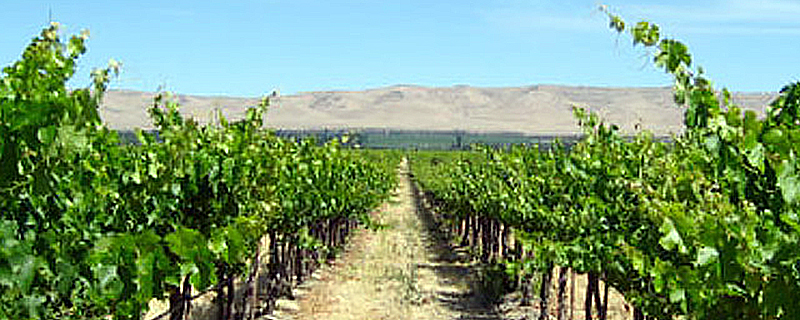 With views of the Rattlesnake Mountains to the south and the Saddle Mountains to the north, Weinbau Vineyard slopes gently south, with elevations ranging from 710 to 950 feet. It is a relatively warm site, with excellent air drainage, and the soil is dominated by Kennewick silt loam. This 460-acre property was originally planted to Riesling, Chardonnay, and Gewurztraminer in 1981.  Cabernet Sauvignon, Syrah, Malbec, Mourvedre, Merlot, Carmenere, Grenache, and Cabernet Franc were added in subsequent years.
[SOME OF] THE WINES
Adega Northwest normally produces between 2,000 and 2,500 cases annually. Unfortunately, this year COVID-19 has forced a retrenchment back to 1,500. Although Adega Northwest's production of each selection is quite limited, and therefor harder to find, they are very reasonably priced and are worth seeking out.
Interestingly, Adega, as well as another producer I have recently encountered, doesn't use a foil at the top of the bottle.  Cowin shared, "Foil doesn't do much other than being for aesthetics. I prefer the natural look of the cork. It also makes it easier to tell if there is a cork malfunction or a storage issue. On my single vineyard wines I do wax just the very top of the cork. However, you can still see all the sides of the cork in bottle."
The cellar image on the labels was inspired by a picture of a classic Portuguese Adega from an original design by Cowin.
Adega Northwest Double Canyon Vineyard Syrah 2016
This 100% Syrah was fermented in stainless steel, followed by 22 months of barrel aging in 500-liter puncheons made of 100% French oak, 30% of which were new. A semi-transparent dark purple, it opens with aromas of dark fruit, mostly wild blueberries and mountain blackberries, and a hint of camphor (which receeds after the bottle has been open an hour or so).  The lean palate follows with muted fruit, especially tart cherry, with some leather thrown in.  It all wraps up with a medium-length finish. ABV is 14.6%, and 135 cases were made.
Adega Northwest Tempranillo 2015
Sourced from the Delfino vineyard, this wine is 10% Syrah and  90% Tempranillo. The latter is an important red-wine grape in Spain, and two Spanish clones of Tempranillo were used: Tinto del Pais (Rioja Clone) and Tinto del Toro (Toro Clone). It was fermented in stainless steel, followed by 20 months of barrel aging in 100% French oak. It is dark purple, with a nose of dark fruits plus black olive and leather. The full-bodied palate features flavors of tart cherry, cocoa, tobacco, and earth. There is lively but unobtrusive acidity, and a relatively short but dry finish. ABV is 13.8%, and 100 cases were produced.
Adega Northwest Weinbau Vineyard | Block 10 Cabernet Sauvignon 2015
This wine is 100% Cabernet Sauvignon. It was fermented in stainless steel and then saw 21 months in French oak barrels, 40% of which were new. It is dark purple, but a bit more transparent than is common for Cabernet Sauvignon.  The nose is classic Cabernet, with big aromas of blackberry, blueberry, and cassis. These continue on the palate, supported by cedar notes, bracing tannins, and good acidity.  It all wraps up in a nice long finish. The ABV comes in at 14.6%, and 125 cases were made.
Adega Northwest Eremita White Blend 2018
The fruit for this blend of 70% Marsanne and 30% Roussanne came from the Dutchman vineyard. After barrel fermentation, it underwent full malolactic fermentation and aging, all in neutral  French oak.  The wine pours a hazy medium yellow. The nose is predominantly grapefruit (with hints of orange marmalade and apricot), and this dominates on the round and creamy palate as well, supported by Seville orange.  There is plenty of zippy acidity.  The ABV is 13.3% and 150 cases were made.
Adega Northwest Alvarinho 2018
The type of low-yielding, thick-skinned grapes from which this wine was made originally hailed from Portugal's Vinho Verde. It is also cultivated in Spain's Galicia region, where it is known as Albarino.  Adega NW sourced the fruit from the Dutchman vineyard. The wine is all Alvarinho, which underwent a cool, extended fermentation in stainless steel. It spent further stabilization (but perhaps not enough; see note below) and aging in stainless steel as well.  It is a medium yellow in the glass, with a hint of pink.  The nose offers up honeydew, cantaloupe, and peach. The palate features a full, creamy mouthfeel, with flavors of those same melons, joined by Seville oranges.  It's all backed up up by plenty of racy acidity.  The ABV is 13.5%, and 250 cases were produced, and although still quite modest, it's a relatively high number for Adega NW.
Note: when I finished my sample bottle after 24 hours in the refrigerator, some tartrate sediment had precipitated out. While this doesn't impact the quality of a wine, it is an inconvenience, and you should consider decanting through a filter before serving, just in case.
Adega Northwest Chardonnay 2018
This 100% Chardonnay was sourced from the French Creek vineyard. It underwent barrel fermentation, followed by partial malolactic fermentation and aging, all in in neutral French oak.  It is crystal-clear, medium-pale straw in color. It is mildly aromatic, with scents of honeysuckle and brioche. The creamy palate features Meyer lemon and grapefruit, balanced by harmonious acidity and hints of vanilla and oak.  It closes with a medium-length finish. The ABV is 14.5% and 100 cases were made.
https://www.adeganorthwest.com/